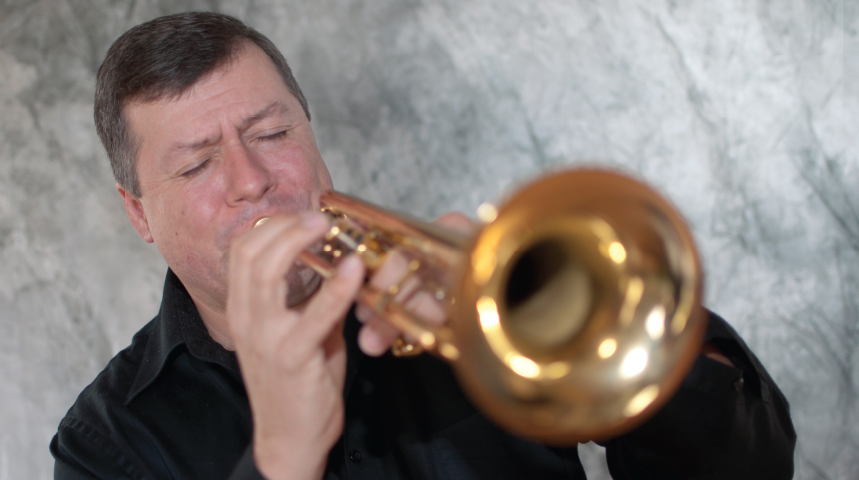 Kevin Bryan '87's trumpet case was "merely an extension of his arm," says fellow musician and freshman roommate Jack Lees '88
Kevin D. Bryan '87 died Nov. 15, 2018, in Haverstraw, N.Y. Kevin was lead trumpet player for the Duke Ellington Orchestra, Bobby Sanabria's Big Band, and the Mambo Legends Orchestra (the former Tito Puente Orchestra), among others. Acclaimed for his artistic use of a plunger mute and his ability to sit in on many styles of jazz, he was always in demand to tour and record. He appeared with jazz greats including Harry Connick Jr. and Tito Puente, and popular artists including Norah Jones, k.d. lang, Levon Helm, Michael Bolton, and Macy Gray.
He performed on more than two dozen albums, including Puente's 1999 Grammy-winning album Mambo Birdland, and on Grammy-nominated disks by Sanabria and Connick Jr. He also worked regularly on Broadway and could be found sitting in with many classic jazz bands in the New York City area. The appeal of playing lead trumpet, he explained in a 2014 interview, is "the feeling of really being on top of the band and, when everything is going, that you're really helping in part to drive the band."
At a memorial service held December 2 at Garner Arts Center, many of Kevin's fellow musicians performed in celebration of his life and legacy. Jack Lees '88, Kevin's freshman roommate in Erdman Hall, recounted his lifelong friendship with Kevin, "a soul who was acutely sensitive to life's fundamental paradox—someone who struggled often, I think, with the juxtaposition of incomprehensible beauty and profound absurdity. It was his life's work to reconcile that contradiction, not just for himself, but for his friends and his family, with kindness, humor, and the mastery of his horn."
"It was and is the honor of my life to have been married to him," wife Marife Bryan posted on Facebook following Kevin's passing. "He shared his passion for music with me and gave me a spiritual backstage pass to the life of a working musician—one of the many gifts I've received." In addition to Marife, Kevin is survived by daughters Milo Bryan and Dylan Farrell-Bryan, son Rhys Farrell-Bryan, his mother Christella Sanz-Guerrero, his sister Tatiana Schnierow, and his stepmother Candy Bannerman.