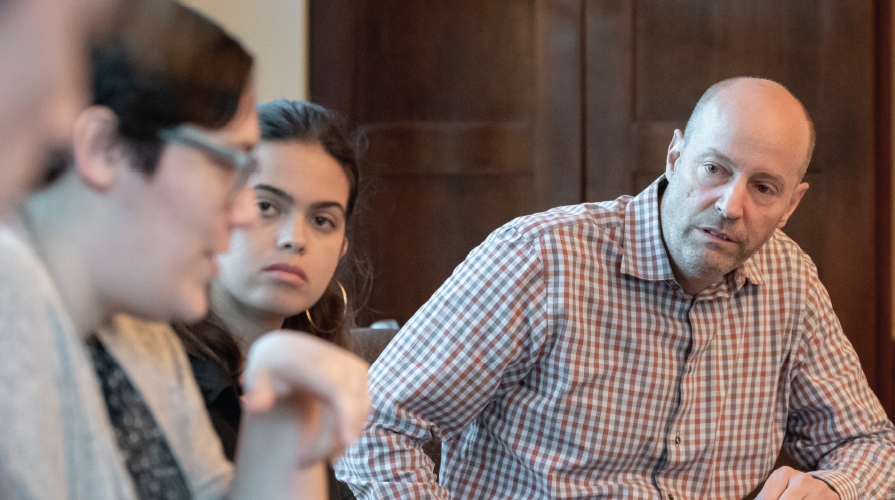 The Joy of Thursday Nights in Class
Last semester, I found myself back in front of a classroom after a 10-year absence. I'll be honest: I was nervous. Higher education is filled with introverts who are required to be extroverts, and I count myself among them. During my tenure at Oxy, I have spoken to audiences of hundreds and even thousands of people many times, but it still take a conscious effort. Teaching in the classroom is no different.
Why, then, did I put myself in this position? Over the last two years, I have extended an open invitation to students to meet with me over lunch to discuss recent headlines in The New York Times. (I wrote about this in the Spring 2018 issue.) As you might expect, our discussions have been wide-ranging, covering not only the subjects of the stories themselves but how journalists decide what's newsworthy and how they write their articles. A smaller group came to me saying that they were interested in having a more extended discussion about current events. Acutely aware of the fault lines that divide our polarized society, they felt stymied in having discussions about issues of the day with friends, not knowing how to begin and, once begun, unsure of how to inhabit positions with which they disagree and better understand those points of view.
I found it hard to say no to such a proposition because I believe that the classroom needs to be a place where issues are considered in their full complexity. One of my fundamental principles is embodied in something that F. Scott Fitzgerald wrote in 1936: "The test of a first-rate intelligence is the ability to hold two opposed ideas in mind at the same time and still retain the ability to function." I want our students to be more attuned to nuance and to think empathically about issues with which they disagree. In my own conversations with Oxy students, I have found that they sometimes defend positions based on intuitive or received opinions, rather than their own thoughtful analysis. We have lost the capacity to adjudicate a middle ground, and I want to create doubt where there is certainty while encouraging students to listen with greater care and to speak with more self-confidence when expressing a dissenting opinion.
So it was that I found myself creating a syllabus for an independent study class with attorney Rachel Cronin, who recently served as interim general counsel for the College. The class focuses on three subjects: freedom of speech on college and university campuses, the paradox of privacy in a society that believes in privacy and yet gives it away online on a regular basis, and immigration and the extent of our responsibility—and its limits—to people who live thousands of miles away. We took advantage of Rachel's background in debate (as a coach and participant) and created a debate format. Each class session starts with a discussion; the class is then divided into two groups to argue for or against a proposition related to the day's discussion and the assigned reading.
The result has been a reaffirmation of my decision to spend one less night a week with my family. I've heard our dozen or so students in the class wrestle with 19th-century philosopher John Stuart Mill's question of whether the truth will prevail—the basis for the whole liberal view of the world—during a discussion of freedom of speech, and then grapple with a larger question: Why do we care about the truth? For me, I can now speak with more authority about the quality of Oxy students, who are truly impressive. I can better appreciate not only the skill it takes to command a classroom and engage students but the hours of preparation it takes to be effective as a teacher.
With a calendar jammed with meetings and the need to travel regularly to meet with alumni and donors, the president's job can be isolating. Returning to the classroom makes it possible to develop rapport with students in a different way, and get a better sense of how they think and what they're thinking. On an even more fundamental level, the demands of the president's office are such that it's possible to find yourself in a position where you can forget the joy of our mutual enterprise. There's no better way to rediscover that joy than to get back into the classroom.
Jonathan Veitch
President
As this issue was going to press, President Veitch announced his decision to end his tenure on June 30, 2020, at the conclusion of his current contract. Look for full coverage in the Spring magazine.