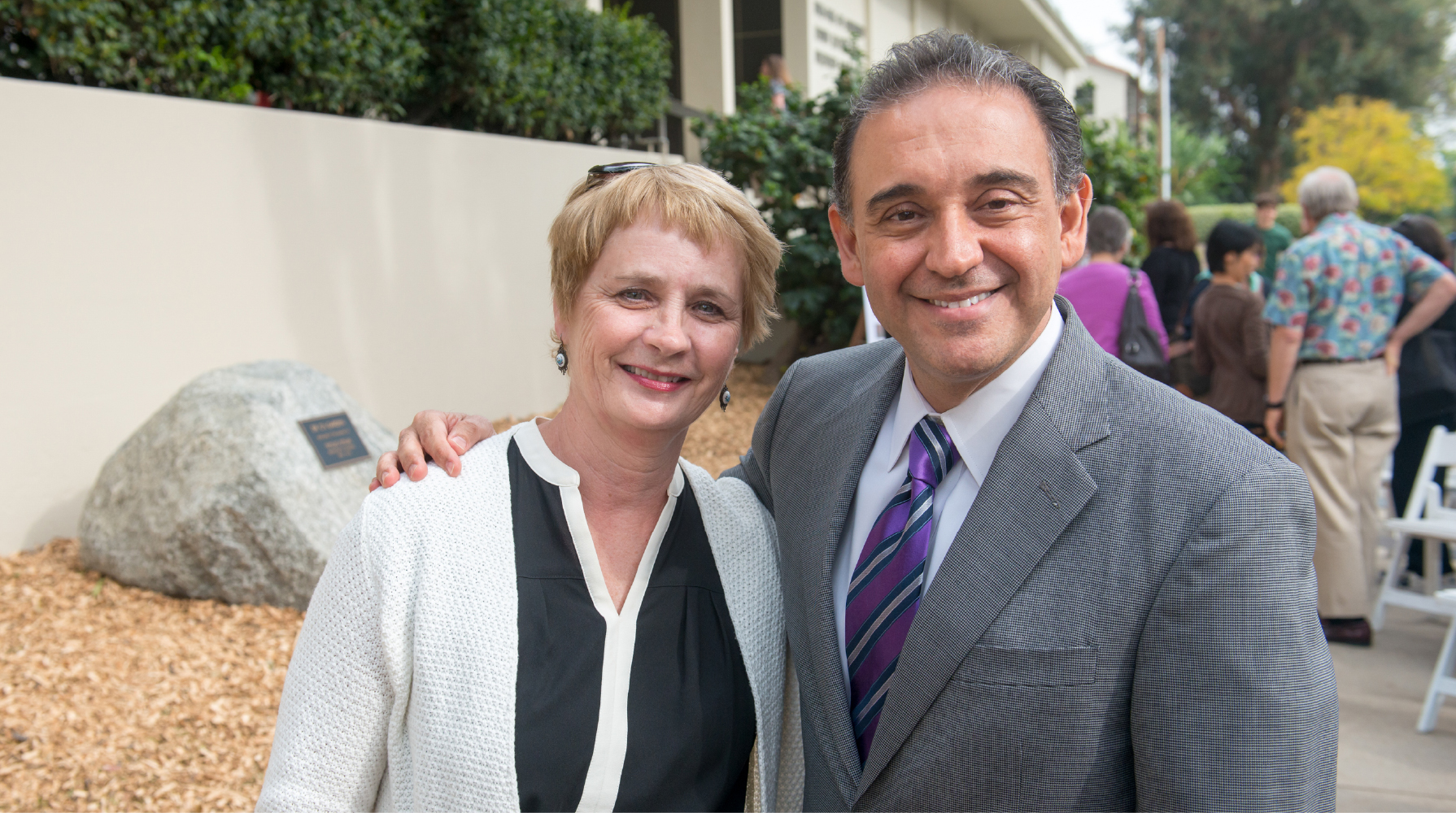 Carolyn Adams' maternal ways; religion's ties to Oxy and the Constitution; and more responses to the Fall magazine
The Joy of Carolyn Adams
I feel a great sadness to read about Carolyn Adams' passing ("She Shed Light Everywhere," Fall 2018). As a student worker in the Community and Public Relations office, I remember how quickly she found solutions and how life was joyful and easy with her around. I remember her consulting with me about appropriate dress attire for her daughter who had been invited to her first quinceañera. Would Charlotte Russe be a good shop to find a dress? I remember talking about politics, protests, beauty tips, classes, and the work we were there to do.
Secretly I always wished she could have been my mother. Yet she did mother me and so many of us at Oxy. What a great honor that was.
Lourdes Olivas Brown '97
Los Angeles
Constitutional Christians?
I wanted to respond to Richard Apple '51's letter ("Constitutional Crisis") in the Fall 2018 issue. As an American, I take issue with his deeply offensive message that somehow Occidental is betraying America and its Constitution by welcoming non-Christians as students. What a tremendously offensive and outrageous notion. From his preposterous assertion that the U.S. Constitution is "Christian-based" to his asinine statement that America was ever a "Christian nation" in the first place exposes his profoundly shallow understanding of our national history.
And shame on Occidental magazine for giving this message of bigotry, ignorance, and intolerance a platform. You're better than that.
Jesse Burch '92
Van Nuys
I was surprised and disheartened to read the letter from a 1951 alumnus bemoaning Oxy trying to "attract more non-Christian students" as well as the fact that "America is 'no longer a Christian nation.'" Would you have printed a letter from someone who was unhappy that Oxy now admits a number of people of color, LGBTQ folks, or Jews, when in its early years there were probably very few on campus? I hope not!
Les Zendle '74
Palm Springs
Faith in Our Founders
My father was a WWII veteran, and he was a firm believer in the Constitution—that America's rights and freedoms and the longevity of its government depended on this remarkable document's flexible strength. For me, that includes people of all faiths—Jews, Muslims, Buddhists, Hindus, pantheists, any and all and none—being able to worship or not as they see fit, and not have potential educational opportunities, including scholarships, be limited because of their faith. Yes, Occidental is still a private school, but if it were a public school, initiatives such as the Obama Scholars Program, awarding scholarships to up to 20 Oxy students a year regardless of their religion, would be de rigueur, and not just a fine sign of tolerance and acceptance.
Nancy Hubbs-Chang '85
Trust in Occidental
In 1966, I was happy to take Comparative Religion at Occidental, a required course at the time. I learned enough about the world's major religions to conclude that most of humanity addresses the big moral and philosophical questions of human life using some religion or another. I came to the conclusion that my previous learning, which taught that only a few sects of a single religion know the truth, probably was too limited.
This class was life-changing for me. In 1967, I married Basab K. Basu '67, who worked his way through Oxy driving a truck, who fell so in love with the promise of America that he left 18 generations of tradition in his home country to become a proud American citizen, and who was a Hindu. We spent 50 years together before his death. He was a true American in the best tradition of our freedom-of-religion-based, free-speech-based Constitution.
Basab and I established a trust that will leave an endowment to Occidental. Now that the Obama Scholars Program has been established, our endowment will be used to support it in a small way. While Barack Obama '83 was raised by Christian grandparents, it is true that some of his relatives in Kenya chose Islam and that his Indonesian stepfather exposed him to Islam, so it's safe to say that he met honorable people of more than one religion during his upbringing. I'm not aware that he has any direct influence over who is chosen to be an Obama Scholar. As a donor, I probably do have a tiny bit of influence.
In response to my own experience witnessing people of several religions and cultures who are true Americans, I promise to use my small influence to fulfill Richard Apple's prediction: that Obama Scholars will be chosen from a variety of religious and cultural traditions.
Janet M. Basu '69
San Francisco
Seeing Things Differently
On reading my Occidental magazine, I discovered that a fellow member of the Class of 1951 was admonishing the College of his youth for encouraging the enrollment of non-Christian students. I wish to establish that I see things very differently. I like the idea of a student body that reflects our varied nation and world with all its many religions, ethnicities, and political philosophies. The exchange of ideas is what it is all about—please continue!
Anne Follis Huebner '51
Salt Lake City, Utah
Living Off the Land
I was truly inspired by the article "Nature's Remedy" (Fall), and I want to thank Adrienne (Spivak) '08 and Garrett Hostetler '08 for their exemplary work and lives. Their explanation of how communal living differs from both capitalism and communism was clarifying to me, and we have a place in Arizona called Arcosanti that exemplifies communal living.
If Adrienne and Garrett are unaware of it, I want to call to the attention of them as well as other alumni an experimental farm in North Fort Meyers, Fla., called ECHO (echonet.org). This farm is researching improvements in plants for family farms, in superfoods and how to grow them. People from many other countries visit ECHO to learn from them. We in the USA can contact them as well for seeds, info, and advice. For example, if you're trying to grow tomatoes and not succeeding, they can send you the proper seeds for the soil in your area.
Barbara Lohman Dabul '64
Sun City, Ariz.
The Curious Sofa
I was fascinated to (finally) open the Fall edition after Christmas to see the article on Mark Dery '82 and his latest book ("The Gorey Details"). Edward Gorey has been a staple in our family for my entire lifetime, partly because his unique and macabre humor matches our family dynamic. If you ask anyone in my family who is their favorite Gashlycrumb Tiny, to a person we'll answer "Neville" (who died of ennui).
We had, however, a closer connection to hold our attention and interest. An older cousin of my mother's was at Harvard with Gorey and knew him well. "Ted" Gorey was part of my cousin's circle of friends at Harvard and later in New York, where my cousin lived part-time. I even have a photograph of Gorey from the early 1960s in my cousin's Upper East Side apartment, which I scanned from an old photo album before my cousin's death in 2014.
It follows, therefore, that I pre-ordered Dery's book for myself and as Christmas gifts for five members of my family this year, my mother included. It also follows that one of those recipients gave me a copy as well, so we have a surfeit of Dery's book, which does not trouble us at all. More are better than none of this interesting and well-written book.
Daniel Woodruff '85
Atlanta