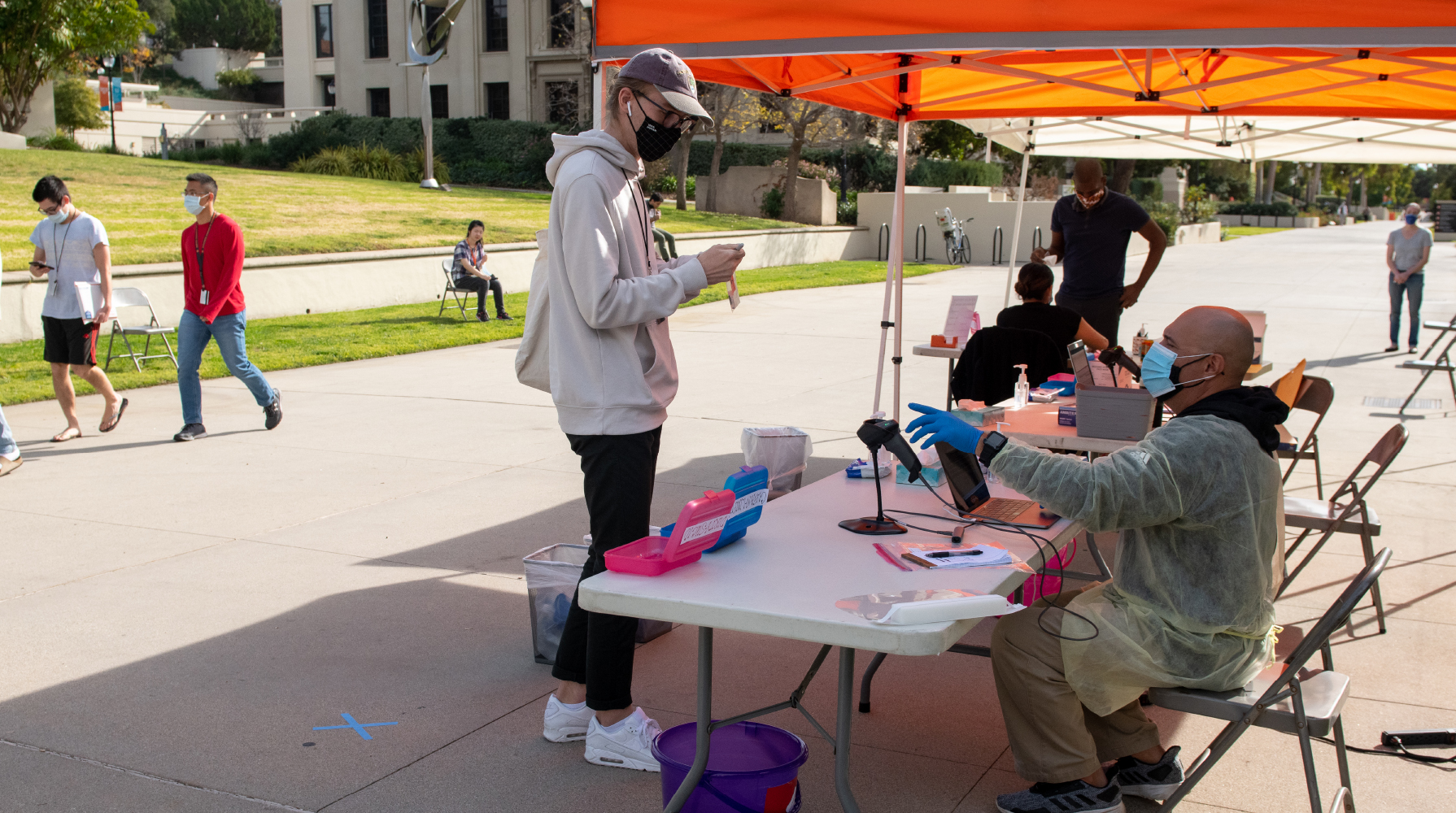 After nearly a full year of remote learning, hope springs eternal of a return to campus this fall
Although remote teaching and learning will continue through the end of the spring semester in May, the growing availability of COVID-19 vaccines and declining case rates have created a tangible sense of optimism about the possibility of returning students to the Oxy campus this fall.
"Our sights are currently set on fall semester as the time to return to in-person instruction and a more traditional campus life," President Harry J. Elam, Jr. said in a February 10 message to the Oxy community. "A final plan for this fall cannot be finalized until the county provides guidance this summer—but based on how our staff and faculty have come together thus far, I am confident that operationally we will be ready." 
While many colleges elsewhere in the country have already brought students back to campus, local institutions have had to operate under greater restrictions requiring remote learning and almost no congregate living, under the guidelines imposed by the Los Angeles County Department of Public Health last July.
The surge in cases then underway peaked in early January, with the county reporting a seven-day average of 15,000 new cases every day. (That compares with less than 1,000 cases at this writing in late February.) State and county stay-at-home orders, imposed shortly after Thanksgiving, were not lifted until the end of January.
Despite all the challenges, with the support of staff Oxy faculty and students have reimagined the learning experience, pivoting to the virtual space across the disciplines, including in the arts. "We greatly appreciate the flexibility, creativity, and perseverance you have demonstrated under these extraordinary circumstances," Elam said in his February 10 message. 
While the internet hums with activity, the Oxy campus itself—which remains closed to the public—has been quiet this spring, with just 180 international students and other students facing significant hardship living one to a room in five residence halls. Because of continuing county restrictions, winter and spring intercollegiate sports were cancelled.
Students, staff, and faculty living or working on campus have been required to submit to testing twice a week, using a rapid, self-administered salivary test. The number of positive test results in the Oxy community has been quite low, and none have resulted in transmission to another community member, according to Sara Semal, senior director of student wellness.
Conservative budgeting based on the assumption that the College would operate remotely all year means the projected budget deficit of more than $30 million—due primarily to the loss of tuition and room and board revenues—has proven prescient, says Amos Himmelstein, Oxy's chief financial officer. (Spring enrollment is at 1,780 students, about 12 percent below normal.) New investments in virtual technology and COVID testing have also been a contributing factor. To help address the deficit, 129 employees were furloughed last August, with many, though not all, furloughs extended to June 30, the end of the fiscal year. Having so few students living in residence halls has greatly reduced the amount of work required on campus, which made the furloughs necessary, Himmelstein says.
Budget planning for next year is based on the assumption that Oxy will resume in-person instruction, he says. "We are expecting many of the admitted students who took a gap year or current students who took a leave of absence will enroll in the fall. However, even with these returning students and a robust incoming class, total College enrollment will remain at a lower level than we had prior to this year."
Adding to the sense of optimism on campus was the recent news that College and university faculty and staff in L.A. County will be eligible to be vaccinated on March 1. Emmons Wellness Center has been approved as a vaccination center, but the current shortage of vaccines makes it unclear when Emmons will begin to receive a supply of vaccine. Subject to certain restrictions, the county has also announced that college libraries and outdoor athletic facilities can reopen.
"It's hard to believe almost a year has gone by since the pandemic began," says Marty Sharkey, vice president of communications and strategic initiatives and co-chair of Oxy's COVID Operating Group. "Staff, faculty, and students have taken extraordinary steps to keep things going. We're not through it yet. But with the growing availability and access to vaccines, combined with the declining case rates, it feels like we are so much closer to getting students back on campus."