Oxy faculty make an impact in their fields of study, public policy, and the world at large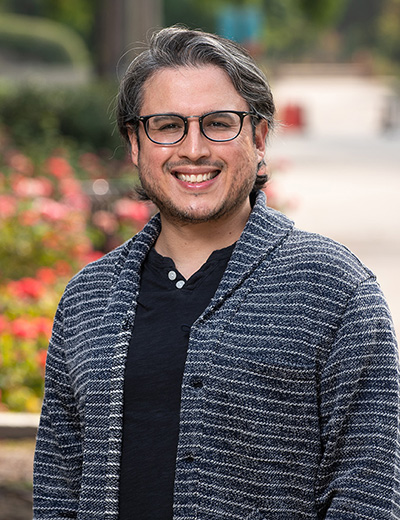 Some day he would like to teach a course on the philosophy of cooking, but for now Associate Professor of Philosophy Robert Sanchez studies Mexican philosophy. "My goal is to make Mexican, Latin American, and Latinx philosophy available to philosophers and non-philosophers alike, and to show Latinx students that philosophy matters to them, too," says Sanchez, who joined the Oxy faculty in 2020.
Sanchez was recently selected to participate in the Periclean Faculty Leadership Program in the Humanities, supported by the Andrew W. Mellon and Eugene M. Lang foundations. "I was awarded a grant to design a course on Latinx philosophy with an eye toward civic engagement," he says. In collaboration with Libros Schmibros, a bilingual lending library in Boyle Heights, Sanchez and his students are going to add a Latinx philosophy section to the library, and provide other resources to make philosophy more accessible to members of the community.
In 2020, Sanchez edited Latin American and Latinx Philosophy: A Collaborative Introduction (Routledge), a beginner's guide to canonical texts and "a great new resource for present and future teachers and students about an exciting and important emerging field in philosophy," in the words of one reviewer. "I'm using it in my own course on Latinx philosophy right now," Sanchez says, "but faculty from around the country have reached out to tell me how it has enabled them to teach their own course on Latinx philosophy, even if they didn't have a background in the area."
He may be even more excited about the pending launch of the Journal of Mexican Philosophy, an online, open-access journal dedicated to promoting advanced scholarship in, and translations of, Mexican philosophy. "Among other things, we are committed to publishing one article written by a colleague in Mexico in the language of their choice, as well as one translation of Mexican philosophy from Spanish to English, which is our small contribution to the larger effort to cultivate a binational community of scholars working on Mexican philosophy and to create linguistic inclusiveness in the profession," Sanchez says.
When it comes to taking his scholarship outside the Oxy classroom, Sanchez has plenty of company. Through books, peer-reviewed journals, and other publications or creative works, they are forging new knowledge and shaping the way their fields are approached and understood. Their expertise is sought out by major media outlets and their research helps shape policy and public discourse. Their scholarship attracts the attention of social and cultural institutions. Their grants define new research frontiers. And as part of an institution that has long been focused on the public good, the work of faculty elevates the College.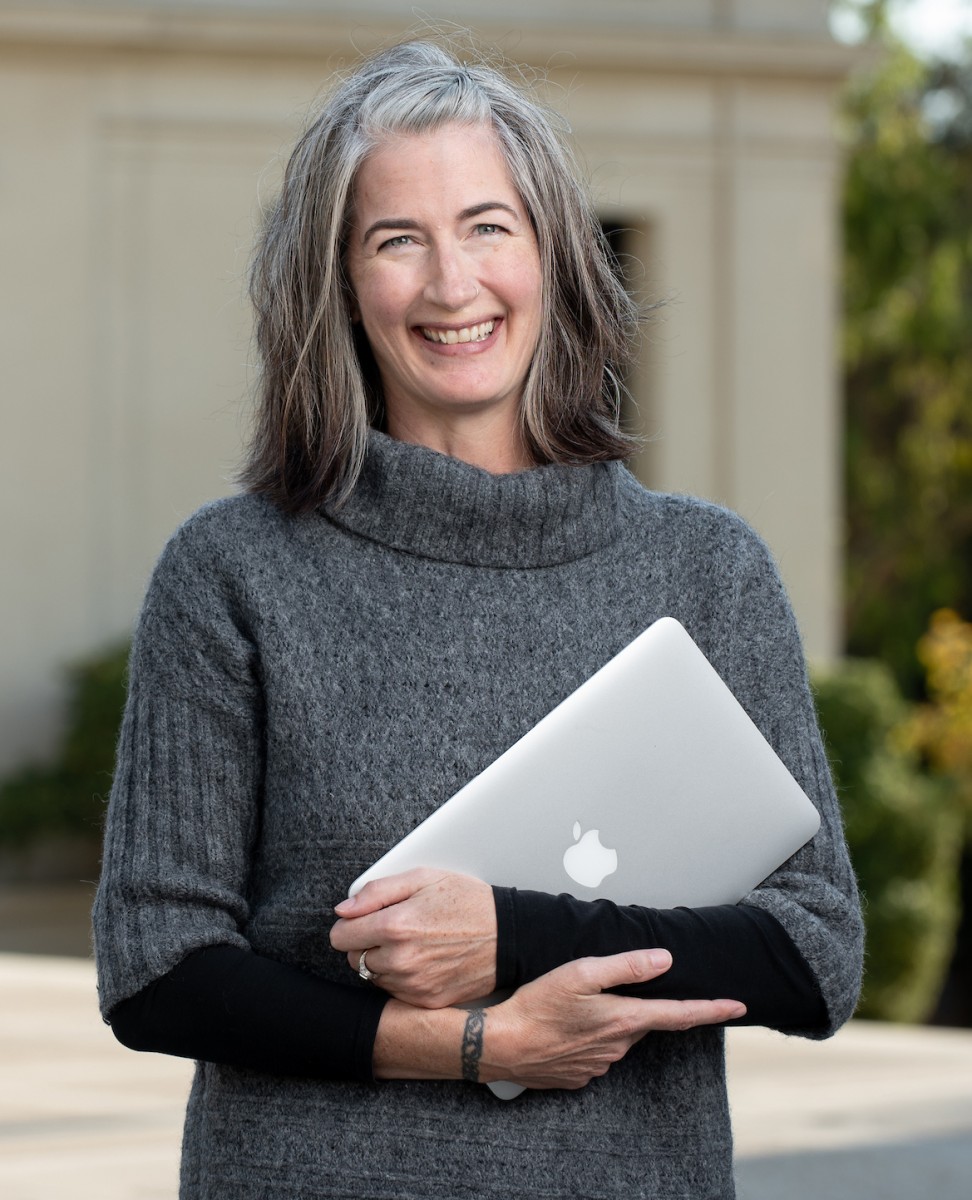 "Research is one of my favorite parts of my job," says Kathryn Leonard, professor of computer science at Oxy since 2017. "Because I had to fight hard to get to where I am, I've worked to make it easier for those who follow me—from creating classroom environments where students believe they can thrive, to creating programs where undergraduates can develop their research skills and interests, to establishing collaborative research communities for women mathematicians."
Leonard's research revolves around shape understanding—building models for automatically understanding shapes and their parts in a way that mirrors human understanding. She was recently awarded a three-year research grant from the National Science Foundation's Division of Mathematical Sciences for a project related to mathematical modeling of shapes of 2D and 3D objects. On academic leave from Oxy, she spent the fall semester in Toulouse, France, working with collaborators on this project with funding provided by the grant.
"The goal of the project is to contribute to automatic interpretation of visual data from the world—can we build a computer program that sees a new object (such as a doll), understands what its parts are (legs, arms, head, etc.), understands which parts are similar (the legs are similar to each other but the head is not), and whether or not the object is like a previously encountered object?" Leonard explains. "I love this project because it brings together math and computer science with human perception—we benchmark our results with quantitative measures of accuracy but also with comparison with human opinions of the same questions."
It's a busy year for Leonard, who will succeed Professor of Mathematics Ron Buckmire as Oxy's associate dean for curricular affairs in August. She's currently serving as president of the Association for Women in Mathematics (AWM), a 50-year-old international organization that supports women and girls in their mathematical pursuits through a wide range of programs, from K-12 initiatives to annual conferences and workshops. She's also editor-in-chief of La Matematica, the official journal of the AWM, "with an incredibly diverse editorial board [more than 75 percent women editors and more than 50 percent people of color] and peer review practices that implement the current best practices for equity," Leonard notes.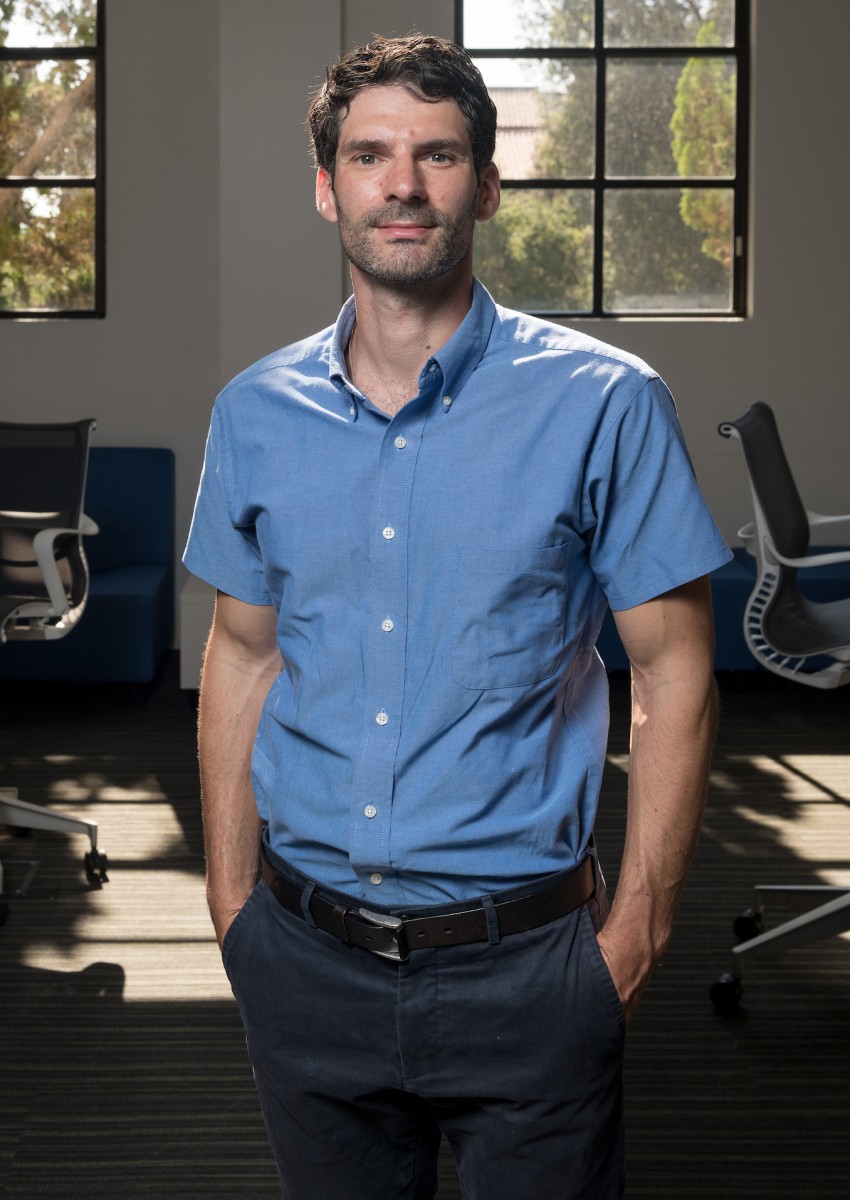 With a focus on gender and sexuality in transnational human rights, Phillip Ayoub writes regularly for The Washington Post, among other outlets, and is shaping global conversations around social justice and improving the lived experiences of marginalized groups. An associate professor of diplomacy and world affairs at Oxy since his arrival in 2018, he also advises governments, international organizations, think tanks, and NGOs on improving the status of LGBTI rights globally.
"Teaching and mentoring students is the aspect of my job that is most rewarding," Ayoub says. "My work is very attuned to contemporary issues that affect my students, or issues that they read about in the news. A core part of my teaching philosophy is to connect our field of study to the real lives of our students, so that they see how the classroom has currency for their lives."
Balancing teaching and research "keeps me engaged and fulfilled," he adds. "I enjoy the immediate gratification of teaching—when you've had a good day in front of the class, or when you observe students improving. The payoff comes so fast. But Oxy students also want to push the conversation forward, and bringing my research into the classroom allows us to do that."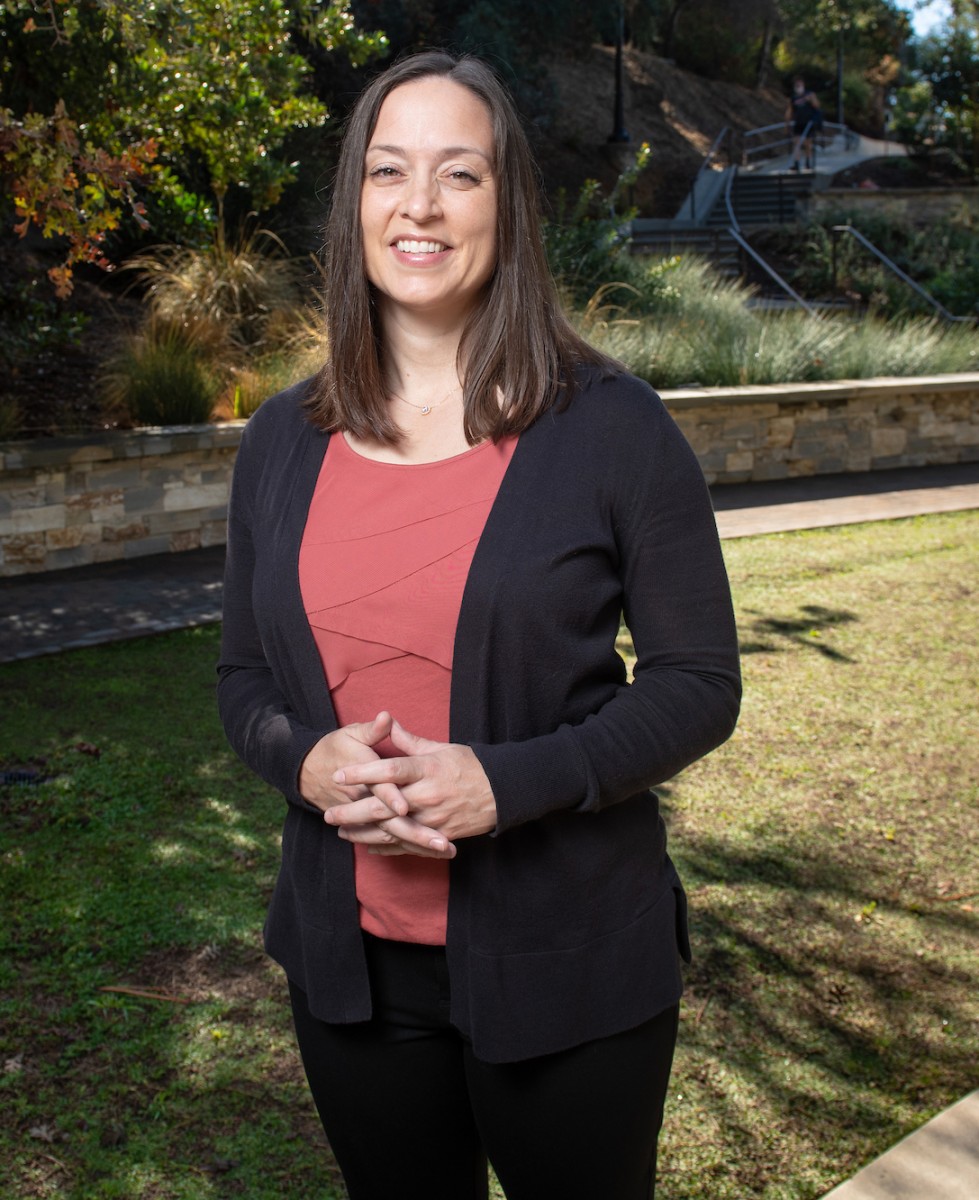 Associate Professor of Kinesiology Marcella Raney '01's research on green schoolyards and recess behavior is shaping how elementary schools make decisions about schoolyard design. Her analysis of a large-scale playground greening project—replacing asphalt with plant life—at a low-income elementary school revealed a positive impact on physical activity and social interaction during recess. By increasing access to the natural environment for all children, her work promotes health and educational equity.
A member of the Oxy faculty since 2008, Raney has been collaborating with several nonprofits in Los Angeles to secure funding for similar renovations at other elementary schools in nature-deprived neighborhoods. In 2020 and 2021, the California Natural Resources Agency awarded a pair of grants totaling nearly $1.9 million to fund large-scale greening projects at Buchanan Elementary in Los Angeles and Jackson Elementary in Altadena.
Raney was a proposal contributor and will continue to serve as the research partner for both grants. "Specifically, I will be assessing the impact of the greening projects on elementary school student recess behaviors, student motor skill development, and use of the outdoor space for teacher-led instruction in all subject areas," she explains.
As a member of the Health Working Group of the National COVID-19 Outdoor Learning Initiative—whose goal is to support the efforts of schools and districts around the country to reopen safely and equitably—Raney wrote about the health benefits of nature for the National Outdoor Learning Library.  She also is a member of the Los Angeles Living Schoolyard Coalition, a group of nonprofits advocating for equitable access to green space in our schools and communities for the most vulnerable.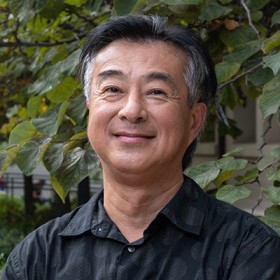 "As the urban growth machine propels gentrification forward in NELA [Northeast Los Angeles], it exhibits sharpening socioeconomic and racial overtones as immigrant working-class Latino/a families are increasingly threatened with displacement by rent increases, mass evictions, and social uprootedness," Professor of Sociology Jan Lin writes in his 2019 book, Taking Back the Boulevard: Art, Activism, and Gentrification in Los Angeles (NYU Press). "Working-class households and multi-family networks are even subject to secondary displacement as property transactions and new construction in neighborhood hotspots stimulate broader property value shifts in surrounding blocks and block groups."
The subjects of neighborhood transition and gentrification have long interested Lin, a community and urban sociologist who joined the Oxy faculty in 1998. Working with the U.S. Department of Housing and Urban Development, he has contributed to urban policy in NELA, while with Departures, the online journalism unit of Southern California public TV station KCET, Lin has used his platform to raise public awareness about gentrification and displacement.
Taking Back the Boulevard includes quotes and photos from many interviews with community residents and leaders done by students in his courses such as Urban Sociology. Many interview transcripts also were published online through the Departures project. More recently Lin has co-taught first-year seminars with Jeremiah Axelrod, adjunct associate professor of history and director of the Institute for the Study of Los Angeles (ISLA).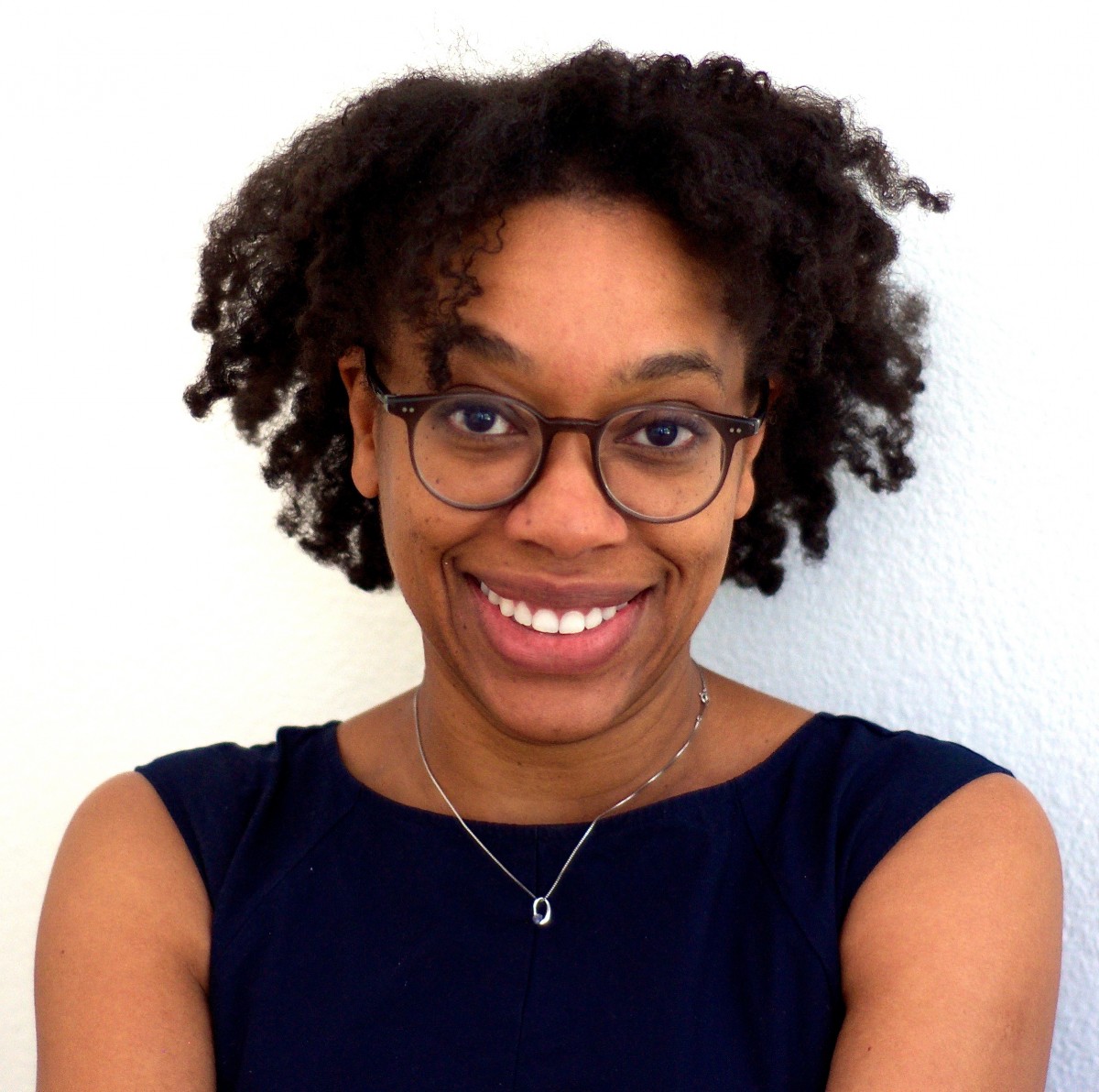 A specialist in 19th- and 20th-century African American history, Erica Ball writes books "about the many ways African Americans have placed visual, print, and other forms of cultural production in the service of the long freedom struggle," she says. "Black Americans have had a great deal to say about the meaning of freedom since we first arrived on these shores in the early 17th century. I hope that these stories from the past can serve as a usable history for those who continue to fight for freedom today."
A member of the Oxy faculty since 2016, Ball was appointed as the inaugural Mary Jane Hewitt Department Chair of Black Studies last year. Professor Hewitt—the first Black woman to serve as a tenured faculty member at Occidental—"was an extraordinary scholar and institution-builder," Ball says. "It is an incredible privilege to represent the College in her name."
Ball recently published two books to critical acclaim. Madam C.J. Walker: The Making of an American Icon (Rowman & Littlefield, 2021), a cultural biography of the groundbreaking African American hair-care pioneer, businesswoman, and philanthropist, was hailed by Publishers Weekly as "a worthy introduction to a trailblazing businesswoman and social justice advocate."
As If She Were Free: A Collective Biography of Women and Emancipation in the Americas (Cambridge, 2020), which Ball co-edited with Tatiana Seijas and Terri L. Snyder, brings together the biographies of 24 enslaved and recently freed women of African descent from the 16th through the 19th centuries. The editors of Black Perspectives—the award-winning blog of the African American Intellectual History Society—included As If She Were Free as one of "The Best Black History Books of 2020."
Ball is currently serving a second term as the Far West regional director of the Association of Black Women Historians (ABWH), which was founded in 1979 as the first professional organization for women of African descent who are historians or students of history. "I'm deeply honored to have been elected to this position," says Ball. She's already at work on her next book, which will examine the contested popular memory of slavery in America.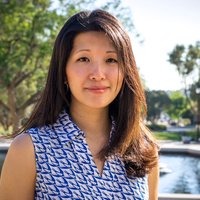 Recent conversations about anti-Asian hate and violence during the pandemic have created unprecedented public interest in Asian American history. "As a historian of Asian immigration, my goal has been to show that what's happening today isn't just a blip or pandemic-related phenomenon," says Jane Hong, associate professor of history. "Rather, it fits with a longer history of anti-Asian violence and racism in the United States."
Through public talks and her participation in two PBS documentaries [the Peabody Award-winning Asian Americans and Far East Deep South, about Chinese Americans in the Deep South], Hong is helping educate a broader American public on histories that scholars have been talking about for a long time. "In my teaching and research, my aim has always been to bridge the university with broader society," adds Hong, who has a Ph.D. from Harvard and joined the Oxy faculty in 2014.
While having her family's immigration story profiled in Asian Americans is a career high point, Hong is helping to shape the future of her field as a member of the editorial board of the Journal of American History, the 108-year-old official journal of the Organization of American Historians.
Outside of Oxy, she continues to work with the Gilder-Lehrman Institute of American History, a nonprofit devoted to K-12 teacher education in U.S. history. Hong has led immigration-themed seminars in Idaho, Kansas, and California, hosting 33 California public school teachers for a week on the Oxy campus in 2018. "Being able to speak into what K-12 teachers are sharing with their students is incredibly fulfilling," she says.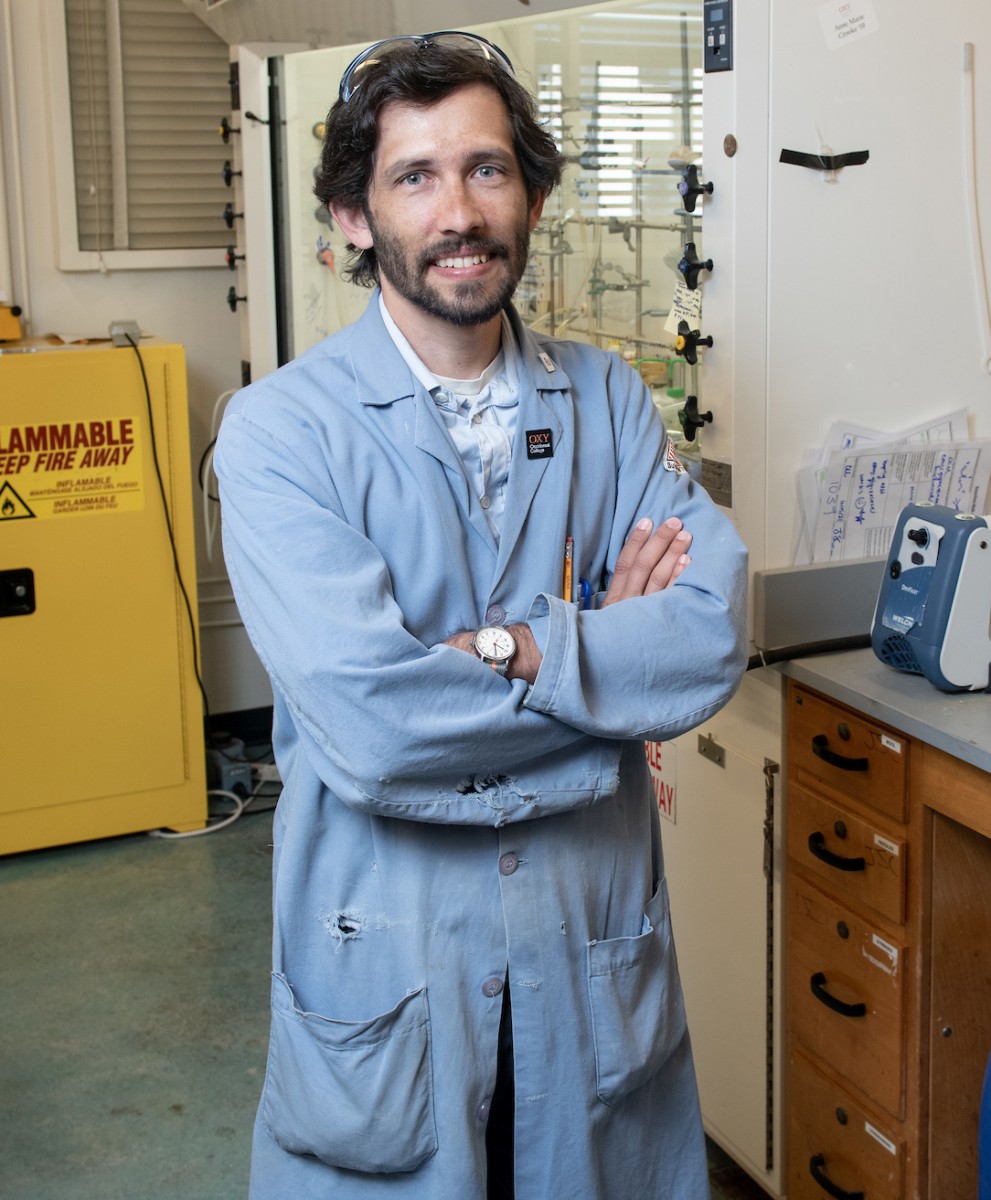 Jeffrey Cannon '07 returned to Occidental in 2014, where he is associate professor in chemistry and on the advisory committee in biochemistry, teaching and researching organic chemistry. "When I was a student, the curriculum was a lot more rigid, just the pure science aspects of it," he says. "Now it's about how the practice of science is not just about facts and theories, but also about how people are involved in science and how we can be more inclusive."
Beyond his coursework, Cannon is helping chemists transition away from wasteful, potentially toxic experiments to "greener," more broadly useful chemical reactions. Using new, more efficient methods, he makes and manipulates molecules that contain the element carbon to form small organic molecules like pharmaceuticals and biological probes. His recent National Institutes of Health (NIH) grant supports his work developing synthetic chemistry methods for making structural carbon-carbon bonds using visible light, a safe and abundant alternative energy source.
In addition to the NIH, Cannon's synthetic research is also funded by the National Science Foundation. The bulk of these grants goes to support student undergraduate research through stipends, housing subsidies, and salaries—accelerating the development of a new generation of scientists. "An early start in research," Cannon says, "can be a transformative opportunity."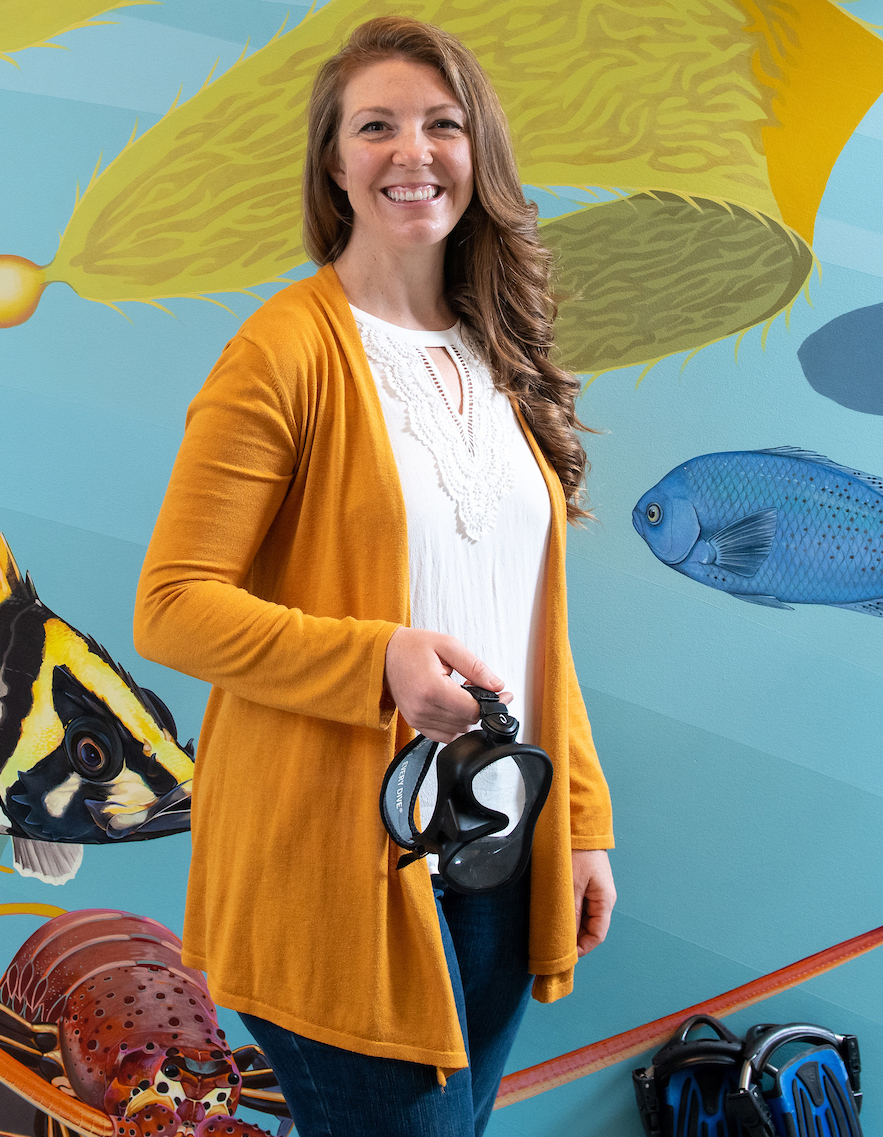 Amber Stubler was appointed assistant professor of biology in 2017 after two years as a postdoctoral research associate at University of North Carolina Wilmington. With funding from the National Science Foundation, her current research seeks to understand how bioerosion of oyster reefs—the breakdown of oyster shells facilitated by organisms such as sponges, worms, and urchins—is impacted by predators and climate change. "Natural breakdown processes are vital for healthy reefs, yet when they are accelerated by climate change, it threatens the existence of these critical ecosystems," she explains.
Using a variety of methods, her team aims to understand how sponges increase rates of bioerosion on oyster reefs and how predation and ocean acidification are impacting this process. "I am especially proud of this grant because the primary team is composed entirely of scientists who identify as women—which is still rare in marine ecology projects—and we have plans to include historically minoritized and marginalized students in every step of the research process," she says. "I look forward to involving Oxy undergraduates in my research and helping train the next generation of marine scientists."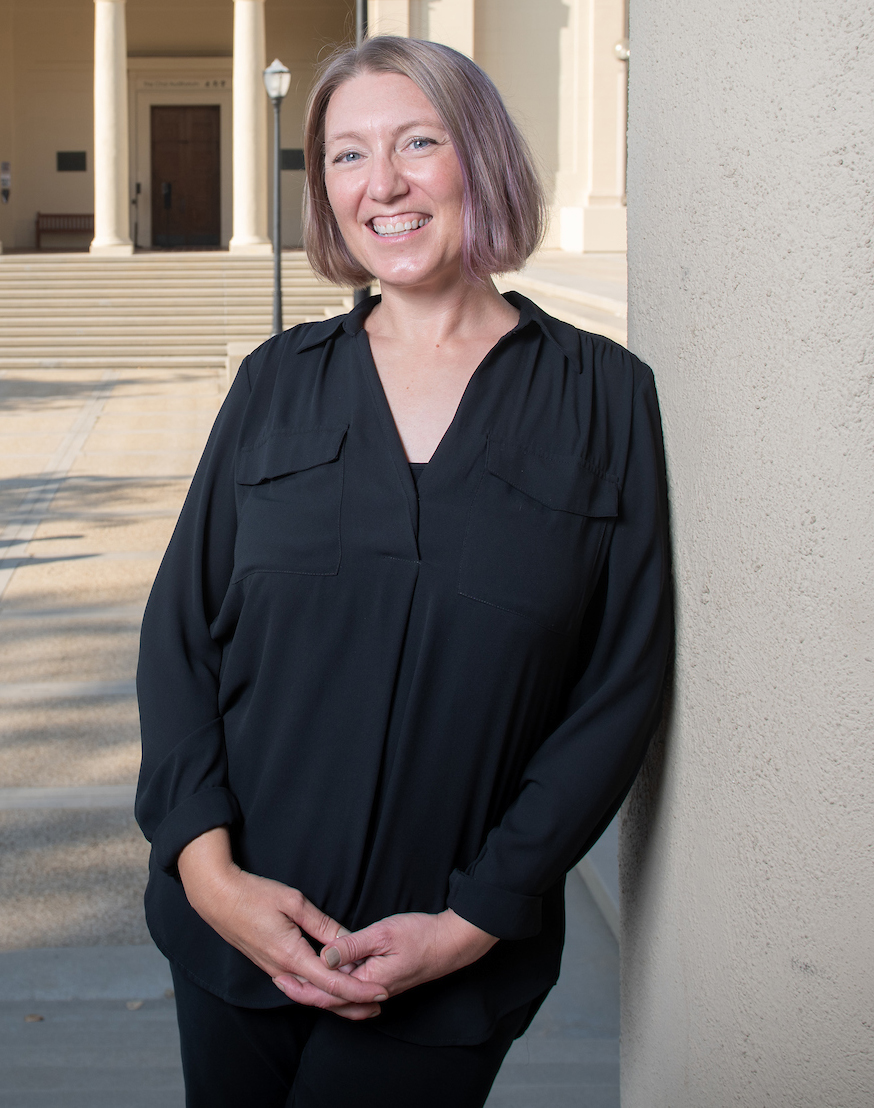 Kristi Upson-Saia's research relates to the study of medicine, health, and healing in late antiquity—a subfield in which she is leading the way.  The newly appointed David B. and Mary H. Gamble Professor in Religion oversees an international working group that she co-founded on the study of religion, medicine, disability, and health in late antiquity. The organization, titled ReMeDHe (and pronounced "remedy"), is composed of over 300 scholars from leading academic institutions on six continents who are not only re-envisioning how scholars study the history of medicine, but also promoting a more collaborative, accessible, and supportive version of academia.
"Most histories of pre-modern medicine are framed as 'origin stories,'" Upson-Saia says. "They start with the most salient features of modern medicine—doctors, hospitals, theories of disease and illness—and then trace back in time where these features came from. The problem with this approach is that it frames ancient health and healing in our terms, thus leaving out a full range of ideas, practices, institutions, and people that were central to health and healing in past communities."
ReMeDHe, by contrast, "aims to let ancient people set the terms of our inquiry," she says—an approach that enables Upson-Saia and her colleagues "to paint a fuller picture of the ideas, people, and places that they related to health and healing, including the field of professional medicine, as well as philosophy, religion, magic, and pharmacology." Because their gaze is wider, she adds, "We are able to incorporate a wider range of sources and methodologies than most histories of medicine."
In terms of her own scholarship, Upson-Saia (a member of the Oxy faculty since 2006) is currently completing Medicine, Health, and Healing in Ancient Greece and Rome, which will be published by University of California Press next year. "The book is pitched at a smart public readership, as well as premed and medical students," she says.
No time to read? In 2021, Upson-Saia discussed her work on a popular BBC podcast, joining host Greg Jenner and comedian Stu Goldsmith "to explore the strange world of ancient Greek and Roman medicine." The name of the show? You're Dead to Me.
Photos by Marc Campos. Illustration by Chanelle Nibbelink. Top row, l-r: Oxy faculty Jan Lin (sociology), Kristi Upson-Saia (religious studies), Kathryn Leonard (computer science), Erica Ball (Black studies), and Phillip Ayoub (diplomacy and world affairs). Bottom row, l-r: Jane Hong (history), Amber Stubler (biology), Jeffrey Cannon '07 (chemistry), Robert Sanchez (philosophy), and Marcella Raney '01 (kinesiology). 
Read more about faculty research.