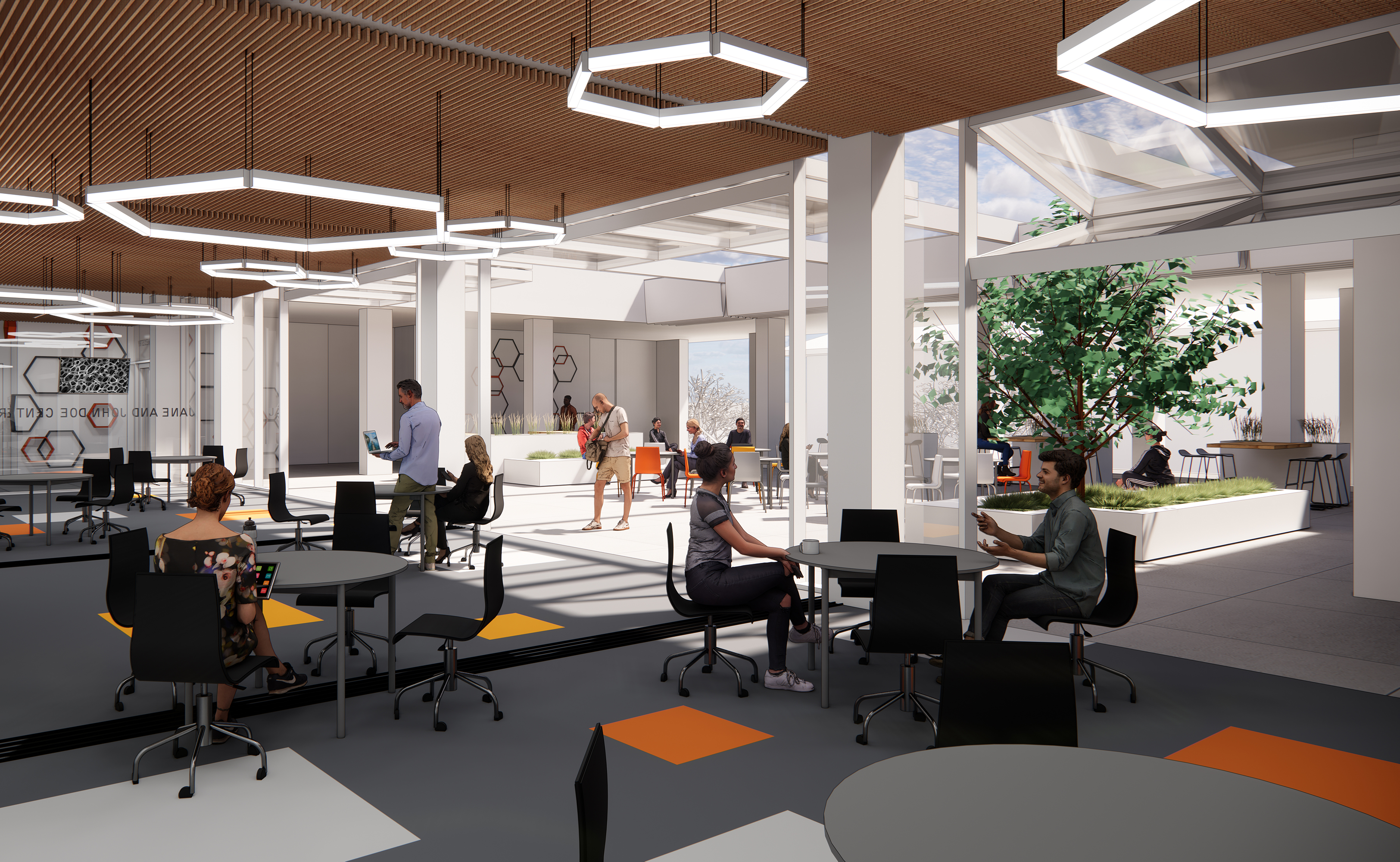 As the campaign winds toward its successful conclusion in June, plans for a long-awaited renovation of Norris Hall of Chemistry come into focus. Also: Previewing Day For Oxy
A $5 million gift from the W.M. Keck Foundation will support the launch of a multi-phase renovation of Kenneth T. Norris Hall of Chemistry, with construction expected to begin early next year. The Keck gift will help fund the first phase of the project, which will see the underutilized basement turned into state-of-the art teaching laboratories and the creation of the Academic Mastery Program (AMP) Center on the ground floor, a flexible indoor/outdoor space that can be used for classroom teaching, lectures, or receptions.
With an estimated price tag of $22 million for the first phase of the renovation, the College needs to have secured 80 percent of the funding, or $17.6 million, to commence with construction in early 2024, says Charlie Cardillo, vice president for institutional advancement. "We're approaching folks for commitments to get us to that level," he says. "Everyone's committed to having this project happen."
Renovation of Norris Hall of Chemistry was one of the top recommendations of Occidental's Science Task Force, a 34-member group of alumni, parents, and faculty who assessed the current state of the sciences and science facilities at the College and issued a detailed report in October 2021. The needs are substantial on a campus where 40 percent of students are pursuing degrees in the sciences. Today, more Occidental students major and minor in the sciences—chemistry, biochemistry, biology, physics, cognitive science, computer science, geology, and kinesiology—than in the social sciences or arts and humanities. Almost two-thirds of science majors are women, and 40 percent are students of color.
Built in 1960 and renovated in 1990, Norris Hall of Chemistry received a $6 million renovation to its ventilation system in 2016, addressing long-standing concerns about the HVAC system. But the mid-century teaching and research labs—central to Occidental's hands-on approach to teaching and research—are no longer equal to the task, science faculty say.
Once both phases are completed, the renovation of Norris will include not only expanded and redesigned teaching labs, but state-of-the-art faculty research labs and offices on the second and third floors; new spaces to encourage collaboration, creative thinking, and problem solving among students; and the entirely new AMP Center for Oxy's peer-led program that promotes excellence in biology, physics, and math as well as chemistry.
One of the nation's largest philanthropic organizations, the W.M. Keck Foundation supports outstanding science, engineering and medical research. For the last decade, the Foundation has been a generous supporter of the sciences at Occidental, helping to fund a new genomics center, research equipment for marine biology, and underwriting the summer research program. 
The Norris renovation project is based on designs by JFAK Architects, whose work can be seen at Caltech, UCLA, and Claremont McKenna College, and GL Planning & Design, which has previously worked with UC Berkeley and Stanford, among others.
winds to a successful conclusion on June 30, "We are hopeful that folks will be inspired to help us finish the campaign on as strong a note as possible," Cardillo says. One outstanding campaign goal is the As The Oxy Campaign for Good Edgerton-Occidental Merit Scholarship Program. When fully funded, the $9.6 million endowed fund will support up to 12 middle-income California students each year with an annual scholarship of at least $40,000 that will make Oxy tuition comparable to the University of California's in-state tuition. 
As of February 6, 2023, the campaign had raised nearly $243 million in gifts and commitments—well over its seven-year, $225 million goal. Other ongoing fundraising priorities for the College include raising endowment dollars toward professorships and faculty 
directorships, and
 future construction efforts to support Oxy's burgeoning Music, Media Arts and Culture, and Computer Science departments. 
Another milestone on the campaign calendar is the fourth annual Day For Oxy, which is scheduled for April 20. This year's goal is 1,987 donors—one for every student. Over the last three years, Day For Oxy has raised nearly $4.7 million for the Oxy Fund, which supports students, faculty, staff, and a host of academic and athletic programs.