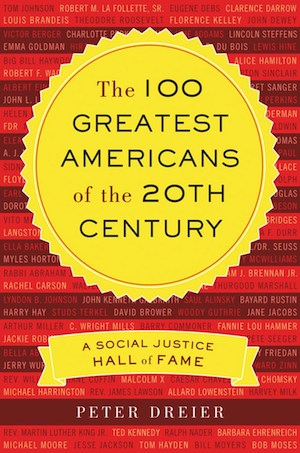 Two years ago, Peter Dreier triggered a lively debate when The Nation featured his list of the "50 Most Influential Progressives of the Twentieth Century" on its cover. Now he's turned that debate into a book.
 
Dreier's provocative slant in the newly published The 100 Greatest Americans of the 20th Century: A Social Justice Hall of Fame (Nation Books) is that the "greatest" Americans are those who helped promote what he calls "a more humane, democratic, and just society."
In the book, the politics professor and chair of the Urban & Environmental Policy Department at Oxy profiles 100 individuals—some well-known, others less famous—who played key roles in the women's suffrage, labor, civil rights, environment, feminist, and other movements of the century. He emphasizes the importance of telling their stories, arguing that they are underrepresented in textbooks and often misrepresented in political debate.
The result of Dreier's work, author Jonathan Kozol says, is "a compelling narrative of the major social justice movements of the United States and the ways that high ideals are transformed into action…Terrific reading." You can hear an interview with Dreier about his book here.
Dreier will be signing books at Vroman's bookstore in Pasadena on Friday, July 6 at 7 p.m. He also will be signing at Modern Times bookstore in San Francisco on Saturday, July 21 at 7 p.m.; at the San Francisco Laborfest Book Festival on July 22 at 2 p.m.; and at Diesel Books in Brentwood on Sunday, August 5 at 3 p.m.