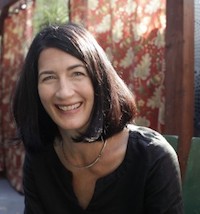 Occidental College has been awarded a $1.38-million grant from the National Science Foundation to stimulate undergraduate research in mathematics and statistics on campuses across the country. The award started September 1.
To be managed by Occidental computer science professor Kathryn Leonard, the funding extends and expands the work of the Center for Undergraduate Research in Mathematics (CURM), which previously was managed by Brigham Young University. CURM promotes academic year undergraduate research in mathematics and statistics based upon a model consisting of (a) training faculty members to mentor students in research, (b) engaging students and a faculty mentor in research during the academic year at their own institution, (c) preparing students to succeed in graduate studies and (d) advising faculty members on how to maintain consistent undergraduate research, including finding resources for other funding sources. 
"It's funding for faculty stipends and student stipends for faculty-student research groups to start at other institutions, not at Oxy. Oxy is the host and people elsewhere will apply for the funding from us," Leonard explained.
Many talented mathematicians find themselves in tenure-track positions at schools where research is not a priority. Each year, CURM administers mini-grants to undergraduate students working with professors at various institutions across the U.S, and provides a workshop for faculty mentor training and spring conference events for students to present their research.
"We're trying to make a pathway to faculty at community colleges whose research might have fallen by the wayside," Leonard said. "We're giving them an opportunity to reboot their research." The grant will also target schools in rural areas. "Those regions tend to be more intellectually isolated, and we're trying to bring them into a larger intellectual community," Leonard said.
Since 2007, CURM has funded 110 faculty and more than 400 students from over 100 colleges and universities nationwide, including at several Historically Black Colleges and Universities (HBCUs), Hispanic Serving Institutions (HSIs) and women's colleges. Over half its awardees are at institutions in rural areas (defined as towns with fewer than 50,000 residents).
Almost two-thirds of the students funded in the initial NSF grant have gone on to graduate study in mathematics, and more than 90% of CURM faculty have continued to mentor students in research.
The CURM participants will perform research in various areas of mathematics. Undergraduate students will conduct research in mathematics, prepare and present conference talks, and write and publish research papers related to this research. Faculty will revitalize their research programs and connect their work to their local mathematical community.
"Occidental has a long and strong history of engaging students in undergraduate research projects," Leonard said. "Oxy is sharing its expertise in undergraduate research with other campuses in the nation to fund undergraduate math-based research projects at their schools."
As director, Leonard will be involved in deciding which institutions are granted funding for research projects. Over the course of the five-year grant, Leonard will work with four other directors at other institutions to determine the grant funding. The goal is to fund projects led by about 54 students at around 16 institutions each year. Students get course credit or a $3,000 stipend, while professors will get a $5,000 stipend.
"Projects will depend on faculty research interests," Leonard said. "Pretty much anything computational is fair game."