Submitted by kwall_admin on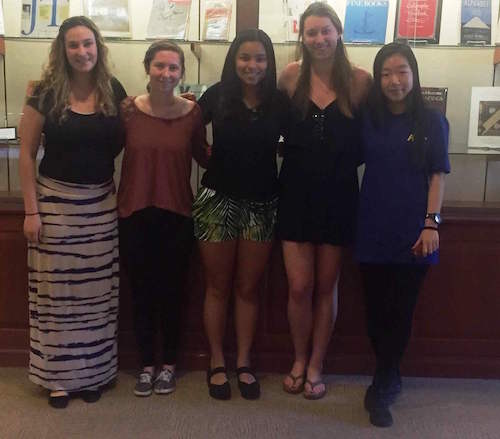 Five Occidental College students collaborating with faculty in the fields of chemistry, biology and cognitive science have been named 2016-17 Science Scholars and presented with research grants funded by the Kenneth T. and Eileen L. Norris and Fletcher Jones foundations.
Whi-Inh Shirley Bae '17, chemistry major from Harbor City; Chelsea Blankenchip '17, a biochemistry major from Carmichael; Catherine Conlon '17, a biology major from Danville; Natalie Dwulet '17, a chemistry major from Coronado; and Julia Hamilton, a cognitive science major from Sherwood, Ore., were selected by Oxy faculty to receive the prestigious award. Each Science Scholar receives $15,000 in support to carry out research from the spring of their junior year through graduation.
Conlon, working with Biology Professor Roberta Pollock, and Dwulet, working with Assistant Professor of Chemistry Jeff Cannon '07, received Norris Scholar awards. Conlon will research possible vaccinations for the infectious equine disease pigeon disease and test the success of different vaccine combinations and processes. Dwulet will research the possibility of developing a new methodology for the synthesis of amino acids.
Bae, working with Associate Professor of Chemistry Andrew Udit; Blankenchip, working with Associate Professor of Biology; and Hamilton, working with Assistant Professor of Cognitive Science Aleksandra Sherman, received Fletcher Jones Scholar awards.
In her research, Bae will explore the capabilities of cabalticinium salts as a cheaper and more effective alternative for the currently used enzyme (NADPH) in the fields of biotechnology and drug development. Blankenchip will research Costa Rican rolled leaf beetles to expand on the benefits of microbial symbiosis. Hamilton will test the notions of mental action stimulation and prediction and then explore if and how empathy affects the prediction process.