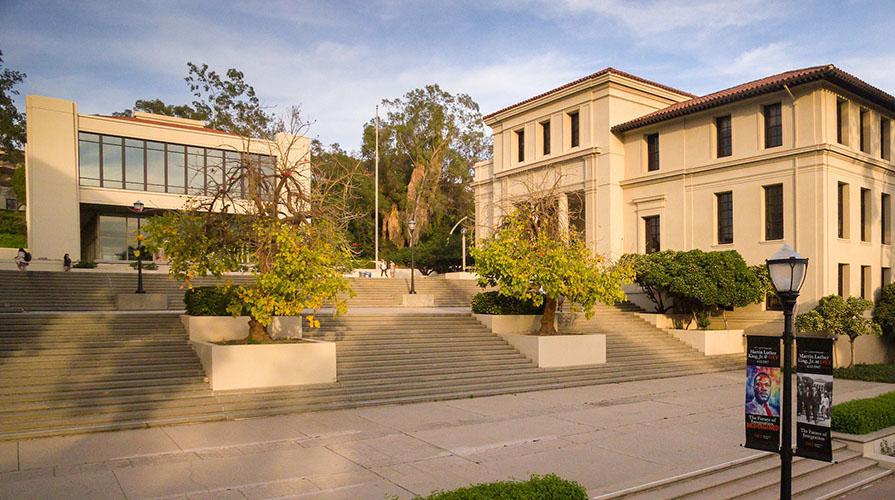 Occidental students, faculty and staff celebrate the annual tradition of Student Leadership Awards.
Outstanding student leaders, organizations, faculty and staff mentors across campus are being honored this year with testimonials from their nominators. Sponsored by the Division of Student Affairs, this year's recipients were nominated by students, staff and faculty within four categories: Endowed Awards, Individual Student Leadership Awards, Individual Faculty and Staff Awards, and Student Organization Awards.
Endowed Awards
These awards recognize outstanding student leaders for their commitment to the campus community with a scholarship.
The Charles W. List Award recognizes first-year students who have demonstrated leadership, character and personality, maturity of purpose and high ideals
Yenni Gonzalez Salinas '25
Throughout her first year, Yenni has demonstrated a strong leadership presence at Oxy. As a student intern at the Financial Aid Office, She has created more meaningful relationships with the student body. Yenni has hosted workshops for filling out FAFSA and CSS profiles, which had high levels of attendance. Through these workshops, she has encouraged people to feel welcome at the Financial Aid Office. Furthermore, Yenni is also a Program Coordinator at SLICE where she focuses on engaging students to vote in political elections. She has connected with multiple non-profit organizations to come up with innovative ways of mobilizing civic engagement. She is also a tour guide at the Office of Admissions, where she makes sure that first-generation and low income prospective students receive the proper resources to attend Occidental. This shows how Yenni is involved with the betterment of the institution. Overall, she is a student who has the ability to self-advocate and has a powerful voice that can move the institution towards change. - Gabriela Rodriguez '22
Matthew Vickers '25
Matthew is a remarkable first year student who I think exemplifies many of the values that Occidental holds dear. Matthew is a strong student with a high GPA, a two sport student-athlete (cross country and track & field), a writer for the Occidental, Chair of the YDSA, and he also finds the time to volunteer for Unite 11. The fact that Matthew is able to balance all of his commitments is, in of itself, impressive, but the passion he pours into each part of his life truly sets him apart from other students I've coached at Occidental. Matthew has also arranged to do Summer Research this year focusing on The Haitian Revolution and its historiography with the context of decolonization and socialist anti-colonial movements particularly in the Caribbean. This is a topic he was already interested in before attending Occidental, and I believe it was him who proactively approached his professor about doing research. In short, I can't think of anyone better suited to be a Charles List Memorial Award winner. - Rob Bartlett, Head Coach, Cross Country and Track & Field, Athletics
The Cynthia Cox Memorial Award is given to an outstanding sophomore student who exhibits high scholarship and moral character as well as contributions to student life and the general welfare of the College.
Sunari Weaver-Anderson '24
Sunari combines her academic skills with her professional skills and incredible work ethic. As one of her peers recently remarked, "Sunari is by far always the smartest person in the room." She is a brilliant writer as well as an artist. She has a wide range of interests ranging from the arts and humanities to the social sciences. She engages fully in theory as well as praxis, always testing and navigating the relationships between the two. She recently declared Politics as her academic major, a decision that matches her intellectual curiosity and supports her interest in social justice and community-based learning. - Martha Matsuoka, ​​Associate Professor, Urban and Environmental Policy; Executive Director, Urban & Environmental Policy Institute; Interim Faculty Director, Center for Community Based Learning
The Daniel Stewart Hammack Memorial Award is given to an outstanding junior who has demonstrated high scholarship, strong moral character, loyalty to the ideals of the College, and contribution to student life and the welfare of the College.
Ashley Muranaka-Toolsie '23
When Ashley came to Oxy, post lockdowns/ Zoom school, she saw a need for an organization that celebrated and welcomed all students of AAPI backgrounds. While we have many cultural clubs specific to AAPI identity, there was no group that linked the overarching themes and experiences shared by AAPI students. The club itself, in one semester, celebrated Lunar New Year with their first ever event, one of the most successful and well-run events on this campus this year, and have brought back the anticipated Night Market. I watched as she stepped into the role of a leader, first by creating a solution to a problem she saw, and then serving as an organizer to run her club. - Ethan Akimoto '24
Individual Student Leadership Awards
The Unsung Champion Award recognizes a student from any class level whose behind the scenes work has proven invaluable to the success of a project, program, cause, or initiative.
Cordelia Horch '22
Peer-to-Peer Workshops, Research Experiences for Undergraduates
Most notably, by herself and on her own, Cordelia ran a series of 6 workshops teaching students how to apply to REUs–research experiences for undergraduates where the National Science foundation pays colleges to pay students to do pure math research. They are essentially the only paid opportunity to do pure math as an undergraduate. I had never heard of them but Cordelia did one last summer and she walked a group of us through step-by-step exactly how to apply. She met with me one-on-one a dozen times, reread my essays even more and often would come running to my aid with just a few moments notice. All while working three jobs and carrying a full load of classes. - Julia Carrigan '25
The Emerging Student Leader of the Year Award honors an outstanding first-year or sophomore student who exhibits strong leadership potential early on in their time at Occidental.
Claire Olson '24
Claire is an active member of the JEDI Committee, overseeing the Operations and Logistics Subcommittee in charge of new membership and policies and procedures. But what is perhaps most impressive about Claire's efforts with JEDI is their willingness to share personal, lived experiences as a queer non-binary athlete in the hopes of educating others about the different communities they belong to and/or empower folks to embrace their true self. They have led a conversation titled "Breaking the Binary" with multiple Oxy varsity teams this academic year, and was one of two student-athletes featured in a short video titled "Silenced by HeteroNORMativity" last academic year that was viewed by the entire Athletics staff and hundreds of Oxy student-athletes. - Cori Vallembois, Assistant Director of Operations, Athletics
The Capstone Leader of the Year Award honors an outstanding junior or senior who served as a peer mentor and demonstrated an understanding of how to create change within an organization or community.
Priya Ahmad '22
In the fall, Priya held the position of Director of Policies on Senate. Not only did she assist in re-envisioning and rewriting all Senate internal guidelines, funding guidelines, and Senate bylaws, she also made sure to include everyone in the process which took significant effort and patience. Priya then went on to assist in rewriting the All-Branch Funding Guidelines, representing Senate on the Executive Committee, planning Senior Formal, and assisting in planning the POC formal. Finally, Priya single-handedly negotiated with Blyth Fund to invest and grow ASOC's savings in a safe manner that provides a greater educational experience for student members. She also co-created the Zoe Nussbaum, Jaden Burris, and Ilah Richardson
Memorial Fund to provide monetary help to students in immediate need of help. - Adam Cole '24
Individual Advisor and Supervisor Awards
The Student Organization Advisor of the Year Award recognizes faculty, staff, administrators, or alumni who serve as an organization advisor outside of their normal duties and provide outstanding support to the organization.
Barbara Thomas, Faculty Advisor, The Occidental
Barbara is the backbone of the paper at Occidental, and often works overtime to make sure that it is supported and cared for. She stays from 5 p.m. to 11 p.m. every Monday night in the Newcomb media suite during Monday Night Edits, to make sure we have any help or support that we need. She also has never missed a paper meeting, holds the Tuesday New York Times Roundtable Discussion, teaches a journalism practicum class, and consistently holds office hours for students to get career/life advice or to work on their articles. Above all, she has been a constant support system for so many Occidental journalists, during an especially turbulent year post-COVID. When the paper has hit rough patches, often having little to no attendance, she is meeting with students and brainstorming how to make things better, or bringing donuts to treat everyone. She is so thoughtful and caring, and is the definition of working above her pay-grade, because she truly cares. - Haley Jones '22
The Student Worker Supervisor of the Year Award recognizes an administrative, staff, or faculty member who has had a positive impact on students through their work as supervisors.
Julie Prebel, Associate Professor, American Studies and Writing & Rhetoric; Director of Writing Center & Programs
Professor Prebel is so passionate about the Writing Center and the student advisors that work in it. In my time as a Writing Advisor, Professor Prebel ensured that every advisor received the proper training and support to thrive in their position. She also made sure that the working environment was productive, but fun⁠—organizing events like the write-ins and making sure Trader Joe's snacks were a regular occurrence at meetings and events. I also applaud her for not only letting the writing center serve to help students with their writing, but for being a place that actively decolonizes writing and makes sure that, as Writing Advisors, we never suggest anything that makes the writer change/ lose their voice. Additionally, the workshops and readings we read in trainings began our understanding of how to best support individuals with different learning backgrounds. Overall, Professor Prebel runs a tight ship, but also cares so much for her Writing Advisors and those who seek out the Writing Center for help. - Kia Mackey '22
Student Organization and Program Awards
The Community Impact Award recognizes student-led group projects, campaigns, initiatives, or movements that have worked to strengthen the relationship between Oxy and the surrounding community.
Matthew Jackson '24, Tiger Tuesdays, partnership with local vendors
Matthew Jackson's determination, when it came to contributing to campus life, is astonishing. On his own, he developed, planned and held the Tiger Tuesday event, and more than once. The event he planned brought together a few small businesses and gave them an opportunity to engage with the Oxy community. Through this, he both benefited small businesses of Los Angeles and the Oxy student body. He has shown dedication and hard work that needs to be rewarded. - Adrien Schaal '24
Boundless Brilliance, partnership with local schools
Boundless Brilliance being a club and non-profit organization gives every member the opportunity to take on as many responsibilities as they have time for. Additionally, having seven E-Board positions, makes plenty of room for members to step up into leadership positions if they choose to. Furthermore, training of the next year's E-Board is done by current individuals serving in those positions. With presentations given to local elementary schools, including empowering dialogue and science experiments, Boundless Brilliance works to excite and empower students to pursue a career in STEM, no matter what their gender or racial identity is. At Oxy, with the Tea Party and FEM in STEM events, Boundless Brilliance builds community, not only between female identifying students in STEM, but also between female identifying professors and students in STEM. - Kia Mackey '22
The Student Organization Program of the Year Award recognizes a club that has contributed positively to the campus community and embodied the highest standards of program planning, implementation, and evaluation.
Lunar New Year Celebration, Asian Pacific Islander Desi American Association (APIDAA)
The Lunar New Year Celebration that APIDAA hosted was an amazing and beautiful event and I can't believe it was put on by students. Every aspect of the event was fully and thoughtfully considered to best support and represent the APIDA community on campus. They invited all the other APIDA related organizations on campus to collaborate, and encouraged everyone to identify how they wanted to participate. They created a wonderful and educational celebration of APIDA culture and community. It was a beautiful celebration of unity amongst a very diverse community, especially in the wake of the comments from earlier in the semester. I know many people within and outside the APIDA community deeply appreciated and enjoyed this event and the community it built amongst Oxy students, faculty, and staff. It encouraged all participants to learn more about APIDA cultures and communities and take part in cultural appreciation. - Paulina Kerrigan '22
The Student Organization of the Year Award recognizes a student organization that has consistently made positive contributions to the campus and encouraged leadership throughout its membership. Through diverse programming and initiatives, the group must have demonstrated fiscal stewardship and affected the community through intentional co-sponsorships and collaborations.
Latinx Student Union
The current Latinx Student Union leadership board has done an amazing job at reviving the club! They do a great job at encouraging all classes/grade levels to attend the events, and always have an impressive turn out. They have organized events to allow Latinx students to get to know each other with activities ranging from academic support, like FAFSA workshops, and socializing opportunities, like cultural dance nights. They have also established a great connection with the Occidental College Latino Alumni Association. Latinx Student Union is a great example of a club that succeeds at making underrepresented groups of students feel at home by helping us find each other and create a solid community. - Gabriela Maravilla '22