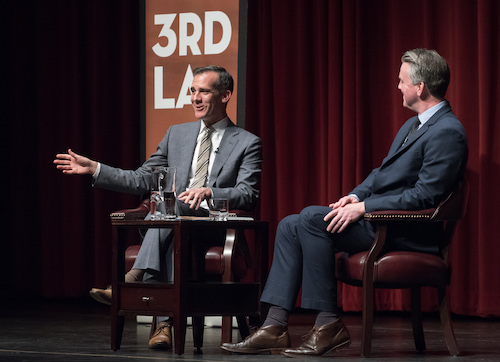 Los Angeles Mayor Eric Garcetti offered a preview of how he will approach development issues during his second term in a wide-ranging conversation with Los Angeles Times architecture critic and Occidental College Professor of Practice Christopher Hawthorne as part of the College's 3rd LA series Wednesday.
In front of a Thorne Hall audience of more than 600, Garcetti talked about lessons to be learned from voters' recent rejection of Measure S, the slow growth initiative, and approval of Measure M, the half-cent sales tax increase for transit projects. He also addressed his efforts to work with the Trump administration on infrastructure funding, even as the city defies the White House on such issues as immigration. (You can see the entire program here.)
The rise of Measure S was rooted in the longstanding debate over the nature of development in Los Angeles and the city's failure to update its 35 community plans, Garcetti said. Community plans languished because of the 2008 recession's impact on the city's budget that led the city council to prioritize police services ahead of planning, as well as the complicated politics of finding community consensus.
One of the few plans that was updated -- the Hollywood Community Plan -- required 114 public meetings and was eventually blocked in court, the mayor said. "You want to be comprehensive, but how do you get the balance between speed and community input?" he asked.
While labeling Measure S as "the death cough of a past approach to planning," Garcetti cautioned against dismissing the concerns that lay behind it. One of its legacies is the city's current goal to update community plans every 6 or 7 years. "That is hugely ambitious," he said. "That is what bubbled up out of Measure S."
The mayor disagreed with the characterization of the planning process as broken, dismissing the idea that developers have bought councilmembers with campaign contributions. "It's not so much that [the process] is broken as that it needs to get better, and be more transparent," Garcetti said. The system's biggest failure is not the individual projects that are being built, but the lack of attention paid to the urban infrastructure around them, he added.
A new city design review committee and a new position of chief design officer could help address this lack of attention to "connectivity" issues, he said. "I think L.A. is ready for that. That could be a good legacy for the second term." Garcetti said he was also open to the idea of eliminating minimum parking requirements in downtown, and endorsed the proposed affordable housing linkage fee due to go before the city council later this spring.
As the first vice chair of the Los Angeles County Metropolitan Transportation Authority, which operates 170 bus lines and six light rail and subway lines, Garcetti added that he is also urging Metro to rethink its role in the wake of the passage of Measure M. "Metro should be main traffic agency, addressing traffic issues, and the main planning agency for this county – there is no other agency doing that." Rather than limiting its role to running transit lines, Metro should "think about them as development zones with train lines running through them."
Garcetti also spoke favorably about the creation of state authority to provide unified oversight for the transformation of the Los Angeles River, which runs through 16 cities. "There is some coherence to that idea that I actually like," he said.
Asked by Hawthorne about his relationship with the Trump administration, Garcetti said he never "fixated on a president. Key members of Congress have always been as important or more important." Shortly before President Trump was inaugurated, Garcetti said he brought together six mayors to meet with Trump advisor Gary Cohn to discuss proposed infrastructure spending. "We have stood up for our values – as long as I'm mayor, our police officers will never be immigration officers – but I'm also not going to stop talking to anyone. You're disempowering yourself if you do that."
As he has in the past, the mayor deflected questions about whether he might run for higher office. "I really love this job, this city, and I'm not going anywhere," he said, stopping short of a definitive statement about his political future. "I live here. This is my home. …  The bottom line is I'm so excited about this work that there's not much else I'm thinking about."