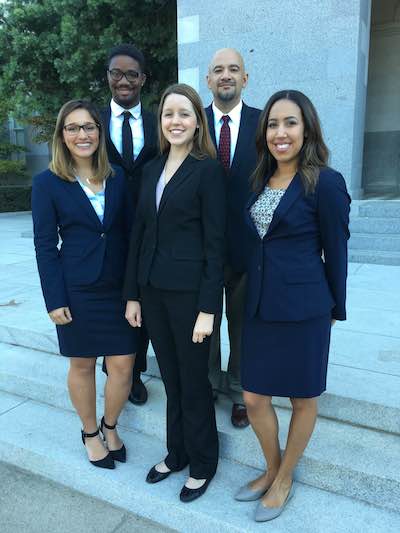 Four recent Occidental graduates are busily engaged in the political process as part of the 2015-2016 class of Capital Fellows, working for the California state government in Sacramento.
Paige Dow '15, an urban and environmental policy major from Laguna Niguel, is a fellow in the Executive Fellowship Program. Riana King '13, a sociology major from Folsom, and Jarron Brady '15, a politics major from St. Louis, are fellows in the Assembly Fellowship Program. Evita Chavez '15, an urban and environmental policy major from Los Angeles, is a fellow in the Senate Fellowship Program.
The Capital Fellows Programs are administered by the Center for California Studies at Cal State Sacramento, and are an outstanding opportunity for college graduates to engage in public service and prepare for future careers. Fellows work 10-11 months as full-time, paid staff members in the California state Assembly, Senate, executive branch or judiciary. They participate in policymaking, program development and program implementation. Fellows gain firsthand experience in the governance and leadership of the most diverse, complex state in the nation.
Fellows are typically given assignments with a significant amount of responsibility and challenges. They also enroll as graduate students at Sacramento State and receive graduate units.
Fellows are selected in the spring and start their programs in fall with an intensive orientation conducted by the program, after which they interview with various offices before being placed. They attend weekly graduate seminars conducted by their program's academic advisors.
For more information, please go here.