Submitted by kwall_admin on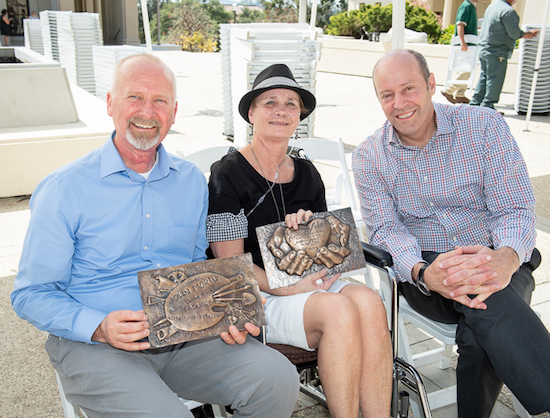 Two longtime Occidental employees were honored by President Jonathan Veitch with the Presidential Medal for Distinguished Service to Occidental College in an April 10 campus ceremony.
Carolyn Adams, recently retired executive assistant to the dean of the College, and John Mortl, former assistant director of planning, design and construction, became the fourth and fifth recipients of the infrequently bestowed award.
Adams served six deans in her 20 years as executive assistant, a job she took after a decade of experience as an administrative assistant in the philosophy, mathematics and physics departments.
"At her retirement party, many adjectives were used: unflappable, resourceful, efficient, calm, supportive, calm, optimistic, calm, generous, humble, calm, ethical and kind," Veitch said during the presentation. "That calmness at the center of what can be a very challenging environment is one of her signatures."
Even more impressive were the phrases that were used to describe her: "The compass of the College, the backbone of the College, and the rock of the College," Veitch said. "None of that is an exaggeration ... Through her kindness and generosity, she has nurtured a real sense of community at Oxy."
During his 30-year career at Occidental, Mortl, who began as a carpenter, left his mark on almost every building on campus. "It's the kind of service that is easy to take for granted—invisible when well done, as it so often was," Veitch said.
Mortl's quiet, soft-spoken personality "masked a fierce dedication to the betterment of the College, and the highest standards in his work," the president continued. "As John's boss, Tom Polansky, said last year, 'If Occidental was a band, John would be its drummer, providing a steady beat to follow.' He's our Ringo Starr."
One-of-a-kind plaques honoring Adams and Mortl will be added to the Presidential Medal wall, designed by local artist Heather McLarty. The metal artwork was installed on the south side of the AGC Administrative Center when the medal was created in 2011.
Previous recipients include Bill Tingley, vice president for admission and financial aid; Jean Paule, secretary of the College and Occidental archivist; and Bruce Steele '71, environmental health and safety officer.