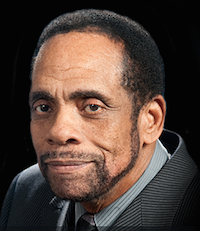 Pioneering physicist and engineer George Alcorn '62 has been named to the National Inventors Hall of Fame (NIHF), one of 14 "monumental individuals whose innovations have not only changed the way we live today but set the standard for American ingenuity," according to the organization.
Alcorn will be inducted into the NIHF during a ceremony in Washington, D.C. on May 12.
Alcorn, known for his aerospace and semiconductor inventions, joins an inductee class including such luminaries as Nobel Prize winner Shuji Nakamura, responsible for LED light; Jaap Haartsen, the inventor of Bluetooth technology; and duo Ioannis Yannas and John Burke, who have saved the lives of many burn victims with their invention of Artificial Skin.
Chosen by the NIHF in partnership with the United States Patent and Trademark Office (USPTO), the 2015 Hall of Fame Inductees "have changed the world through human, social and/or economic progress."
"Our new group of inductees have unique stories that personify the pursuit of the American dream and their relentless drive to overcome adversity," said Invent Now, Inc. CEO Michael Oister. "Despite the obstacles, they have advanced our nation through innovative ideas, groundbreaking technologies, fearless dedication and collaborative work."
"This year's inductees once again remind us of how significantly the world as we know it can be transformed when innovative minds apply themselves to vexing challenges," said Michelle K. Lee, deputy under secretary of Commerce for intellectual property and deputy director of the USPTO.
The son of an auto mechanic, Alcorn was born in 1940 and graduated with a physics degree from Occidental in 1962. After Occidental, where he was a star athlete, Alcorn went on to receive his M.S. and Ph.D. from Howard University in atomic and molecular physics. He conducted significant work in high-performance semiconductor devices at IBM, and joined NASA in 1978, where he worked for the remainder of his career.
Alcorn invented the imaging x-ray spectrometer, which significantly improved the ability of scientists to identify materials through their visual x-ray spectra and to gather analytical data on remote solar systems, including distant planets and stars. Alcorn received a patent for his device in 1984 while at NASA Goddard Space Flight Center.
Used with space telescopes and other satellites, x-ray imaging spectrometers provide highly useful data for a wide range of scientific and technical applications. With improvements that addressed structural and performance deficiencies, Alcorn's devices and their descendants have been used to conduct planetary mapping, search for new planets, create star charts to reveal motions of systems and examine deep space phenomena. In 2010, Alcorn received the Robert H. Goddard Award of Merit, the flight center's highest award, for his invention.
Alcorn was a founder of Saturday Academy, a weekend math-science honors program for inner-city middle school students. He also taught physics at the University of the District of Columbia, and worked to encourage and support minority Ph.D. candidates in science and engineering.
In 2012, Alcorn received the Alumni Seal Award for Professional Achievement from Occidental.
Past NIHF inductees include Steve Jobs (2011, iPod) and Steve Wozniak (2000, personal computer), Alexander Graham Bell (1974, telephone), George Eastman (1977, photography), Henry Ford (1982, automobile), and the Wright Brothers (1975, airplane).
The National Inventors Hall of Fame was established in 1973 and honors monumental individuals who have contributed great technological and science achievements and helped stimulate growth for our nation and beyond. The criteria for induction into the National Inventors Hall of Fame requires candidates to hold a U.S. patent that has contributed significantly to the nation's welfare and the advancement of science and the useful arts.