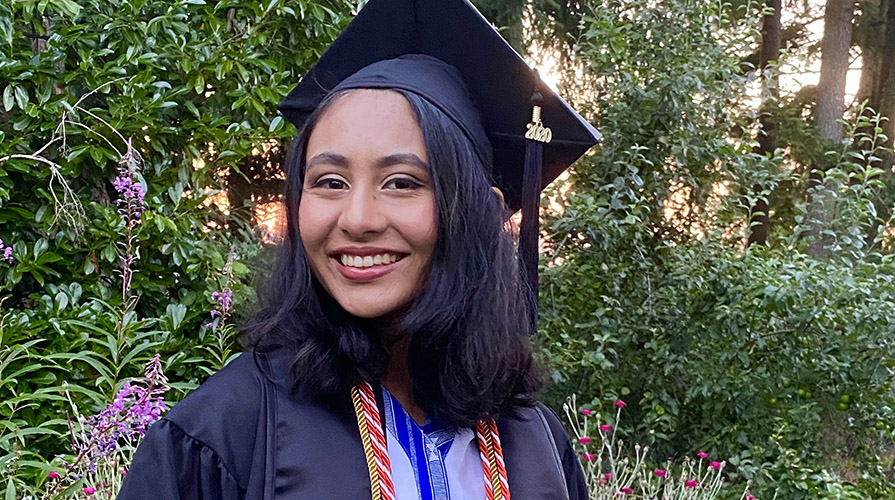 The English major and theater minor was part of a New York Times team that won a public service Pulitzer for its data-driven coverage of the COVID-19 pandemic.
Kristine White '20 had just flown into town for Commencement and was sitting with her parents on the patio of Delia's Restaurant waiting for her breakfast burrito—"the chorizo is my favorite"—when she got the news on her phone.
The 23-year-old English major and theater minor from Everett, Wash., was part of a New York Times team that won a public service Pulitzer for its data-driven coverage of the pandemic.
"I think I screamed," says White, who graduated last year in the midst of a global pandemic with no job prospects and a future clouded by fear and uncertainty. "Now I'm back winning a Pulitzer for covering the pandemic. It's not at all what I expected."
After finishing her senior year, White—who spent four years as a staff writer, editor and podcast host for The Occidental—flew home and began applying for jobs. She had no luck until she heard from the Asian American Journalists Association about an opening for young grads to work on a big data-based reporting project. She applied, and at the end of July began work remotely as a New York Times news assistant.
White found herself part of a team making endless phone calls, filling record requests under the federal Freedom of Information Act, and monitoring press conferences from her childhood bedroom still decorated with posters of Zac Efron, One Direction, and Princess Diana. "It wasn't lost on me that I was covering the pandemic in the same county where the first confirmed U.S. COVID case was confirmed back in January 2020," she says.
The work was a grind—gathering and entering data on enormous spreadsheets, first on nursing home COVID-19 cases and deaths, then cases on college campuses, switching later to tracking vaccine eligibility and vaccine administration. "It was brutal and super-complicated," she says. "We broke the Google sheets many times because of how much data we were entering."
In its June 11 announcement of the 2021 awards, the Pulitzer board called the Times' coverage "courageous, prescient and sweeping," particularly for filling "a data vacuum that helped local governments, health care providers, businesses and individuals to be better prepared and protected." According to the Times, the coverage was the product of hundreds of staff members across 10 different departments.
The day after the award announcement was made, White joined more than 240 of her classmates at a live, in-person Commencement ceremony on Patterson Field—the ceremony promised by the College when the pandemic forced the cancellation of their traditional Commencement last year.
"It was an eventful weekend," she says.
White joins a distinguished company of Oxy alumni who have won Pulitzers, including Steve Coll '80 (a two-time winner for explanatory reporting and general non-fiction), Andrea Elliott '96 (feature writing) and Patt Morrison '74 (a two-time winner for team coverage of breaking news).