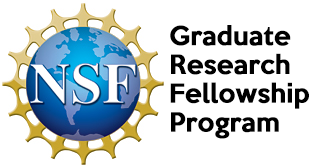 Six Occidental College alumni have received the prestigious National Science Foundation Graduate Research Fellowship, awarded annually to candidates in the sciences and social sciences who are pursuing a master's degree or Ph.D. It is the largest number of Oxy NSF fellows in a single year in at least 25 years.
"The awards are surely a reflection of our STEM professors' support and engagement with students, especially during comps [senior comprehensives]," said recipient Kalia Bistolas '14, a biology major from Wilsonville, Ore., who is pursuing a Ph.D. in microbiology at Cornell University. "The fellowship represents a great opportunity to explore exciting avenues of research, and provides better flexibility about what I study."
The award provides three years of support for graduate study leading to research-based advanced degrees and is intended for students in the early stages of their graduate work. It provides a $32,000 living stipend and  $12,000 per year for tuition for three years.  
The addition to Bistolas, the recipients are:
• John G. Mead '14, a chemistry major from Fort Collins, Colo., whose current institution is unlisted.
• Madhvi Venkatraman '13, a biology major from Chennai, India who is studying evolutionary biology at the University of Maryland.
• Claire Willing '12, a biology major from Grants Pass, Ore., is pursuing an advanced degree in the Department of Environmental Science, Policy and Management at UC Berkeley.
• Kimberly Lockwood '12, a psychology major from Portland, Ore., pursuing a degree at the University of Pittsburgh.
• Joan Dudney '06, a biology major from Nevada City who is studying at UC Berkeley.
"I was overwhelmed, overjoyed and in complete shock when I first heard the news, though it still hasn't really sunk in," says Dudney, who is researching how climate change will alter the impacts of invasive plant and fungal species in the western United States. Currently she is focusing on white pine blister rust, which is spreading into high-elevation white pines in the southern Sierra Nevada. 
Dudney says she will use the grant to help her pursue "a career in academia where I can use science to address the pressing challenges that arise at the intersection between humans and nature."
Willing, in her second year at UC Berkeley, says she "super excited to have received an NSF!"  She is studying the symbiotic relationships between fungi associated with plant roots, and how these fungi influence the exchange of water, carbon and nutrients in coast redwood, particularly in light of climate change. 
"Redwoods are an important and unique tree species that may be particularly susceptible to climate change as the input of fog water along the California coast continues to decline," she says.  She adds that the fungi associated with their roots have never been studied before, "so this is a new and exciting area of research!"
Bistolas' work at Cornell focuses on aquatic microbial biology, specifically "circoviruses, which are among the smallest viruses known to infect animals. I am particularly interested in viruses associated with amphipods, which are major consumers of detritus in aquatic ecosystems."
Since 1990, 37 Occidental alumni have been awarded NSF Graduate Research Fellowships. The NSF received over 16,000 applications for the 2015 competition and made 2,000 fellowship award offers.