Submitted by kwall_admin on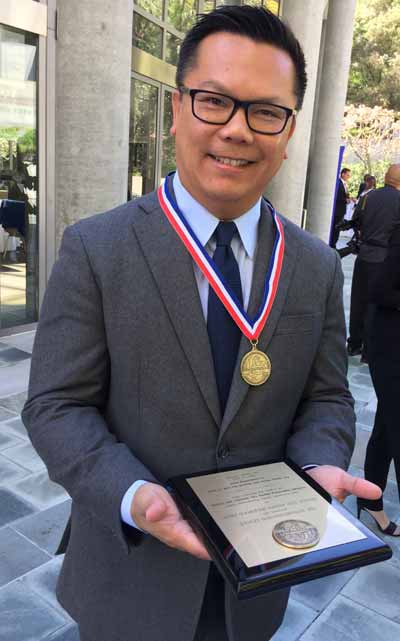 Deputy Los Angeles City Attorney Anh Truong '95 was part of a multi-agency law enforcement team recently awarded the Anti-Defamation League's 2017 Helene and Joseph Sherwood Prize for Combating Hate. 
Truong accepted the award on behalf of city prosecutors, the LAPD's Major Crimes Division and the federal Bureau of Alcohol, Tobacco, Firearms and Explosives for successfully targeting a white supremacist gang known as the Peckerwoods, accused of trafficking guns and drugs in the San Fernando Valley.
"This is really a remarkable team whose talent shows not just today, but every day," City Attorney Mike Feuer said at the March 14 awards ceremony. "Their commitment to trying to address the rising concern all of us have about white supremacy in a focused way is an example not just here but throughout the country."
Established in 1996, the Sherwood Prize recognizes law enforcement agencies that "demonstrate relentless dedication to containing and minimizing the prevalence and severity of hate-motivated behavior perpetrated in their communities." Honorees are selected by 14-member committee made up of local, state and federal law enforcement officials from Southern California.
In his acceptance speech, Truong explained that he and his family fled Vietnam in 1978 when he was 4 years old. After being awakened in the middle of the night by his parents, he and his three siblings were hidden underneath a fishing net as they were smuggled out of the country on a tiny boat. Once at sea, the engine failed, and they drifted for three days until an American freighter picked them up, he said.
"After that horrific journey, the America that waited us on the other side did not keep us out with walls, hate or violence. American took us in and welcomed us in our darkest hour of need, gave us a place to build a new home, and a chance to start a new life," he said.
"I stand before you so incredibly blessed and grateful for America. I can never, ever repay that debt. So when we talk about protecting the vulnerable, it's not a choice or a decision, it's a duty," he continued.
"And when we talk about those who would prey on the vulnerable – whether this gang or the next hate group or those national forces on the horizon – it's a duty for all of us to stand up and say, 'No.' Not in our America. Not in our children's America, nor in their children's America. In this America that we know and love, we protect everyone, especially now, and for always."
His emotional speech triggered a standing ovation from the audience of 250 at the Skirball Center.
A public policy major at Occidental, Truong served as a Coro Fellow after graduation and then went to law school at UC Berkeley.  He has worked for the Los Angeles City Attorney's office since 2005, and was recently appointed director of the Anti-Sex and Labor Trafficking Program.