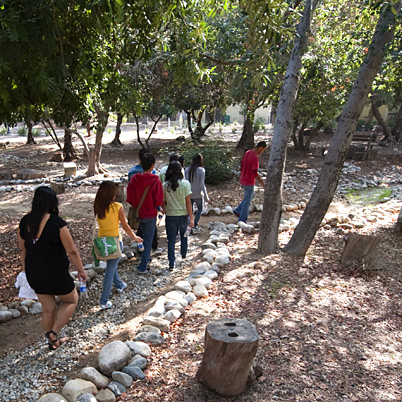 The whispering of the wind in Oxy's olive grove will be joined this fall by a surprising soundtrack created by professor Bruno Louchouarn.
Louchouarn, composer, adjunct associate professor, and director of the College's Keck Language and Culture Studio, is creating a sound and music collage that reflects the Oxy experience. The Olive Grove Project, commissioned by President Jonathan Veitch, will be composed of audio snippets of Oxy alumni, students, parents, faculty, administrators and staff sharing their experiences and memories of the College. The project will also include music composed by Louchouarn.
"I want to create a very long 'sound ribbon' made up of multiple voices out of which intimate moments as well as larger communal meanings will emerge," Louchouarn said. "This archive of recorded experiences will unfold as an open-ended invitation to ponder our community."
To that end, the composer welcomes more audio by people connected to Oxy. While he has about several dozen audio submissions already, he needs at least several hundred more. He encourages people to email digital audio of their College anecdotes and memories as well as advice and insight to blouchou@oxy.edu. Alternatively, people may record their sound samples in person over Alumni Weekend, June 15-17, at a recording booth on campus.
"I want anything that's honest and comes from the moment," said Louchouarn.
The audio samples don't have to be professionally recorded, he added. For example, people can simply use the memo application on their iPhone or other smartphone to record and send their audio. They may also use other audio software apps such as Audioboo.com or SoundCloud.com. The submissions, which Louchouarn will accept through this fall, can be as short or as long as people wish. For more information, go here.
The Olive Grove Project will debut this fall in the campus's shady olive grove. Located on the east side of the student quad, next to Samuelson Pavilion, the grove is a popular place to eat lunch, study and relax. Speakers will be installed on some of the olive trees to broadcast the meditative and musical sound art throughout the day.
"I admire Bruno, and I am particularly enamored of art that brings delight and surprise in unexpected places," Veitch said.
Louchouarn chose that location for its meditative atmosphere and because olive trees traditionally symbolize peace and growth.
"This sound art project will draw upon the rich symbolism of the olive tree as well as the values and contributions of the extended Occidental community to compose an environmental artwork," he said.
It's not the first time Louchouarn has used sound bites of others' voices to compose art.  He recently created an audio piece for "Three Weeks in January," an exhibition that was part of Pacific Standard Time, a public art festival sponsored by more than 60 Southern California cultural institutions. He has also created the sound design and musical scores of many plays, such as the San Diego Repertory Theater's recent production of "Tortilla Flat" and Los Angeles Theater Center's "A Weekend With Pablo Picasso."