Submitted by kwall_admin on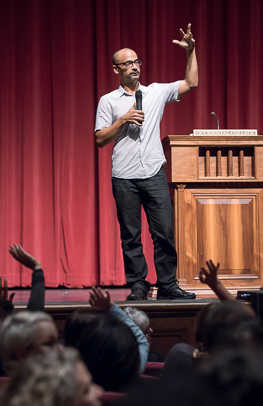 Ranging from profane to profound, from wisecracking to wistful, Pulitzer Prize-winning author Junot Diaz discussed the complexities and heartbreak of race and identity in America with a capacity crowd at Occidental College Tuesday.
For two hours, Diaz mixed readings from his critically acclaimed books The Brief Wondrous Life of Oscar Wao and This Is How You Lose Her with thoughtful, often self-deprecatory answers to questions from the crowd of 800 students, faculty, staff, alumni and community members that packed Thorne Hall.
Diaz was introduced by novelist Danzy Senna, Occidental's writer-in-residence and an old friend, who called him "One of the few writers I teach again and again, year after year … His characters contain multitudes."
A native of the Dominican Republic who emigrated to the United States as a child, Diaz repeatedly critiqued the idea of authenticity among communities of color – the existence of an internal formula or standard of authenticity that leaves most people believing that their identity, and the lives they lead, are somehow lacking.
"I grew up in central Jersey in a big African-American community, and black folks were no more willing to accept my complexity than white folks … they wanted to deny my multiplicity. They said I was just black. And my Dominican family said we're not black," he said. "Neither of these formulas satisfy, because a huge portion of me disappears. I fought tooth and nail so every little part of me could be at the party."
Such formulas tend to create hierarchies, and "solidarity is impossible with hierarchies," he continued. "It might give you a little psychic capital, but its disrupts your ability to connect … There's a lot at stake when a community exercises this kind of internal exclusion."
When asked about the larger society, Diaz left no doubt as to what he thinks of claims that we have entered a race-neutral era. "Neutrality reproduces inequality," he said. "The truth is, this country is a deeply unequal country … [The conversation] doesn't begin by pretending there's nothing wrong."
Inevitably, many of the questions related to his craft as a writer and asked for advice. "Google 'writer advice' and see how many hits you get," he replied at one point. "When this civilization ends, all that's going to be left is porn, cat videos and writer advice. If I have to add to this apocalypse of advice, all I can say is what every writer already knows: my only advice is to read."
Questioned about his portrayal of sexist male characters, Diaz said that he is "not entirely convinced that representation equals approbation … For me as a writer, it's important to portray that derangement in an honest way to show how destructive it is. You've got to take risks to expose the kind of political commonplaces we experience like patriarchy and white supremacy."
Still, "I don't want my way of reading to win," he added. "I want to acknowledge there are any number of ways to read my books."