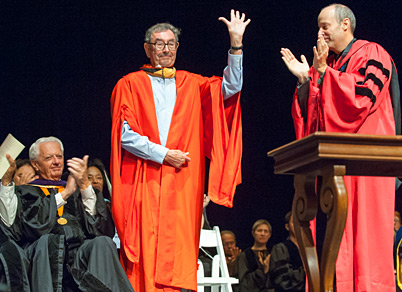 Famed Caltech chemist Harry Gray proclaimed Occidental "the best college on this planet" in his speech to the Oxy Class of 2016 at Convocation, the August 29 ceremony marking the start of the College's 126th academic year.
"You guys are, in my opinion, at the best college on this planet," said Gray, who was presented with an honorary degree by President Jonathan Veitch. "I've interacted with Oxy over many years, and your faculty are a tremendous group to work with. "
To demonstrate his regard for Oxy faculty, who were seated behind him on the Thorne Hall stage, the Beckman Professor of Chemistry and National Medal of Science winner led first-year students in a prolonged standing ovation.
On Occidental's behalf, Veitch praised Gray for having revolutionized the study of the electronic structure of small molecules, and, through his search for new applications of solar energy, placing inorganic chemistry "in the vanguard of scientific action to solve the most important problems in biology and sustainable energy."
Gray urged first-year students to take advantage of their opportunities at Oxy to conduct original research, to find their passion, and to not be afraid to make mistakes. "If you don't make a lot of mistakes, you won't be doing much," he said. "I'm living proof that making mistakes works!"
Oxy has been a formal academic partner with Caltech since 1954, when the two schools launched their 3/2 program in the liberal arts and engineering. Students at both schools also can take classes at each other's campus.