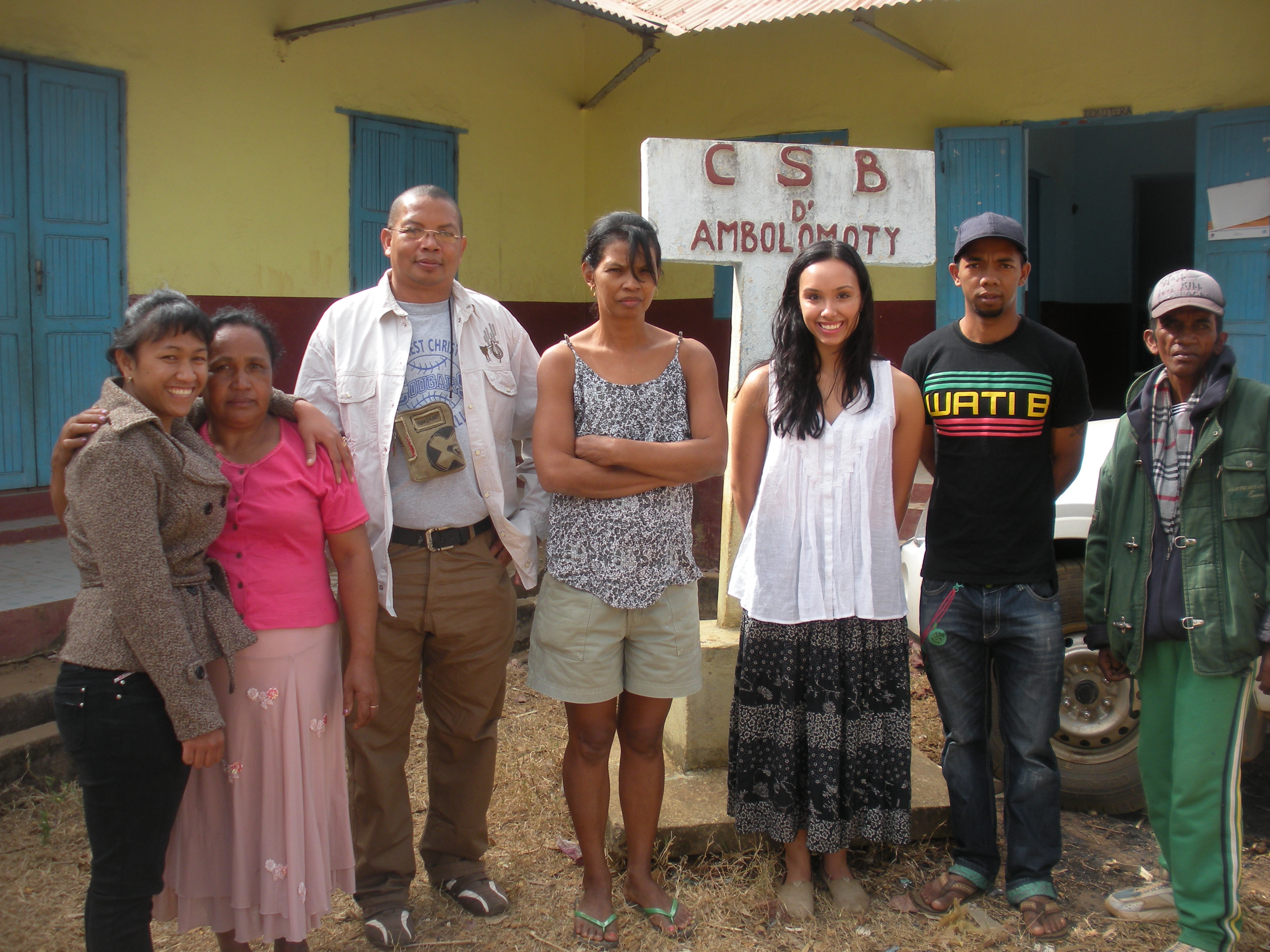 It's difficult to imagine an upside to experiencing illness in one of the world's least developed countries, but for Collrane Frivold '15, suffering from food poisoning in Madagascar provided an unexpected learning opportunity.
Collrane Frivold '15 says that when she became ill in early July, her time in a local hospital was "not a pleasant experience, to say the least." Fortunately, the biochemistry major and 2013 Richter scholar recovered and is carrying on with her summer research study of possible correlations between the efficacy of malaria rapid diagnostic tests (RDTs) and their storage conditions.
"While I was recovering, I had this strong realization that if something serious were to happen to me that there was nothing they could do for me there," she says. "It is shocking to me that individuals in Madagascar and other developing nations are suffering from diseases the rest of the world has forgotten about. Furthermore, getting sick strengthened my interest in public health and made me aware of the necessity of providing accessible healthcare to everyone in the world."
Frivold was one of eight students chosen this year to complete an international independent study project as part of Occidental's competitive Richter Research Abroad program. She says that she had always been interested in infectious diseases, so when she found out about the new Richter Site Option, which provides scholars with additional support and infrastructure in various regions around the world, she began researching the infectious diseases that are most prevalent in Madagascar, which is one of the Richter science sites.
Her research led her to one of the southeast African nation's greatest public health challenges -- malaria.  Frivold says she became aware of a disparity between the policies in place to control the disease and the realities on the ground. Specifically, she became curious about RDTs, which are used to diagnose malaria.
"It seemed strange to me that diagnostic tools, which are sensitive to high temperatures, are being stored in a tropical climate in remote healthcare facilities with limited resources and where air conditioning is not available," she says. Frivold decided to study the storage conditions of RDTs in order to gain insight into why the tests are more likely to produce a false positive diagnosis during the high malaria transmission season, which corresponds to the warmest and rainiest part of the year.
With the help of various faculty members, including her advisor Kerry Thompson, associate professor of biology, Frivold developed a plan to evaluate RDT storage conditions at local health centers and during transport. In addition to her original proposed research plan, she also had the opportunity to visit the central storage facility in Madagascar's capital, regional storage facilities, health centers, and the homes of community health workers.
"Collrane is a serious, highly intelligent, thoughtful student. She conceived of her plan largely on her own, did careful research and made the necessary contacts in the region," Thompson said. "Her research could potentially advance the diagnosis and treatment of tropical diseases on a large scale."
Frivold said  the training and support she received at Occidental were instrumental in her being prepared to take on such a large-scale project as a rising junior.
"I believe that the individual support I received from Oxy faculty members really helped prepare me to do research abroad and to be confident doing my research with limited supervision," she said. "The laboratory courses I have taken have been very important in preparing me for international research because I learned research methods that include observational methods, methods of data analysis, methods for how to keep a research notebook and many other important skills."
Despite her brief health scare, Frivold believes that international study -- particularly in regions that are outside of a student's comfort zone -- is something that her peers should pursue.
"It is a very eye-opening experience and also gives perspective on the things that we take for granted as being necessities in daily life in the United States," she said. "After coming to Madagascar, I realized that I am growing much more as a person here than I would have if I would have gone somewhere more similar to the lifestyle and culture in America."