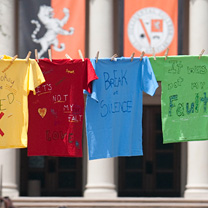 Preliminary results of Occidental's first student sexual assault climate survey released today show that 8% of respondents report they have been assaulted while at Oxy. Most respondents knew their assailant and the majority of assaults occurred during their first year, the survey shows.
Because responses to the anonymous online survey conducted Feb. 16-March 13 come from a self-selected group, it isn't possible to make sweeping generalizations about the extent of the problem among the Oxy student body as a whole, according to Dr. Teresa Kaldor, the College's director of institutional research. Some 31 percent of Oxy students completed the survey.
"While we already know that sexual assault is a problem at Occidental, the survey provides us with more information that we need to respond effectively and improve prevention education programs," said Title IX Coordinator Ruth Jones. "Most importantly, the survey together with other sources of information provide us with an Oxy-specific baseline that we can use to track trends and assess our efforts."
Occidental will continue to conduct a climate survey on a regular basis, Jones said. "We will decide what we need to assess our campus climate, while also following any legal mandates that may emerge," she said.
Among the survey results:
Of 634 respondents, 51 (8%) reported they were sexually assaulted. Another 23 (4%) reported they were "unsure" whether they had been assaulted.
Some 55 respondents (9%) reported that they had been the victim of an unsuccessful attempt at sexual assault. ("Yes" responses to the survey questions on attempted and actual assaults are not mutually exclusive; there may be overlap between the two categories.)
Ten percent of female respondents said they had been assaulted, compared to 4% of male respondents.
White female respondents reported an assault rate of 11%; women of color reported an assault rate of 8%.
White male respondents reported an assault rate of 5% compared to 1% of non-white males.
Almost half of reported assaults (49%) occurred in Oxy residence halls. Some 18% took place elsewhere on campus and 31% occurred off campus.
Touching was part of most (80%) reported assaults, followed by vaginal penetration (43%) and oral penetration (33%).
Around 60% of sexual assault incidents occurred during students' first year at Oxy.
Assault by a stranger is relatively rare. Some 87% of victims said their assailant was another Oxy student; 78% said it was someone they knew.
Alcohol was a factor in most reported assaults. Some 80% of victims reported their assailant drinking alcohol; 75% of victims reported their own drinking of alcohol. Coercion or threat of force was a factor in 37% of reported assaults; physical force in 33% of reported assaults; and drugs in 33% of reported assaults.
Some 60% of respondents said they believed Occidental will take a report of sexual assault seriously. Only half believe the College will support and respect a student who reports; and less than half believe the College will conduct a careful investigation or take action against the offender.
"The preliminary survey results show that while we have taken important steps forward in addressing sexual assault at Oxy, we still have a long way to go," said Jones. "Sexual assault is a complicated issue that is no respecter of gender, color, or sexual orientation. Survivors are diverse group and we need to make sure that our outreach and support efforts are accessible to all members of the community."
Kaldor is working on a more detailed analysis of the survey data that will be made public at a September 24 campus town hall meeting.
The survey was developed by the Higher Education Data Sharing Consortium (HEDS). HEDS is the independent not-for-profit corporation that supports its member institutions – national liberal arts colleges and private universities – in strategic planning and research.
Some 57 institutions participated in the HEDS survey, with an average response rate of 27%. To ensure the anonymity of Occidental respondents, HEDS did not include student citizenship, race, residence, or sexual orientation in the raw data that it provided to Kaldor.