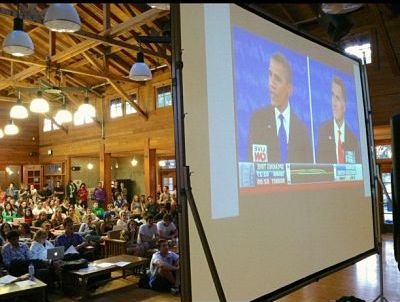 Despite evidence that college students are less involved in this election than they were in the 2008 race, pre-election activities have thrived on the Occidental campus. (Of course, that could have something to do with Oxy pride in President Barack Obama '83.)
Events and activities include an Election Speaker Series sponsored by the politics department, debate-watching parties and panels, class-run campaign-related blogs, and a gathering to watch election returns. And, a record 33 students have spent the fall semester working for political campaigns from Honolulu to Boston, a college-credit program unique to Oxy.
"Oxy students are more politically active than the typical college student, and some students are working hard on the election through Campaign Semester and local campaigns, but in general, the level of interest does not seem as high as in 2008," admits Occidental politics professor Caroline Heldman. "The historic 'first' of the 2008 election heightened interest for young people, but four years later, after the reality of the difficulty of making significant change has set in, enthusiasm has waned a bit."
Still, on-campus efforts are being made to engage students' political interest. The Election Speaker Series debuted October 9 with professor Brandon Lehr of the economics department speaking on "Death and Taxes: Fiscal Policy and the 2012 Presidential Election." The series continued with Kathleen Unger, founder and president of VoteRiders, speaking on "Voter ID Laws: How You Can Help" on October 18.
On October 24, reporter Mark Leibovich of the New York Times speoke on "Media and Politics in the 24-Hour News Cycle." The series concluded October 30 with UCLA political science professor Mark Sawyer on "Race and Politics in the 2012 Election."
Ballot proposition, vice-presidential and presidential debate-watching gatherings and panels were held October 11 (5 p.m. in Samuelson Pavilion), October 16 (6 p.m. in Samuelson), and October 22 (6 p.m. in Samuelson).
The final event takes place tonight, when a faculty election panel will meet at 7 p.m. in Mosher 1. Speakers are Occidental professors Hussein Banai, Roger Boesche, Larry Caldwell, Regina Freer, Caroline Heldman and Chris Kern.