Submitted by kwall_admin on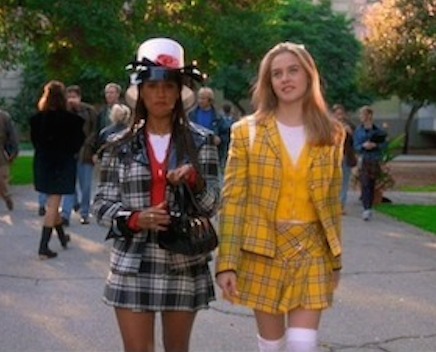 Ohmygod, the 1995 movie Clueless celebrates the 20th anniversary of its release this week, and some of its most famous scenes were totally filmed at Oxy.
The campus stood in for Beverly Hills' fictional Bronson Alcott High School in the Alicia Silverstone (Cher) vehicle, a modern take on the Jane Austen classic Emma. Sites included in the film include the Johnson Student Center and Freeman College Union, the Arthur G. Coons Administrative Center (standing in for an art museum), Samuelson Pavilion, the Booth Music Center, the Marketplace, Collins House, Newcomb Hall, Weingart Center, Rush Gym and Thorne Hall.
Cher and her friends are often seen strolling along the Quad, which is also where the movie's infamous "As if!" moment took place. The Quad also served as the hangout spot of Bronson Alcott's various cliques, including the TV station group, the Persian Mafia and the Crew.
Cher offered Mr. Hall (Wallace Shaw) her father's "sulky Italian roast" outside of Johnson Hall. He later shared it Miss Geist (Twink Caplan) on a bench under an oak tree in (yet again) the Quad.
On Patterson Field, Cher convinces her P.E. teacher Ms. Stoeger (Julie Brown) to raise her grade from a C to a B.
The McKinnon Family Tennis Courts is where Dionne (Stacey Dash) refuses to participate in a P.E. lesson because her tennis instructor "would prefer if I didn't expose myself to any training that might derail his teachings." The tennis courts are also where Cher and Dionne first meet Tai (Brittany Murphy) and decide to befriend her even though their "stock" might "plummet."
For more stills from the filming at Oxy, go to The Clueless Guide to Occidental. And even if you don't have time to watch the movie again, remember this helpful academic advice from Cher:
Mel:  Which reminds me, where's your report card?
Cher:  It's not ready yet.
Mel:  What do you mean, "It's not ready yet?"
Cher:  Well, some teachers are trying to low-ball me, Daddy. And I know how you say, "Never accept a first offer," so I figure these grades are just a jumping-off point to start negotiations.