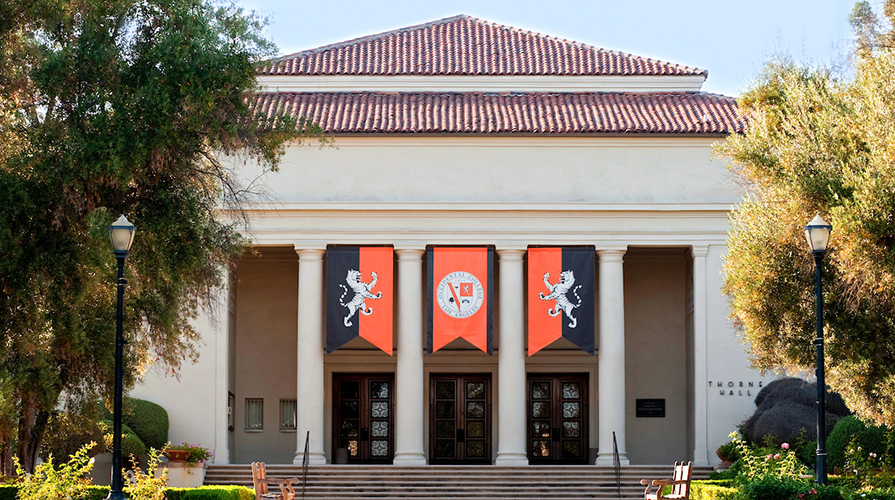 President Jonathan Veitch announced this morning that Occidental's 138th Commencement ceremony will be postponed to a date to be decided. 
A treasured and enduring tradition since Occidental's first class graduated in 1893, the president expressed deep regret in sharing the unprecedented decision about postponing the event, scheduled for May 17.
"In light of the current open-ended state order barring all non-essential gatherings, the latest estimates of how long the COVID-19 coronavirus pandemic will persist, and our own commitment to protecting the health and safety of our community, postponement is the only responsible choice," he said.
Veitch added that the College is fully committed to providing seniors with the experience of walking across the stage to receive their diplomas and celebrating with friends and family—one they've been working toward for the past four years.
"Once the pandemic has passed, we will make sure that the Class of 2020 is appropriately celebrated in person, not just for its academic achievements but for its resilience and perseverance in the face of extraordinary adversity."
I want you to know that everyone—including the board of trustees and our incoming president, Dr. Harry Elam Jr.—share my commitment to honoring you as you deserve to be honored."
He emphasized that members of the Class of 2020 will be actively involved in helping to choose from a variety of Commencement options and that student representatives will be part of a planning committee.
All seniors who have met their degree requirements will indeed receive their degree, he added.
"I want you to know that everyone—including the board of trustees and our incoming president, Dr. Harry Elam Jr.—share my commitment to honoring you as you deserve to be honored. We will continue to keep you informed and involved as we work our way through this, confident that we will find our way to the other side, together."