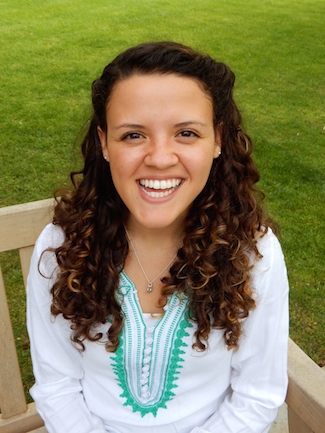 Occidental senior Eleni Duret's project is one of just 127 winning ideas selected from submissions made by college students nationwide for 2015 Davis Projects for Peace grants. She will receive $10,000 to bring computer literacy to the students at Ecole Classic Bon Samaritan in Haiti this summer.
A solar-powered computer lab to be installed at the school will allow students to engage in a weekly computer literacy program where they will learn basic typing and Internet navigation skills. Teachers will receive weekly training from a computer specialist focused on the use of technology in ways that expand instructional and learning outcomes. They will also be taught how to repair the computers. Similar courses will be offered twice a week for community members.
"When I found out I received the grant, I laughed due to my shock and then my laughter was quickly replaced with tears," says Duret, an Independent Pattern of Study major from Astoria, Ore. "I know that sounds silly, but I did not expect to receive the grant and I was so excited to contact my relatives in and from Haiti who have helped me construct the proposal to let them know our hard work paid off!"
The child of a Haitian immigrant, Duret traveled to the school in December 2013 to repaint, install a playground and create a mural with the schoolchildren using a Richter Research Abroad grant. At that time, she noticed the school's lack of technology.
"During my last visit to Haiti, I gained an understanding of the independence that the Haitian people desire and their ability to use their resilience, cultural strength and creativity to build a country with the hopes of peace and prosperity," she wrote in her Projects for Peace proposal.
"Computer literacy extends beyond computers as a simple tool. Technology can be used as a means for peace building, connecting individuals, exchanging ideas and promoting social change," Duret wrote. "Access to technology creates an opportunity to explore the world in a new way and provides students with an outlet through which they may share their voices and narratives, authentically representing their country in our digitally connected world."
"I am excited but also anxious for the program to begin," Duret says, "but I have a lot of faith in the community leaders and the mission of the school."
Projects for Peace was the vision of philanthropist Kathryn W. Davis on the occasion of her 100th birthday in 2007. Until her death at 106 in 2013, Davis was intent on advancing the cause of peace and sought to motivate tomorrow's promising leaders by challenging them to find ways to "prepare for peace."
The Davis family has chosen to honor her legacy by continuing to fund Projects for Peace and "is heartened by the quality and inventiveness of the projects to be undertaken in 2015," according to the organization.
Each year, Projects for Peace invites all undergraduates at the 91 American colleges and universities that are partners in the Davis United World College Scholars Program  to compete for these grants. The organization accepts those proposals ranked first by campus-based selection committees, then adds others that were very highly ranked by these same committees.
"Competition is keen, and we congratulate those students whose projects have been selected for funding in 2015," said Philip O. Geier, executive director of the Davis United World College Scholars Program, which administers Projects for Peace. "We are pleased to once again help young people launch some initiatives that will bring new energy and ideas to improving the prospects for peace in the world."