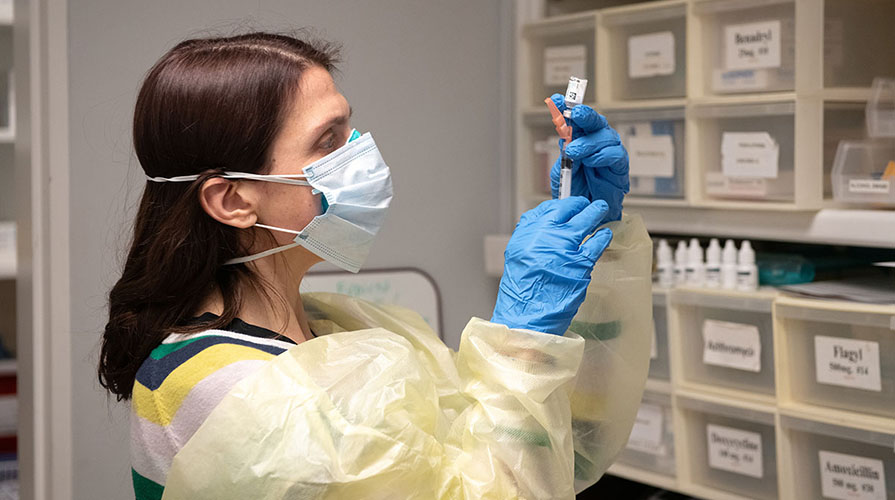 With the latest testing data and the recent arrival of vaccines at Emmons Wellness Center, the College's accomplishments in terms of health and safety are impressive.
Top image: Senior Director of Emmons Wellness Center Sara Semal prepares a dose of the COVID-19 vaccination. More photos below.
When Los Angeles County moved from the most restrictive purple tier to the red tier on March 15 of this year, a shifting of public health guidelines created new optimism and began to move the campus in a direction of normalcy. Though there are still challenges ahead and questions to address, Oxy's staff has done much to help the community get through a year of global pandemic safely.
While classes and many other campus functions have been conducted remotely since March 2020, there have been many staff members on campus performing essential functions and a limited number of students in dorms throughout the pandemic. Senior Director of Emmons Wellness Center Sara Semal and her team have worked tirelessly to promote health and safety among the campus community. Among the safety protocols is regular COVID-19 testing, and Occidental has been averaging 1,300 tests per week this spring for staff, faculty and students living on and off campus, with results turned around in less than 24 hours.
Oxy's testing results so far are impressive. Since last August, when testing began, through March 19, Oxy has had only 10 positive cases, amounting to a positivity rate of 0.09% (approximately one out every 1,000 tests). As a point of comparison, current positivity rates in L.A. County are about 2% after spiking above 20% in early January. This success is a testament to the dedication of the College community in abiding by protocols and the extraordinary care that has been demonstrated for colleagues, classmates and friends.
Thanks to the advocacy of Semal and her staff, Emmons has now begun to administer COVID-19 vaccines to eligible staff and faculty at Oxy, including student employees. The first shipment of the vaccine was received in mid-March and vaccinations have already been given to nearly 200 Oxy community members. A partnership with City Councilmember Kevin DeLeon led to vaccines for an additional 300 Oxy employees, including the College's essential workforce.
Based on commitments from L.A. County regarding future shipments, Emmons hopes to be able to vaccinate all staff, faculty and student employees who have not been able to obtain them elsewhere. While vaccines become more prevalent in our community, campus members are urged to remain diligent in adhering to health and safety measures as the College works toward reopening its campus.