Submitted by kwall_admin on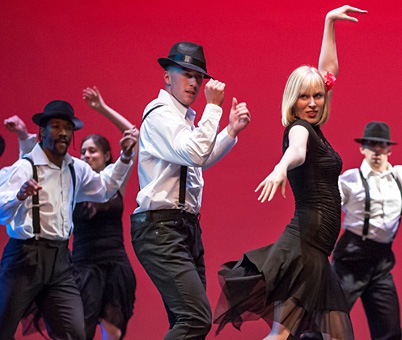 Dance Production is part talent show, part rite of passage, and, for many Occidental students, it's a life-changing experience.
The event has been around for 65 years, and with 265 members, Dance Production is the most popular club on campus. Although the actual production takes place in March, for members of the club, planning is a year-round endeavor. Each fall the group's student executive board holds auditions for choreographers, who subsequently hold auditions for dancers. Each student who auditions is guaranteed a spot in at least one number. 
"What's great is that it embraces all abilities," says Assistant Dean of Students Tamara Rice. "You don't have to know how to dance. It's very welcoming."
It's also an important outlet for students during spring semester, when students are faced with a multitude of guest speakers, challenging courses and preparation for finals.
"For me, dance is my escape from everything else," says Chris Monteath '14, who is currently serving as the club's co-president and has been involved with the organization since his freshman year. "I forget all the stress from school. I hope other people feel the same, about this oasis from everything."
Not only does Dance Pro feature a wide variety of dancing abilities, past shows have featured styles from across the dance spectrum -- from hip-hop to hula -- "kind of like a big melting pot of dance," Monteath says.
In addition to learning new moves, Dance Production members have many opportunities to pick up new skills, including learning how to promote a large-scale event. Excitement for the production is maintained via a robust social media presence, and this year there was a strong push to reach out to the surrounding community with fliers posted at local businesses, as well as a fundraiser at Eagle Rock's Yogurt Haven.
The combination of camaraderie, talent and fun have only fueled the momentum of the event's popularity.  It has grown so popular in recent years that the club's executive board has added a Saturday matinee performance in addition to the two Friday and Saturday night performances this year.
Dance Pro alumni say that after the last curtain falls, their experiences remain strong in their minds for years to come. Dayna Chikamoto '12 was a Dance Pro choreographer for four years and a dancer for three. She also served on the club's executive board for three years. She says that participating in Dance Production allowed her to bond with fellow dancers and choreographers that she may have otherwise never had the chance to meet.
"So many friendships are built through the show, and there is so much support and respect within the Dance Pro community," says Chikamoto, who is currently working for the Hawaii State Senate and plans to attend law school in the fall. "I think that the resulting energy is palpable for members of the audience, and I think that is why the show is always such a success among students. I always say you aren't an Oxy student until you have participated in Dance Production, either as someone involved in the show or at least as a spectator."
Showtimes for Dance Production are as follows:
Friday, March 22: 7 p.m.
Saturday, March 23: 2 p.m. and 7 p.m.
For more information, visit Dance Production's Facebook event page.
--Joy Hepp