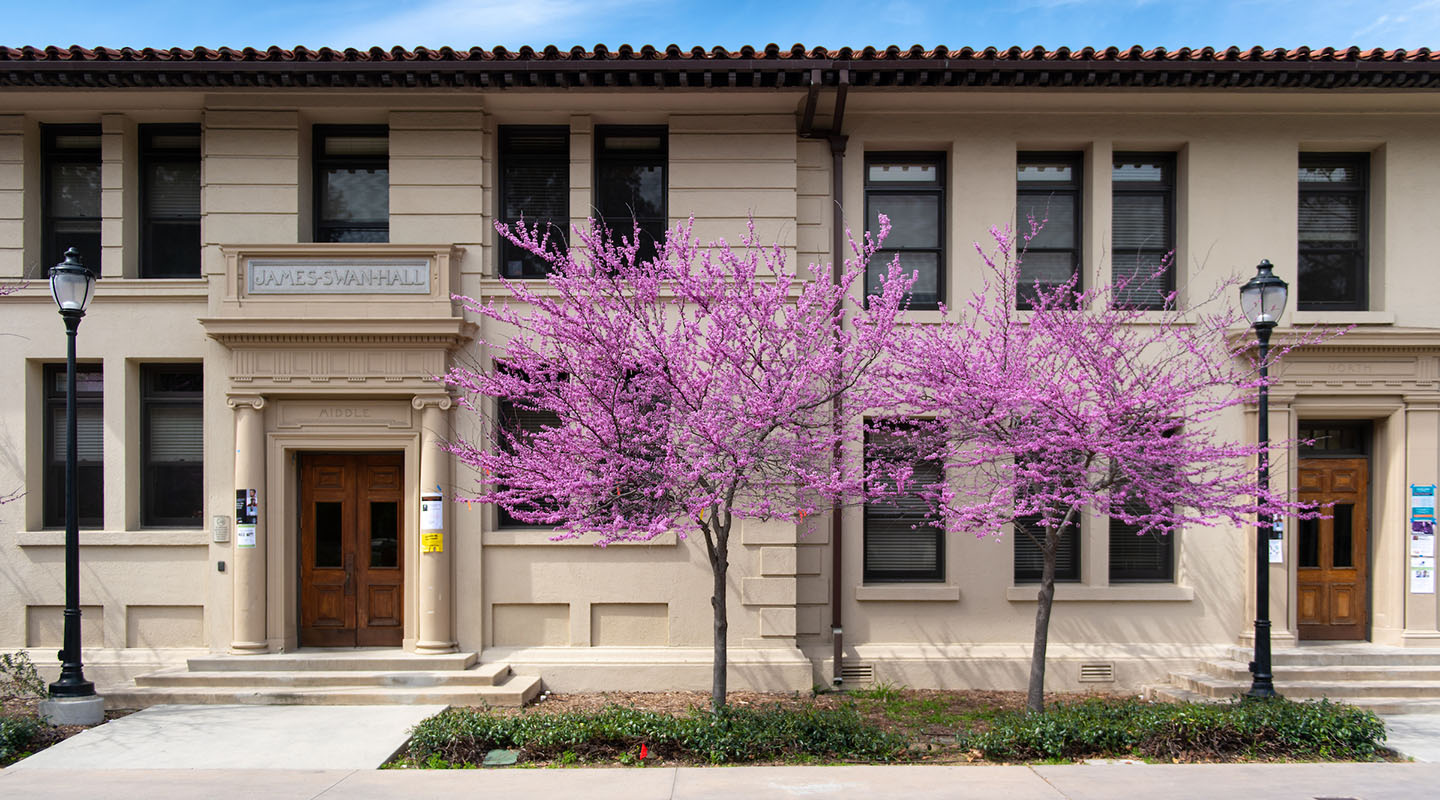 Each year, the Dean of Students recognizes seniors who, through their involvement on and off campus, embody Oxy's four pillars of Equity, Excellence, Community and Service.
The Dean's Award winners are selected by the Dean of Students in consultation with others at the College, and they recognize a small and select number of exceptional seniors who through their involvement on and off-campus have been the embodiment of the College's four cornerstones of Equity, Excellence, Community, and Service. It's among the most prestigious awards that a student can receive at the College regarding leadership and involvement outside of the classroom.
The College recognizes these exceptional undergraduates for their passion, dedication, hard work and commitment to the Oxy community and beyond. This year, seven winners were selected from the Class of 2021.
---
Alissa Bernstein: Equity
Major: Psychology
Nominated by: Rev. Dr. Susan Young, Office for Religious & Spiritual Life
Alissa Bernstein came to Occidental knowing she wanted to be an active advocate on and off campus. She spent all four years on the Hillel executive board and served as president her senior year. In response to rising rates of antisemitism, Alissa collaborated with Dean Flot to develop the college's first-ever antisemitism awareness training. She also worked alongside other Oxy faculty members to implement a week of impactful programming to honor Holocaust Remembrance Day. Off campus, Alissa has served as a Foreign Policy Intern at the American Jewish Committee (AJC) where she spent her time building relationships with members of Congress and foreign diplomats, publishing opinion pieces in local newspapers, and speaking on a number of panels about her campus advocacy efforts.
At Oxy, Alissa was dedicated to research, working as a research assistant in Prof. Andrea Hopmeyer's lab, where she constructed surveys about peer crowd affiliations among emerging adults in college. She also collected and analyzed data in Prof. Nancy Dess's rat lab, studying the eating and emotional habits of albino rats. She worked as a clinical intern at the Children's Health Center (CHC) in Palo Alto, where she conducted research and facilitated family therapy sessions for children with learning disabilities. Alissa enjoyed exploring interests outside of her areas of study, volunteering as the teacher's assistant for Prof. Malek Moazzam-Doulat's "Introduction to Islam" course and working as the health and benefits legal intern for the Lenox Hill Neighborhood House.
On top of her advocacy efforts and academic endeavors, Alissa was an active member of the Occidental Glee Club. As a member of this choir, Alissa participated in a number of performances on and off campus. She sang in holiday concerts, performed at retirement homes, and participated as a chorus member in the opera La Traviata. In her junior year, she was elected to be the alto section leader. In this role, she fostered a sense of community and led her section with energy and passion. Alissa is graduating from Occidental cum laude with a degree in psychology and a minor in Spanish.
From Rev. Dr. Young: "I am pleased to nominate Alissa Bernstein for a Dean's Award for Equity for her advocacy on behalf of Jewish students and her leadership as President of Hillel. During her tenure as president, Alissa has worked closely with staff member Becker Grumet to plan regular virtual events for Hillel. The organization actually recruited six first year students last fall even as we dealt with remote instruction. The first-year Hillel class has become quite involved in the group and in interfaith programming. Alissa was instrumental in recruiting the students and helping them feel welcome. Alissa invited President Elam to attend the Hillel Hanukah celebration last December and at that meeting, the first year-students shared that participating in Hillel had been a highlight of their first year at Occidental.
In addition to her leadership with Hillel, Alissa has worked closely with Maddie Solomon to advocate with senior administrators about the need for more educational programming at Occidental regarding antisemitism. Alissa's advocacy has been consistent and effective. Last summer, Alissa, Maddie, Becker and I worked together to host a session on religious pluralism at Orientation. We also planned a guest lecture by Prof. Benjamin Ratskoff on the history of antisemitism. During the spring semester, Alissa worked with ORSL to plan a panel on intersectionality and antisemitism. Alissa also worked closely with the Dean of Students' Office and SLICE to host a session called "Antisemitism is not a Jewish Problem" featuring Holly Huffnagle.
Alissa's leadership has had a significant impact on the College's efforts to promote interfaith understanding and to educate the larger Oxy community about antisemitism. She has shown a lot of initiative, patience and resilience. During meetings with senior administrators, Alissa has brought a sense of professionalism to her work. She has modeled for other students how to engage in effective advocacy. Her efforts have helped create a more inclusive space on campus for Jewish students and her advocacy for changes to Orientation will outlast her time on campus."
"Alissa and I have worked together for nearly two years to enhance and build programming and education related to anti-semitism at the College. Alissa's voice and persistence related to educating about anti-semitism will leave a lasting mark at the College."
          –Dean of Students Rob Flot
---
JP Flores: Service
Major: Cellular and Molecular Biology
Nominated by: Luke Wetmore, Head Baseball Coach
JP (he/him) is a senior cellular and molecular biology major from Santa Clarita, CA. He has had the pleasure of playing NCAA DIII baseball and working most home Athletics events, and he currently serves as the co-president of the Student Athlete Advisory Committee (SAAC) and serves on the inaugural Justice, Equity, Diversity, and Inclusion (JEDI) committee. He serves on the Diversity and Equity Board (DEB) and as co-president of the oxSEA Ocean Conservation and Sustainability Club, and also works as a tour guide and O-Team leader. He has done research for four years with Prof. Joseph Schulz in the biology department and is an extremely proud, founding organizer of the Students For Equity and Advocacy in STEM. He also manages a nationwide student coalition on higher education and is on the data science team at the Sorenson Impact Center housed at the University of Utah. He is also the creator and host of the podcast From Where Does it STEM? Outside Oxy, he also coaches the Yard Dogs Baseball Team, a 12u youth travel baseball team based out of Pasadena. He will be attending the University of North Carolina at Chapel Hill in the fall for his Ph.D. in the biomedical sciences.
From Wetmore: "Few people have made more out of their four years at Oxy. JP has excelled in the classroom, worked multiple jobs, served on countless committees and tirelessly advocated for positive change. He was a great mentor for our incoming players every year and treated every player in our program with respect and love. He has learned to treat himself the same way in the last couple of years. JP absolutely embodies the four cornerstones of Oxy—Equity, Excellence, Community and Service—but his most defining characteristic is growth."
"It's been a joy to work with JP, who has been a constant and influential voice for students throughout his time at the College. As a student athlete, JP provided Athletics administration and staff student leadership and support related to equity and justice that has helped to influence athletic initiatives going forward."
          –Dean of Students Rob Flot
---
Nina Srdić Hadži-Nešić: Equity
Major: Theater and Diplomacy & World Affairs
Nominated by: Marcus Rodriguez, Student Leadership, Involvement and Community Engagement (SLICE)
Nina is an international student from Serbia. During her time at Oxy, she served as the student body president, spent three years advising as a Career Peer Advisor, and performed in several theater productions. Being passionate about international politics, acting, and activism, Nina double majored in Theater and Diplomacy and World Affairs (DWA).
She deeply values her experience of serving the student body as the president of ASOC (Associated Students of Occidental College) during some of the most challenging times in the 2019-20 school year. She is also thankful to have served on the Diversity and Equity Board. In Fall 2020, Nina spent a semester participating in the Oxy-at-the-United-Nations program, serving as the UN Relations and Global Policy Intern at the United Nations Foundation (UNF). Through this role, she learned a lot about some of the most pressing global challenges, which invigorated her passion for public service.
She is thankful to Occidental for providing all these opportunities to her and for sharpening her critical thinking skills. While considering work in the sphere of international relations and public service post-graduation, Nina is also drawn to making meaningful theatrical productions and activist art as well. She is graduating summa cum laude from Occidental and is deeply thankful for all her mentors and peers for their support.
From Rodriguez: Nina's passion for student advocacy and representation was illustrated by the work she did as a member of the Diversity and Equity Board and later as the ASOC President. Managing the tensions and challenges of leading a dynamic group of students with grace and humility, she was able to advance her agenda and see the passing of an ASOC Constitutional Amendment that restructured the entire organization. Nina's legacy in ASOC will be her dedication to creating a space where historically marginalized voices were recognized and amplified across all branches of the student government.
"I met Nina at International Student Orientation, when she just arrived on campus. Over the course of the past four years it's been amazing to watch Nina grow and flourish. She had a remarkable year as President of ASOC, in which she assertively and humbly brought forth the needs of students, especially related to issues of equity and justice."
          –Dean of Students Rob Flot
---
Kitty Lu: Excellence
Major: Kinesiology
Nominated by: Marcus Rodriguez, Student Leadership, Involvement and Community Engagement (SLICE)
Kitty is a Southern California native and a demisexual, first-generation Oxy student majoring in kinesiology with a minor in Gender, Women, and Sexuality Studies. She was the student body president in her senior year, a Career Peer Advisor for the last three years, and has been involved with a variety of clubs and organizations around campus. Most notably, you can always see and hear her introducing rugby to the Oxy community. Kitty's life aspiration is to consistently support those around her and to help them succeed, especially her friends and her younger cousins. After graduation, Kitty will be taking a gap year before applying to a physical therapy graduate program (because let's be honest, a year of remote learning has been draining and self-care is important). 
Kitty served in ASOC as Senate VP of Financial Affairs and eventually president; with the Hameetman Career Center as an HCC ambassador and the inaugural class of Career Peer Advisers; with the Planned Parenthood Club as programming assistant and treasurer; with Boundless Brilliance on the development and outreach team; and did undergraduate research in chemistry. She also played integral roles, including chief communication officer, for Oxy's Women's Rugby team, which went to Nationals in 2018 and traveled to Ireland in 2019.
From Rodriguez: Kitty's approachable and collaborative nature helped her to foster community not only within ASOC, but with the College's senior leadership team. Her political savvy, coupled with her understanding of student needs, allowed her to share space and influence critical decisions being made during difficult times this year. Working independently with the College president and several members of his Cabinet, she participated in the creation of new initiatives and represented the student voice in high profile settings. Kitty continuously brought her authentic self to the conversation and remained action-oriented. During a remote year, she inspired campus leaders to stay engaged and committed to student outreach and representation. Undoubtedly, she'll be remembered for her remarkable ability to bring people together.
"Kitty was one of the very first students I met at the College—during the Multicultural Summer Institute (MSI) in the summer of 2017. Kitty's leadership regarding women's rugby, and her tenure as President of ASOC during the pandemic have been quite remarkable. Kitty guided and strengthened ASOC during the most difficult of times. Kitty has left her mark at the College—and it's a good one."
          –Dean of Students Rob Flot
---
Lara Minassians: Excellence
Major: Psychology
Nominated by: Luci Masredjian, Director of Disability Services and Heather Collins, Head Volleyball Coach
As an Armenian-American from Glendale, CA, Lara decided to stay local after falling in love with the Oxy community that was beautifully showcased on her visit to the campus as a high school student. Lara recalls her summer field trips to Oxy with her preschool for the Occidental Children's Theater, but little did she know she would be back to have the best four years of her life. She came to Oxy with the passion and desire to share her Armenian identity and was able to educate and fulfill her goals throughout the past four years alongside her best friend, first (and last) roommate, and fellow award winner, Serena Karina Pelenghian. Reviving the Armenian Student Association together not only sparked an incredible friendship but bonded them to the Oxy community through the support of their educational, collaborative and interactive events that aimed to unite Armenian and non-Armenian students. On campus they are known for their popular ponchik (Armenian donut) sales, raising money for Our Lady of Armenia Summer Camp, where Lara volunteered for four summers as an English teacher and translator for underprivileged Armenian children ages 6 to 16 in Tsaghkadzor, Armenia. Between her volunteer work in Armenia, Lara was also able to study abroad in Copenhagen, Denmark taking a Positive Psychology course that provided a new and immersive perspective on psychology. 
Lara's passion for working with others was also exemplified on the court where she was co-captain of the Women's Volleyball team, helping lead her teammates by example with the integrity and trust she showed through her hard work and love for her teammates. She is a psychology major and CTSJ minor, and worked as a research assistant in the labs of her academic and research adviser Prof. Cabral and former adviser, Prof. Hopmeyer. Their
collaboration focused on the intersection between health disparities and sexual and behavioral health outcomes among emerging adults and underrepresented groups. Inspired by this work, Lara had the privilege to take part in the Undergraduate Research Center's Summer Research Program, conducting research that she further pursued this year, receiving Honors for her senior thesis for the Department of Psychology. Lara will be attending graduate school in the fall to earn her master's degree in Health Psychology as she strives to continue to research and learn more about health disparities and improve the mental and physical health outcomes among underrepresented racial/ethnic groups, with a focus on Armenian-American populations. Lara is very thankful for the support and opportunities that her family has provided for her to be able to achieve these accomplishments and will continue to live by her mom's motto to work hard, do good work and never give up. 
From Masredjian: "When I think of a college student that has contributed positively to campus and the community, I think of Lara Minassians. She is the embodiment of Occidental's four cornerstones of Equity, Excellence, Community and Service. Whether she was volunteering at a local hospital, acting as a fundraising liaison at a nonprofit, volunteering at a summer camp in Armenia for four years, or being selected as an Undergraduate Research Center program participant and poster presenter, Lara is the definition of a well-rounded individual with so much promise. While in Armenia, Lara taught English to the students and acted as a translator. Not only did she volunteer during her summer vacations, but Lara raised over $30,000 to help provide for copy machines, water fountains and commercial ovens. Lara was able to find out what was absolutely needed and make a positive and lasting change. Lara also provided leadership to reinvigorate the College's Armenian Student Association (ASA). Due to Lara's leadership and commitment, ASA has become one of the College's most active, vibrant, and vital student organizations.
From Collins: "Lara has aexcelled as a student-athlete in many ways during her four years at Oxy. Even as a first year, Lara always expressed great care for her teammates on the volleyball team and wanted the best for others. As her coach, I could tell right away that she had great empathy and would become a fantastic leader because of her naturally caring personality. Lara was awarded a captain position for her last two years and during that time she balanced her setting responsibility (which is termed the "quarterback" position) with creating tremendous trust amongst her teammates with her team-first mentality. She did a fantastic job of intertwining her strong level of play while creating a safe and comfortable environment for her teammates.  She is the epitome of our core values: commitment, family, fortitude, integrity and pursuit! Finally, Lara was a role model in the classroom, making the Dean's list in 2019 and 2020. Beyond the court, Lara also had a strong representation on SAAC (2018-20) and as a liaison with ASOC (2020)."
"Lara might be the friendliest and kindest student I've met at the College. She's quick with a smile and a genuine hello every time I see her. Lara's successes and leadership with both the volleyball team and the College's Armenian Student Association have been noticed by me and many others at the College."
          –Dean of Students Rob Flot
---
Daviona Moore: Community
Major: Kinesiology
Nominated by: Liz Braxton, Associate Director of REHS
Born and raised in Houston, TX, Daviona arrived at Oxy and committed herself to a path of studying kinesiology and refining her activism in the area of reproductive justice. She discovered a knack for teaching during a fellowship with Breakthrough Collaborative, where she internalized the need for effective educators in the classrooms of scholars who look like her. Daviona went on to explore avenues of activism and mentorship within the campus community through organizations like Planned Parenthood Club (PPC). Daviona's work in reproductive justice flourished and eventually she was elected as president of the club her senior year. Following graduation, Daviona has plans to pursue a career in education with Urban Teachers, starting with a master's degree in education from Johns Hopkins University.
From Braxton: Daviona is an absolute star. Her commitment to supporting her peers, coupled with her positive energy and bright spirit, sparked the idea for a new administrative role this past spring: the CSP Student Engagement Assistant for first-year students. In her time at Oxy, Daviona has been an RA, a CSP SEA and the peer subject advisor for students studying kinesiology. Daviona is a star leader, a spreader of joy, positivity and light—even when she herself happens to be experiencing a bit of darkness.
Daviona was an RA in Pauley, our Multicultural Hall, and is one of the best RAs I've supervised. She has such a deep love for Pauley, and it showed up in her role. Daviona always went above and beyond expectations. She did fun, thoughtful and interactive programming. She went out of her way to learn residents' names and interests. She supported the other RA staff and valued collaboration. 
Daviona was also a great communicator; she knew how to use her voice and empowered others to use theirs. She managed to balance the RA role with her many other responsibilities very well. More importantly, she understands her bandwidth, and knows when/how to communicate effectively if she needs help or flexibility. That isn't a skill that many students her age have. It was truly a pleasure getting to supervise Daviona and watch her excel. Daviona always brought her authentic self to spaces and I believe it made others feel like they could do the same. She is absolutely deserving of the Dean's Award.
"I've experienced Daviona to be a quiet, but very effective, leader and role model. She has tirelessly supported students as a Resident Assistant (RA), and as a Student Engagement Assistant (SEA) through the College's Cultural Studies Program (CSP). Daviona will be missed, and I'm so grateful to her for her support of students."
          –Dean of Students Rob Flot
---
Serena Pelenghian: Community
Major: Critical Theory & Social Justice
Nominated by: Luci Masredjian, Director of Disability Services
Serena spent her youth in Armenian schools that were home, and she found a similar feeling at the gem that is Oxy, 25 minutes from where she grew up. Being a first-generation Armenian woman, daughter of an immigrant family, Serena was ecstatic and humbled by this opportunity. She sought a similar Armenian community at Oxy. And so, after recognizing Lara Ani Minassians' Armenian last name in the admitted student's Facebook group and reaching out to the person who became her one and only roommate, best friend and family, Lara and Serena revived and built the Armenian Students Association (ASA). This space became essential to not only their own growth, but they were also able to educate the Oxy community about their culture. Serena marks the ASA as her "pride and joy" of Oxy. 
Serena makes sure to represent her people in everything that she does. Her passions and curiosities were poured out into her oral historical and theoretical senior comprehensive (but now lifelong) project about the ways that the trauma of the Armenian Genocide shape the identity of the Los Angeles Armenian diasporan woman. Serena is the thinker that she is because of the incredible Critical Theory and Social Justice (CTSJ) classes she took with their incomparable faculty. She became vocal about standing for her community as an Opinions writer for The Occidental, where she started writing only a few weeks after coming to Oxy. Along with these platforms, Serena came to be who she is through the InterVarsity Christian Fellowship, being on the board of the CTSJ Undergraduate Journal, and by creating a Middle Eastern and North African Students Association to help her peers with similar backgrounds feel at home. Serena also critically studied fashion and identity in Copenhagen, Denmark. Outside Oxy, she is an intern and research fellow for the Armenian National Committee of America Western Region and is an intern at Giragossian Law, Inc. 
Now, Serena continues to see her work pay off by being the recipient of the 2021 Kai Allen Award by the CTSJ department, the Mortar Board Award for the promotion of multiculturalism, and now this honorable award. However, she attributes this award to her faith in Christ, her ancestors who survived for Serena's existence, to her parents who sacrificed so much for her to be here, to her sister, to her best friends, to her lifelong CTSJ mentors, to her law internship mentor, to Occidental College, and to all of her supporters throughout her lifetime. Serena is proud to continue her work, as she begins law school in the fall; her journey is just beginning.
From Masjedjian: "In 2018, after the Armenian Student Association was inactive for several years, Serena was a catalyst that helped revive ASA at Oxy. Presently, ASA is one of the most thriving student associations on campus. Serena is a fierce, strong, passionate woman, and her efforts—along with other leaders in ASA—not only brought together a very small Armenian American community at Oxy, but contributed to the education of our entire community. When the Artsakh/Azerbaijani conflict arose early in 2020, there was very little coverage of this significant event in U.S. news, and many Oxy community members didn't even know much about the Armenian Genocide of 1915. ASA stepped up. ASA bonded together and put all of their energy into advocating for their homeland, and into educating the Oxy community about what was occurring internationally. These efforts reached the highest level of administration at Oxy and resulted in a message that was sent out to the entire community. The Division of Student Affairs, inspired by ASA's efforts and passion, even invited the group to a Student Affairs division meeting to discuss the events in Armenia and Azerbaijan and to share how they were being impacted. ASA rallied our entire community around an issue that would have been unknown without their efforts. 
Even during this most difficult spring semester, Serena continued her leadership and mentoring efforts through her advocacy work with ANCA (the Armenian National Committee of America). ASA maintained quality programming and meetings and have remained a strong and present organization. Serena is also an exceptional scholar and friend. Serena is simply a joy to work with. This past year, every single time a colleague connected with Serena for various reasons, they felt compelled to report back to me, 'what an amazing person,' or 'what a great kid.'"
"I met Serena during Homecoming 2018, when I visited the Armenian Student Association (ASA) booth, where she and other ASA members taught me a traditional Armenian dance, shurj par. Under Serena's leadership ASA has exploded with success. In fact, ASA is the student organization of the year for 2020-21. Thanks to Serena, I think ASA will be a force at Oxy for years to come."
          –Dean of Students Rob Flot