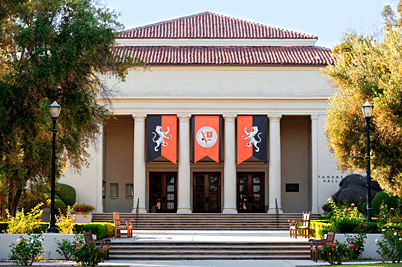 Occidental College has one of the country's best graduation rates for recipients of Pell Grants, the need-based federal aid program for students from low-income families, according to a new U.S. News & World Report analysis.
Occidental's six-year graduation rate of 93 percent for Pell Grant recipients who entered college in 2006 – significantly higher than its overall 84 percent graduation rate – is exceeded by only seven other nationally ranked liberal arts colleges, according to an analysis posted by Robert Morse, U.S. News' director of data research.
Measuring the success of Pell Grant recipients is one of the goals of President Barack Obama'83's proposed college rating plan, which is intended to identify colleges "that do the most to help students from disadvantaged backgrounds as well as colleges that are improving their performance."
Occidental also stands out because the number of Pell Grant recipients it enrolls. According to a 2010 U.S. News analysis, Occidental ranked second among the country's top liberal arts colleges, behind Smith and tied with Mt. Holyoke. In 2012-13, Pell Grant recipients made up 21.6 percent of the Occidental student body.
"Equity and excellence are at the heart of Occidental's mission, and we are proud of our success in recruiting talented students, whatever their background, and giving them an outstanding education," said Jorge Gonzalez, vice president for academic affairs and dean of the college.
The U.S. News analysis is based on data supplied by 317 of the 510 ranked schools in its national universities and national liberal arts college categories. Among the schools that didn't provide Pell data – which is not used to calculate U.S. News rankings – include Pomona, Williams, and Davidson.