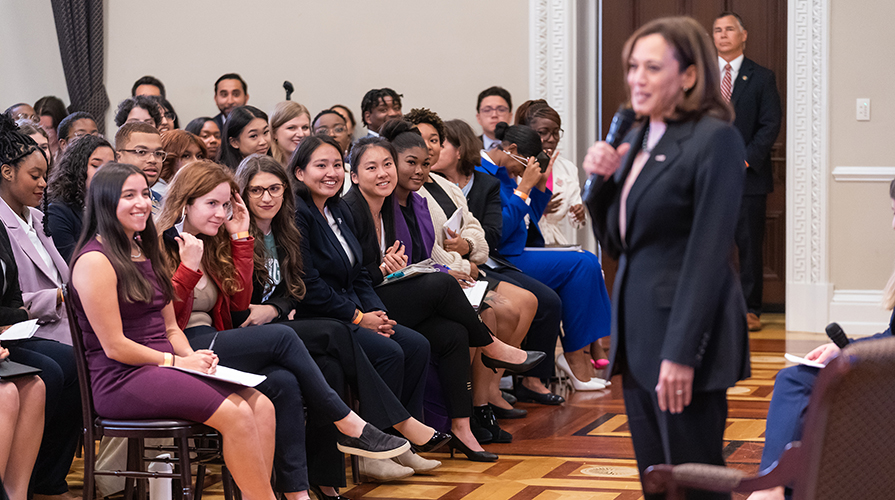 Former ASOC President Ellie Findell '23 joined other student leaders from across the country in an October 14 meeting at the White House with Vice President Kamala Harris regarding reproductive rights and other pressing political issues on college campuses.
Ellie Findell appears second from left, front row. Image courtesy of the White House.
"It was a whirlwind three days," Findell said. "It was just so crazy, we were told we were the biggest group of students they had ever talked to. It was great because it also was a big networking opportunity to be able to talk to students all over the country."
Findell, a history major, was one of 75 student leaders representing colleges and universities in 33 states who were nominated for the opportunity by school officials acting on an invitation from the American Council on Education. "I nominated Ellie because she negotiated ASOC so deftly through a difficult time last year," Occidental President Harry J. Elam, Jr. said. School officials were only permitted to nominate one student per institution. 
The discussion revolved around methods that students could use to address and respond to current national political issues. Topics included the implications of the Dobbs decision on college campuses, as well as Title IX, gender rights, and voting rights. The vice president asked students questions about how college students typically respond to and address such issues, and together the group discussed strategies to encourage voting on college campuses. 
Afterwards, the student representatives were broken up into smaller groups of about a dozen each for further discussion with government leaders. Findell and her group met with the special assistant to the president on education. The group went into more detail about specific issues they were encountering on campus, and pushed the administration to take action on what Findell describes as a "long laundry list" of matters, especially concerning comprehensive sexual education.
Findell appreciated the diversity of the students she met with; her discussion group contained student leaders from large state schools, small liberal arts colleges, and community colleges. She expressed her gratitude to Elam for nominating her, saying that it "opened up a bunch more possibilities" and that she is even considering moving to Washington, D.C. next spring.