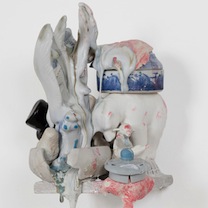 Occidental College will present Emily Sudd: Decorative Objects, an exhibition of work by the Los Angeles-based artist, Feb. 23-April 11 in the College's Weingart Gallery. 
The Los Angeles-based Sudd began working with existing ceramic objects about three years ago. Collecting kitsch figurines and functional ware, Sudd combines souvenirs and thrift store finds to create unique sculptural compositions. By adjusting kiln temperatures in multiple firings, she has developed a technique that results in some objects and glazes melting and changing form while others remain whole in a process that can be seen as a collaboration between the artist, pre-existing objects, and the conditions of the firing.
In Emily Sudd: Decorative Objects, the artist continues this examination with 11 wall pieces that engage in conversations surrounding abstract and still life painting, decoration, and institutional critique. For this exhibition, she has expanded the exploration of object making, value, and authorship, and has created a large-scale sculpture using thrift store and collected paintings as building materials. I ♥ Love, 2015, takes on the form of an ocean wave made of intact paintings that crests over the gallery viewer.
Sudd holds an MFA in studio art from UCLA. She has participated in several exhibitions at venues such Angles Gallery in Los Angeles, Sargent's Daughters Gallery in New York, and Anat Ebgi Gallery in Los Angeles. She was featured in the Ceramic Top 40 exhibition in Kansas City, MO, organized by Ferrin Contemporary.
Emily Sudd: Decorative Objects is opens on Feb. 23 with gallery hours from 10 a.m. to 5 p.m., Monday through Saturday. The Weingart Gallery is located on the Occidental College campus at 1600 Campus Road in the Eagle Rock neighborhood of Los Angeles.
OxyArts acts as a hub for the arts at Occidental College, promoting exhibition and programming practices that are key to the College's long-term vision for the arts. The program engages the campus with a contemporary art dialogue via its Weingart Gallery, campus-wide projects, and work developed by artists in residence. Through OxyArts, Occidental aims to actively participate in Los Angeles' art community and cultivate a deeper understanding and appreciation of the arts throughout the College community.