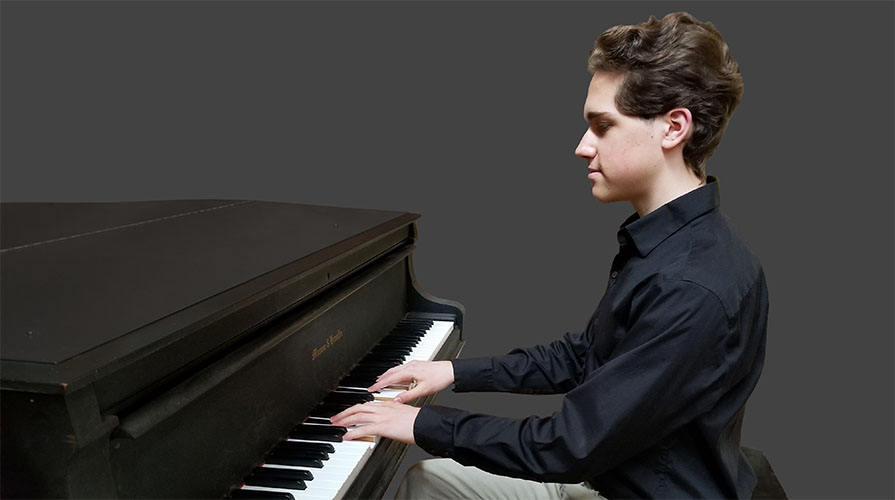 Oxy's thriving music department continues to attract talented students, including Timothy Shortell '24 who won a $3,000 young artist grant this fall.
Timothy Shortell has been playing classical piano more than half his life. Over the last three years, he began to compose musical scores, first for his own enjoyment and more recently for film and television projects. As a first-year student at Occidental, Shortell has dived into classes in the music department and will likely declare a composition concentration within the music major. His goal is to have a career writing music for media (film, TV and trailer music).
This month, Shortell had the honor of winning the Thomas Bergersen Artist Grant for young musicians, which came with a $3,000 prize. Bergersen's music has been featured in countless big-name Hollywood productions, concerts and international productions.
"I've been a big fan of Thomas Bergersen since I discovered his music a few years ago," Shortell says. "He's best known as the co-founder of the group Two Steps from Hell. If you haven't heard of them, you've definitely heard their music, because it's everywhere."
As a fan and creator of scores in the Epic genre like the ones Bergersen composes, Shortell knew it was the perfect competition for him to enter. "I decided to record a video of me improvising on the piano, because that showed off some of the creative aspect as well as my technical skill on the piano," he says.
Shortell is looking forward to taking more music classes next semester—and soon enough, being in Los Angeles. "L.A. was a huge appeal because of the connection to the film industry. The music program is really different from other liberal arts music programs I found. It's more modern with both the production and composition options, and I can take classes in both areas, which really fits what I want to do."
Professor of Composition Adam Schoenerg says his main objective at Oxy has been to cultivate a music conservatory-like work ethic and environment that are embedded in a liberal arts education.
"Because of our proximity to the industry, and with the recent addition of our extraordinary Choi Family Music Production Center, we have the tools and resources to support students like Timothy, who have great ambitions and who could have chosen a conservatory," he says. "Timothy is exceptionally talented and I can't wait to see how he develops as a composer these next few years."