Submitted by kwall_admin on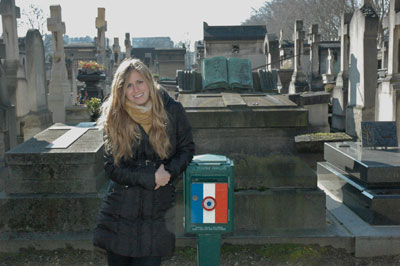 Aralyn Beaumont '14 has dedicated much of her undergraduate career to studying food she may never get to eat and rituals she may never experience. This semester she's switching things up a bit.
Beaumont, a religious studies major who presented her research paper, "You Are What You Eat: Food and Identity in Ancient Rome" at the Second International Conference on Food Studies in October, is spending her spring semester interning at L'Atelier Guy Martin, a center for recipe publications, cooking classes, and private dinners. She says that preparing her tastebuds for contemporary food journalism is her first priority.
"I'm just so conscious of the meals I want to have," says Beaumont, who is documenting her Parisian culinary experiences on her blog and hopes to one day write for a publication like the quarterly food writing journal Lucky Peach. "I've saved my money for some great-tasting menus."
When it comes to writing about modern cuisine, Beaumont believes her historical expertise has already given her an advantage.
"I have a perspective of the way food influences society and I know the kinds of questions to ask," says Beaumont, who is also a former Occidental Weekly editor in chief. "I can draw parallels between the way food is valued and how it plays a role in society."
A strong sense of context isn't the only attribute working in Beaumont's favor. Her mentor, Kristi Upson-Saia, associate professor of religious studies, says Beaumont also possesses the much-sought-after academic skill of being able to empathize with the subjects she studies.
"Throughout her first few years at Oxy, Aralyn took several courses on the ancient world.  In these courses, she stood out for her historical sensibilities," Upson-Saia says.  "That is, she is able to channel the mindset, priorities, and values of the ancient folks she is studying."
This semester will be Beaumont's chance to tap into the ethos of the modern Parisian gourmet. Not only is she planning on visiting the cafes and boulangeries around her home, two blocks from the Arc de Triomphe, but she will also assist chefs and translate menus as part of her internship with L'Atilier Guy Martin.
Although this isn't Beaumont's first time in the City of Lights -- she traveled there with her father while in high school -- it is her first time in the city as an academic. She says there are some core differences. For one thing, she was a vegetarian on her previous visit, and she's "really loving all of the meat" this time around.
"The way I approach my meals is different because I have an understanding of French customs that I didn't know before, and I eat much more slowly than I ever have," she says. "I think about the tastes that are in my mouth and the textures, what ingredients I'm eating and where they came from and why certain palates exist."
Beaumont's Parisian interlude may only be a small part of her overall Occidental experience, but she says it will surely be an integral one.
"I think that these are important steps that I'm taking," she says. "I'm going to take a lot from what I learn at the Atilier, eating here and having conversations with people here about food."