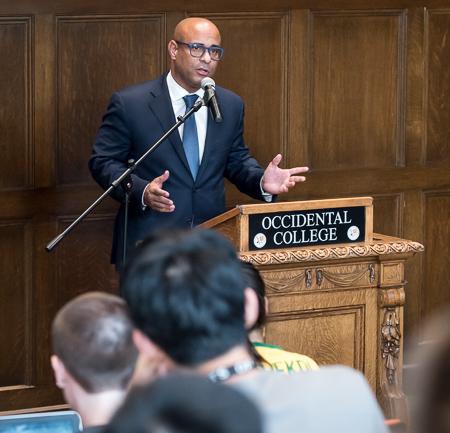 Haiti's recovery from its devastating 2010 earthquake offers valuable lessons in the power of innovative thinking and the law of unintended consequences, former Haitian Prime Minister Laurent Lamothe told a large Occidental College audience Wednesday.
Simple expedients such as adding a surcharge to the cost of jet fuel and telephone calls made it possible to finance the reconstruction of the airport in Haiti's capital, Port-au-Prince, and dramatically expand the country's once tiny public school system, said Lamothe, who served as prime minister from May 2012 to December 2014.
The recovery also demonstrated "the power of determination, of always thinking you're always going to come out ahead, and fighting and pushing, especially for those who are most vulnerable," he said.
At the same time, some of the ways in which billions of dollars in international aid raised by foundations and other non-governmental organizations were spent by those groups actually made the recovery more difficult, despite the best of intentions, he pointed out.
Massive donations of basic supplies such as water and rice helped drive local water companies and farmers out of business, Lamothe said. As prime minister, "I'm trying to get people out of tent camps, but the free food, water and medicine was being distributed in the camps, so no one wanted to leave," he said. "Ultimately it cost us $100 million to relocate people and take the tents out. It was the most difficult process you can ever imagine."
The 7.0-magnitude earthquake that struck just west of Port-au-Prince on the afternoon of Jan. 12, 2010 killed tens of thousands of people, destroyed hundreds of thousands of buildings and severely impacted utilities, roads and other basic infrastructure in a country where 70 percent of the population was living on an average of $1 per day.
Lamothe emphasized the importance of inexpensive digital technology in the recovery process. "Technology's ability to level the playing field between rich and poor, between government and the people, is key not only for the present but for the future," he said. "In many developing countries, the system wants to keep people in the dark, whereas technology brings the light."
Lamothe was introduced by Chloe Azria '16 of the Rapino Foundation, an international development and relief organization active in Haiti. He appeared as part of the Can the United Nations Empower Social Change and the Global Sustainable Development speaker series, sponsored by the William and Elizabeth Kahane United Nations Program, the Young Initiative and the economics department.