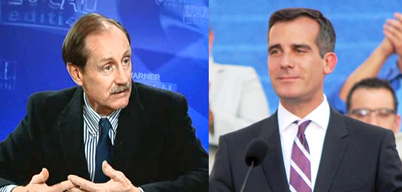 Pretty much everyone knows about the Oxy alumnus in the White House (Barack Obama '83). But Occidental is well-represented in local politics as well.
Not only is Los Angeles' Mayor Eric Garcetti a former Occidental professor, his right-hand man is Deputy Mayor Rick Cole '78.
Garcetti taught as an adjunct assistant professor of diplomacy and world affairs at Occidental during the 1999-2000 school year. He co-taught three courses with Larry Caldwell, the Cecil H. and Louise Gamble Professor in Political Science: International Relations Theory, International Political Processes and a senior seminar. The mayor also taught a course on International Organizations, with a special focus on the United Nations. 
"Garcetti was a terrific teacher," Caldwell recalls. "He had experience in doing field research, and while he had impressive credentials as a scholar, he was accessible to students. Students loved him, and his leadership abilities were clearly on display." (Garcetti earned his B.A. and M.A. from Columbia. He studied as a Rhodes Scholar at Oxford and the London School of Economics.)
In evaluations, several students mentioned Garcetti's "idealism." Others called him "way cool," an "excellent lecturer" and "always very interesting."
"Garcetti presented his material clearly with the intention of provoking thought and balancing [diverse] opinions," one student said. "Professor Garcetti is excellent in general at explaining things and responding to questions and comments without being rude," another opined. 
Higher education is a special concern of the new mayor, who met in September with Occidental President Jonathan Veitch and other local college leaders (including Loyola Marymount President David Burcham '73) to discuss training and retaining talented college graduates in the Los Angeles area.
Even though they didn't know each other previously, Garcetti hand-picked Cole as his deputy mayor for budget and innovation, saying Cole "will be a critical asset to my agenda of balancing the budget and making City Hall work better." Cole previously was Ventura city manager for eight years. Before that, he was city manager of Azusa and mayor of Pasadena.
Cole, an American studies major at Oxy who later received a master's in journalism at Columbia, is known for his blunt, no-nonsense style and penchant for performance-based budgeting. "Tracking performance and being accountable for results is what I've tried to implement going back 30 years," he told the Los Angeles Times after Garcetti selected him in July. He said he supports the mayor's "back to basics" vision.
In the end, Oxy will just have to accept its loss of a talented budding professor as the city's gain.
"We would have been happy to have him continue as a professor at Occidental -- he was among our most promising younger scholars," Caldwell says. "But we knew that he had his eye on making a more immediate impact on the political world."