Submitted by kwall_admin on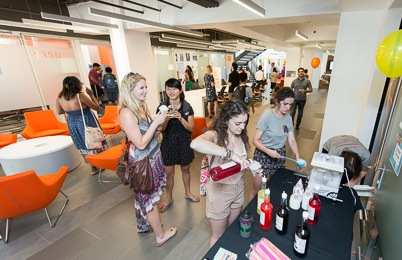 Occidental's newly renovated Rose Hills Student Activity Center celebrated its grand opening August 30 with snow cones, popcorn, lemonade and balloons.
"I'm blown away," said Nick McHugh '14, ASOC president. "I think it's a great community space. I think it's going to be a place where students can get informed but also just get together. I think it'll be a great hub for conversation and ideas."
The Rose Hills Foundation donated $1 million to Occidental to renovate the space on the Johnson Student Center's first floor. The enhancements maximize student interaction with Student Life programming and, importantly, with key program offices that were previously scattered across campus that advance Occidental's commitment to diversity, career development and civic engagement.
"The educational importance of this project cannot be overstated," said President Jonathan Veitch. "This facility is key to the College's holistic mission of living and learning. Almost 80 percent of the 2,102 students live on campus, and every student passes through JSC each day. First-floor offices have constant traffic from students and community members interacting with Student Life and Civic Engagement offices."
The Rose Hills Foundation Plaza, which was named in recognition of the Foundation's generous support of the College's 1997 major renovation and build-out of student life offices, catering and meeting facilities, serves as a principal entrance to the new student program offices. A "concierge" desk at the entrance provides one-stop-shopping for student involvement. The new center creates a nexus where career services, intercultural programs, and community engagement are visible and available in a bright, inviting setting that is easy to navigate.
The interior design is crisp, clean, well-lit and contemporary, utilizing glass partitions and high-density sound transmission walls that are easily moved to meet evolving needs for offices and activities. The color palette is gray and, of course, orange.
"This space has really warmed up," said Maya Morales '14, a student programmer for the Intercultural Community Center, which has a satellite office in the new Student Center. "I hope students use this space. It's so open and versatile."
The Student Life offices form the nucleus of student services: over 100 student organizations, six fraternities and sororities, student-run business operations, and student government. The project will connect the Student Life offices with a new Community in Action suite that will spearhead the College's relationship with the city of Los Angeles. The suite will house space for the Office of Civic Engagement, the Neighborhood Partnership Program, and satellites for the Career Development Center and the Intercultural Community Center.
"Right now our plan is to run our drop-in program here on Thursday and Friday afternoons," said Valerie Savior, director of the Career Development Center.
The remodeled space also provides three private meeting rooms, including a 1,203-square-foot multipurpose programming space for performances and social gatherings. It will be adjoined by Occidental's student-run radio station, KOXY.
Offices for student-run media groups (weekly newspaper, graphic design service, yearbook and campus television station) have been relocated to a new Student Media Suite located at the entrance of Newcomb, a residence for first-year students.
"I think it's a really interesting space. It's very modern-looking," said Abhilasha Bhola '16, a student programmer for the Center for Gender Equity. "It's a less-academic-looking place for students to meet."