Submitted by kwall_admin on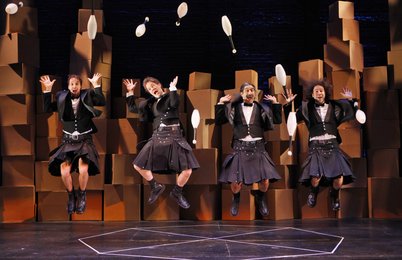 As this year's Hume Fellows, the acclaimed quartet the Flying Karamazov Brothers will bring their comedy-juggling spectacle 4 PLAY to Occidental for a not-to-be-missed performance Friday, September 14 at 8 p.m. in Thorne Hall.
Formed at UC Santa Cruz in 1973, the Karamazovs describe themselves as "multi-faceted new-vaudevillians at the apex of their ambidextrous and alliterative ability." One of their newest members is Oxy's own Stephen Bent '09 ("Zossima"), who joined the Karamazovs during his senior year and still managed to graduate magna cum laude and Phi Beta Kappa.
Bent's childhood juggling hobby had morphed into an obsession by his teen years. The fact that the music major also plays trombone and sings made him a natural fit for the group. (Yes, he can play trombone while juggling.)
Among the Karamazovs' repertoire is something known as the "Terror Trick," in which they gradually introduce nine items—a cleaver, torch, salt shaker, ukulele, skillet, fish,  egg, block of dry ice, and bottle of Champagne (which they call a "time bomb")—then juggle them all at once, only to end up cooking the fish and the egg in the skillet and drinking the Champagne.
They also perform a trick called "The Gamble" in which "the Champ" (portrayed by Dmitri Karamazov) will juggle any three items provided by the audience (certain rules apply).
The show suits all audiences: adults, students, students who watch "Glee," tourists, theatergoers, theatre-avoiders, pseudo-intellectuals, Abe Vigoda, the friendless, geeks, hedge-fund managers, hedge-fund managers who are now Duane Reade assistant managers, kids (but only gifted ones with a solid background in the classics), disgraced religious leaders, Kardashians and politicians. Pardoned? Incarcerated? The Karamazovs don't discriminate.
Tickets are free for Oxy students with ID; $10 for Oxy alumni, faculty and staff; and $15 for the general public.  To purchase tickets, please click here. For more information, go to oxy.edu/theater, email theater@oxy.edu or call (323) 259-2922.
Every two years, Occidental brings a well-known musician, artist or group to campus through the G. William Hume Visiting Arts Fellowship. Classic pianist Awadagin Pratt, opera star Frederica von Stade, and percussionist Evelyn Glennie are previous Hume Fellows. The fellowship is funded through the G. William Hume Trust, named for Bill Hume '50, a former Oxy dean of students, professor, and director of Thorne Hall.