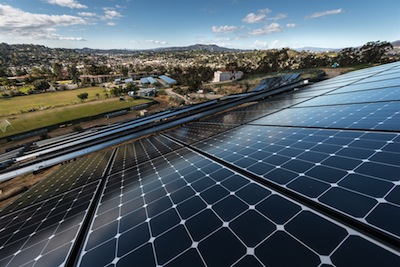 The Occidental College Board of Trustees has created a $3.5 million Green Revolving Fund to invest in energy and water efficiency upgrades, renewable energy and other cost-saving sustainability projects that reduce Oxy's environmental impact.
The new Green Fund, part of the College's permanent endowment, will make loans to fund a wide variety of sustainability projects capable of generating significant savings with which the fund will be paid back.
"Investing college endowment in efficiency and conservation projects reduces campus demand for energy from the grid, which in Los Angeles is dependent on fossil fuels for at least 60 percent of its electricity," says Emma Sorrell, Oxy's sustainability coordinator.
"We see this as a good example of the concept of 'think globally, act locally,' Sorrell said. "We're not only reducing the campus' carbon footprint, we're reducing our financial support of the fossil fuel industry at the same time."
Proposed by the College's campus-wide Sustainability Committee, the Green Fund will be administered by a subcommittee made up of trustees, faculty, students, and staff, including the director of facilities and the sustainability coordinator. To gain approval, any proposed project must produce a return of 8 percent or more over a maximum payback period of 12 years.
The committee plans to meet in the next few weeks to iron out the details of the application and approval process. Possible projects include insulating chilled water and steam pipes, replacing aging boilers, and inspecting, diagnosing, and repairing electrical, heating and cooling systems in selected buildings to optimize their operating efficiency and reduce power usage.
"There's nothing glamorous about these kinds of projects that the Green Fund can make possible," said Tom Polansky, director of facilities. "But these are the kinds of projects that can have a significant impact on campus energy use and our carbon footprint over time."
The revolving fund is the latest manifestation of Oxy's growing commitment to sustainability.

Perhaps the most visible symbol of that commitment is Oxy's 1-megawatt hillside solar array. Launched almost two years ago, it produces 12 percent of the campus's energy needs, saving about $240,000 in electrical costs during its first year and reducing campus carbon emissions by 961 metric tons, a 7 percent overall year-to-year reduction. Hugging the hillside in a striking curving design, it represents a new paradigm for arrays as architectural objects that are expected to contribute aesthetically to their environment.
The solar array also served as a model for the Green Fund, as its approval by trustees was based on the assurance that it would repay its cost by reducing Oxy's electrical bills.