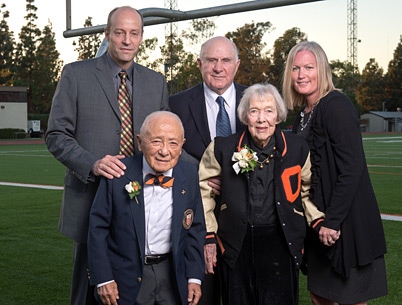 Occidental celebrated its 125th anniversary Homecoming and Family Weekend by inducting its first class into its Athletic Hall of Fame, dedicating a renovated and expanded Swan Hall, and defeating its traditional rival Pomona in the 113th meeting of the two football teams.
Eight outstanding athletes and coaches, including Olympic gold medal diver Sammy Lee '43, women's tennis pioneer Pat Yeomans '38, and triple-threat football player Bill Redell '64 were inducted into the Occidental College Athletic Hall of Fame on Friday in front of a dinner audience of more than 250 in Oxy's Kemp Stadium.
"As the 'sweatiest of the liberal arts,' athletics always has been an important part of the Oxy experience," said President Jonathan Veitch. "From the beginning, we have recognized the personal qualities and life skills that athletics develops."
Full of laughter and applause, the induction ceremony hosted by Tiger Club President Paul Finchamp '80 featured tributes by friends and family members to the living inductees, who in turn paid tribute to their families and to the College. "I owe a lot to Oxy," said Lee, who won gold in platform diving at the 1948 and 1952 Olympics.
Joining Lee, Yeomans, and Redell in the inaugural class are Dean Cromwell, Class of 1902 (track & field); Bud Teachout '27 (baseball); Bob McMillen '53 (track & field); Jack Kemp '57 (football); and Bob Gutowski '58 (track & field).
On Saturday, a renovated and expanded Swan Hall – one of the original buildings on the Eagle Rock campus, which will be 100 years old in 2014 – was formally dedicated in an outdoor ribbon-cutting ceremony.
Originally designed as a men's dormitory by campus architect Myron Hunt and converted to offices in the mid-1960s, Swan serves as home to one-third of Oxy's faculty. "What better way to celebrate Oxy's 125th anniversary than to mark the renewal of one of Oxy's most beloved and historic buildings?" asked Veitch.
"This building is so important to faculty… it has changed the teaching and living environment for the faculty who are in it," said Amy Lyford, professor of art history and the visual arts and Faculty Council president. "And it's really beautiful."
Homecoming culminated under the lights on Patterson Field with a 31-27 Oxy victory over Pomona in Southern California's oldest intercollegiate rivalry, dating back to 1895. Oxy now holds a 63-48-3 edge in the historic series, in which the two teams play for bragging rights and The Drum, the perpetual trophy awarded to the winner.