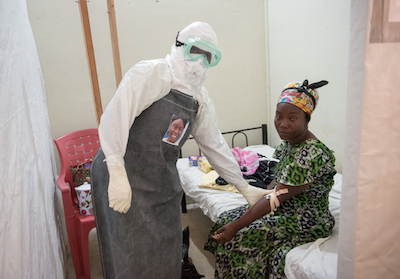 Occidental art and art history professor Mary Beth Heffernan has been invited to speak at London's Royal College of Nursing's Library & Archives on August 16 on "The Art of Caring: Beyond the Ebola Crisis." 
Her talk is in conjunction with the Royal College's exhibit "Pandemic! Nursing 100 Years of Infection," which runs through Sept. 21, 2018. The exhibit displays ephemera from Heffernan's 2015 Ebola personal protective equipment (PPE) portrait project. During the outbreak in Liberia and Sierra Leone, Heffernan sought to humanize the full-body protective gear worn by healthcare workers by adding stick-on photographs of their smiling faces to the front. 
"I'm going to talk about how the PPE portrait project inserted itself into the space between treatment of disease and treatment of the patient," Heffernan said. "Technological societies such as our own often privilege the treatment of the disease over the treatment of the patient. I noticed a blind spot when it came to the frightening nature of the PPE that no one was addressing, at least not in a systematic way. It was causing treatment avoidance, and once people were in treatment, they sometimes sought to escape."
Heffernan found studies dating back decades showing that not being able to see a caregiver's face is a traumatizing experience for patients. Her idea was to take single-use photos of caregivers, print them out on large adhesive labels and stick them to the fronts of their disposable protective gear, or PPE. "By ameliorating this one quality, it gave a psychological boost to the patient and the caregiver," she said. She calls projects such as this one "social practice art." 
Although the feedback she received from both patients and caregivers in Africa during the Ebola crisis was overwhelmingly positive, Heffernan is now seeking to partner with a hospital to construct a study to quantify her findings "to see if using the portraits makes enough of a difference in preventing long-term psychological damage," and to also see if it has other positive health effects such as shortening patients' stays in isolation wards.
"I'd like to see if we can come up with evidence that it really helps, on the road to making this a best medical practice" for various situations that require caregivers to wear face-covering protective gear, ranging from bone-marrow transplants to tuberculosis infections. "I'd like to show that this wasn't just a one-off project, that it might have the power to change best medical practice," she said.
"There's more and more research that shows that the cultural determinants of health have physiological outcomes," Heffernan said. "That suggests that there is a role for art and artists in that process. That's what I'm hoping to explore in future projects as well."