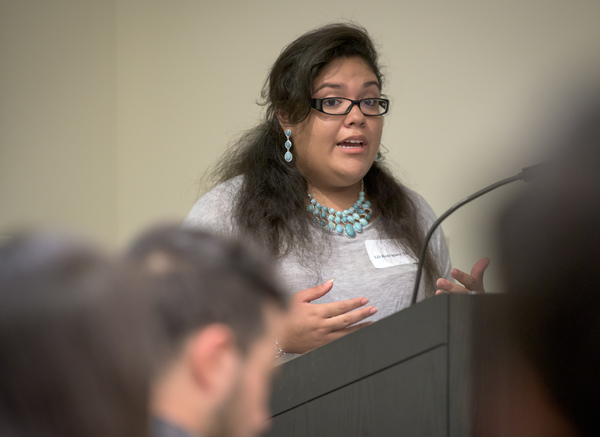 A three-year, $750,000 grant from The Andrew W. Mellon Foundation will enable Occidental College to continue its ongoing effort to re-imagine its curriculum by supporting the creation of new research-intensive courses in the arts, humanities and social sciences for first- and second-year students.
"Occidental is committing itself to offering a hands-on research experience to every student," says Occidental President Jonathan Veitch. "By looking beyond the sciences and focusing on classes students take before they declare a major, we can ensure that everyone, including our first-generation and underrepresented students, participate in the high-impact practice of conducting research with a faculty mentor."
Over the next three years, Oxy plans to create 15 new courses that take advantage of Oxy's Los Angeles location by enabling faculty and students to conduct research with major cultural and community organizations in the region. Using the latest digital scholarship methods, much of that work will be available to the public.
The initiative builds on Occidental's strengths in undergraduate research and digital scholarship and the initial work carried out over the past five years with support from the Mellon and W.M. Keck Foundations, said Amy Lyford, professor of art history and visual arts, associate dean for curriculum and academic support, and one of two principal investigators for the grant.
The process of re-imagining Oxy's curriculum began with the creation of research-intensive seminars to foster faculty and student engagement with Los Angeles cultural and community partners, Lyford said. "Over the past two years, more than 150 students have enrolled in the first-year seminars and a dozen new courses in psychology, history, art, music, sociology and other fields created by faculty from 13 departments working with a wide range of community partners," she said.
At the same time, almost 300 students have enrolled in seven new interdisciplinary, team-taught courses supported by the Center for Digital Liberal Arts, said Daniel Chamberlain, CDLA director and co-principal investigator. "These courses, funded by the Keck Foundation and through a previous Mellon grant fully integrate digital scholarly research methods to help students develop fundamental visual, digital, informational, and computational literacies," Chamberlain said.
While undergraduate research has long been one of Occidental's distinctive strengths, up to this point the majority of students in the college's well-regarded summer undergraduate research program have worked in the sciences. Some 60 percent of sponsored projects over the last two years have been science-related, as compared to 3 percent in the arts, 13 percent in the humanities, and 24 percent in the social sciences.
Relatively few first-generation students have participated in these research opportunities. That's a significant group: some 19 percent of the Class of 2018 is the first person in their family to go to college.
"We want to model new approaches to the first-year research seminar experience, which is required of all students for graduation," Lyford said. "Our goal is to move to a model whereby all students, regardless of their knowledge of, or previous experience with, research have the chance to participate and take full advantage of the unmatched resources Los Angeles has to offer."
To ensure that more students can participate regardless of their financial means, the grant will make it possible for Oxy to provide stipends and room and board subsidies for six students to take part in the 10-week summer research program.
Another key component of the grant is the creation of a peer-to-peer faculty development program to help foster a broader culture of research-intensive, project-based courses.  The three departments selected on the basis of a detailed proposal due later this summer will be able to hire a post-doctoral fellow to teach a mix of new and current courses for two years.
Each post-doctoral fellow will be paired with a faculty mentor, participate in summer institutes and year-round faculty learning communities, and work closely with CDLA staff, Chamberlain said. Summer institutes will include colleagues from regional academic institutions and Oxy's community partners "so we can develop and share best practices in community-based research," he said.