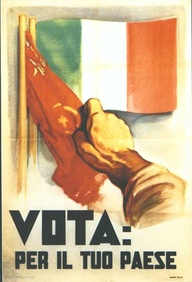 Noted historians from across the country and Canada will gather at Occidental on Nov. 30 to compare and contrast anti-communist movements in Europe and the United States during a one-day conference titled "Naming the Enemy."
Organized by Occidental History Professor Marla Stone, "Naming the Enemy: Anti-Communism in Comparative Perspective from the 1930s to the 1950s," will focus on the character and uses of enemies on both sides of the Atlantic during the interwar and early postwar period.
"Much of the violence and conflict of this period was fueled by the mobilization of populations against enemies of 'the nation' or 'the race,'" says Stone. "Governments from dictatorships to democracies raised the specter of civilization-destroying enemies to unite their people and rationalize a politics of hate and fear."
The conference will bring together scholars from Harvard, NYU, Columbia University, George Mason University, the University of Arkansas, the University of Maryland, UC Davis, King's University College at Western Ontario, and The Catholic University of America.
Stone and Jorge Gonzalez, dean of the College and vice president for academic affairs at Occidental, will kick off the conference at 9:30 a.m. The proceedings will finish with a roundtable discussion at 5:30 p.m., with a 6 p.m. reception to follow. The conference will be held in the Salsbury-Young Room on the second floor of the Johnson Student Center.