Submitted by kwall_admin on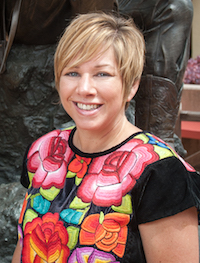 Occidental history professor Lisa Sousa has been named one of 40 Getty Center Scholars-in-Residence for 2017-18. The academics and artists will work on a range of topics at the Getty Center on the theme of "Iconoclasm and Vandalism."
Sousa's research focuses on Pre-Columbian and colonial Mexican history. Her research project is titled "So That the Indians Would Forget Their Superstitions": The Desecration of Sacred Sites and Objects in Colonial Mexico. She will be in residence at the Getty Research Institute from January to June 2018. 
"I am thrilled to have the opportunity to participate in the Getty Research Institute Scholars Program," Sousa says. "The Getty has very important resources for my research on the destruction of indigenous sacred sites and objects in colonial Mexico, and I am looking forward to learning from international scholars who are also examining the theme of iconoclasm and vandalism in their own work."
Throughout the 16th and 17th centuries, Spanish friars and crown officials ordered the burning of pictorial manuscripts, the destruction of ceremonial centers and the disfiguring of monumental sculpture "so that the Indians would forget their 'superstitions,'" Sousa says.
For example, in 1635 a sacred Aztec site in Malinalco that was still being used by native peoples for ritual purposes was destroyed at the order of a Spanish official. Four men were sent to attack the temple complex with pickaxes and erected a cross in its place. This was just one incident in the systematic destruction and denigration of indigenous art and architecture.
"I will translate and analyze Nahuatl-language (or Aztec) histories that recall this desecration as well as Spanish accounts and reports that document the destruction to shed light on contested memories of the violence, vandalism, and iconoclasm that accompanied evangelization efforts," she says.
Sousa's research will result in a book manuscript that examines vandalism, violence and iconoclasm in central Mexico. She will be using the Institute's vast library of Spanish and Mexican sources to complete her research.
More than 400 scholars from around the world submitted proposals for the 40 spots. Sousa will be joining academics from France, Germany, Switzerland, Australia, Mexico and the UK, among other countries.
Sousa, who received her doctorate from UCLA, teaches courses on colonial and modern Latin America. She specializes in colonial Latin America, indigenous peoples of Mexico and women's history. In January 2017, her book on indigenous women in colonial Mexico, The Woman Who Turned Into a Jaguar, and Other Narratives of Native Women in Archives of Colonial Mexico, was published by Stanford University Press. She is a co-translator and editor of The Story of Guadalupe: Luis Laso de la Vega's Huei Tlamahuiçoltica of 1649, a translation and analysis of the earliest Nahuatl-language account of the apparition of the Virgin of Guadalupe (Stanford, 1998). Sousa  also co-translated and co-edited Mesoamerican Voices, a volume of Nahuatl, Maya and Mixtec language writings from colonial Mexico and Guatemala, published by Cambridge University Press in 2005.