Submitted by kwall_admin on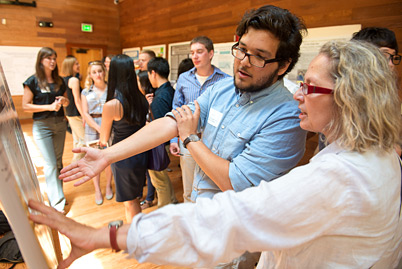 Seeking to uncover the secrets of everything from brain cancer to bromeliads to Bill Maher, a record 124 Occidental students spent 10 weeks this summer conducting groundbreaking research with faculty and community mentors.
Their investigations both on and off campus covered disciplines ranging from biochemistry to literature to politics. August 1 saw the culmination of their efforts in a day-long Summer Research Conference, where the students presented the fruits of their hard work in the form of 20-minute talks and poster presentations. In many cases, students worked one-on-one with their mentors, which included 67 faculty members and 10 outside researchers.
"We are very proud of the work they have done, and hope that this experience will help set the stage for life-long growth as scholars and researchers," said Phoebe Dea, director of undergraduate research and associate dean of the College.
Research topics included the conceptualization of cyberspace by the federal court system, the Spanish Civil War writings of W.H. Auden and George Orwell, how carbohydrate ingestion affects exercise capacity, and gut microbial diversity in tropical katydids. Community partners included City of Hope, JPL and KCET, and students traveled as far afield as Costa Rica.
Pablo Romano '14, for example, spent the summer working at City of Hope under the direction of Dr. Michael Barish in the department of neurosciences. His research involved using stem cells to treat multiform glioma, the most aggressive form of brain cancer. "We're working to better understand the relationship between neural stem cells and brain tumor cells in order to deliver chemotherapeutic agents directly to the brain tumor cells," Romano, a cognitive science major from Los Angeles who plans to attend medical school, explained.
Kristen Treat '14 tested bromeliads—tropical plants—at a research station in Costa Rica for two months, returning to Oxy to do statistical analysis of her findings about the composition of water and nutrients in the plants' "tanks"—holding areas created by the circular organization of the leaves. After graduation, the biology major from Los Angeles would like to either enter an environmental science master's program or go straight into the environmental sustainability field.
History major Alexis Holmes '14 found herself unsatisfied by standard theories explaining post-WWII U.S.-Japan relations. She questioned why the wartime battles between Japan and America were so bloody while the subsequent American occupation was relatively peaceful. "Professor [Paul] Nam supported my interest and led me to summer research," she said. To gain a better understanding, Holmes pored over the international papers of the League of Nations, U.S. naval interrogations of Japanese officers after the war, and the inner workings of the Japanese government itself. She hopes to continue on to graduate school for  an advanced degree in history.
For the second summer in a row, Caitlin Brown '13 of San Francisco undertook a physics research project involving quantum phase transitions with professors George Schmiedeshoff and Lianne Pinsky. "I am interested in pursuing design after Oxy, although I'm not sure exactly in what direction I am headed. I do think that my physics major and art history minor will be somewhat helpful," she said.
Thomas Kelly '13 conducted research with Prof. Gary Martin involving the giant keyhole limpet. "This animal produces a protein that is being used in possible anticancer vaccines and anti-allergy treatments, and to extract this protein, one needs to bleed the animal," Kelly, from Pittsburg, Calif., explained. "So our research is regarding what happens physiologically in response to being bled. How long does it take the limpet to recover after a bleeding and can we stimulate synthesis of this protein on our own?" Kelly, a biology major who hopes to enter a physical therapy program after graduating, said, "Not many students get to experience research at the undergraduate level, and that is one of the biggest reasons I decided to attend Occidental."
Occidental has supported undergraduate research for almost  three decades, in all of the disciplines on campus—the arts, humanities, social sciences, and natural and physical sciences. Its lauded Summer Research Program has helped place the College at the forefront of national liberal arts colleges. The program is sponsored by the Ford Research Mentors Endowment, the Howard Hughes Medical Institute, the National Institutes of Health, the Fletcher-Jones Science Scholars Endowment, and the National Science Foundation, among other donors.
For more photos from the conference, click here.