Submitted by kwall_admin on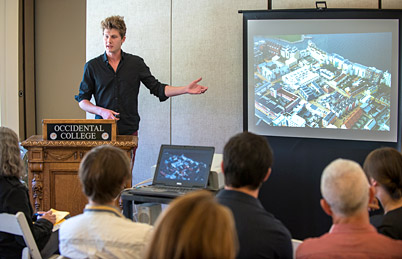 Nine Occidental students who received grants to conduct independent summer research abroad presented the fruits of their international study at a conference on campus October 25.
Art history major In Young Lee '13's original plan to study the Berlin Wall as an art object "went out the window" once she got to Germany, she said. Instead, after much exploration and talks with local scholars and experts, she realized that the Wall was a "pivotal cultural monument that embraces not only German history but also their cultural past." "I hadn't realized how complex it is," she continued. "I was only able to understand that because I was there physically."
Occidental maintains a distinctive and competitive research abroad program that awards fellowships to students to pursue fully funded independent research or creative work abroad for eight to 12 weeks during the summer virtually anywhere in the world. With assistance from faculty mentors, students develop projects of scholarly merit that promote cross-cultural engagement.
"It represents a great deal of work and a serious, focused commitment on the part of students," said English and comparative literary studies professor Michael Near, chair of the International Programs Committee. "This is real, significant preparation for serious scholarly work in the future."
The subjects of the students' research projects – which took place on four continents -- varied widely. One project focused on cultural identity as revealed through oral histories in Morocco, while another looked at the evolution of traditional kantha (embroidered quilts) and their connection to women's role in society in India. A third project investigated the trend toward environmentally sustainable metropolitan development in Sweden. A fourth examined telemedicine's effect in delivering health care to underserved populations in Ecuador.
Anna Jones '13 studied how the evolution of the kantha embroidered quilt, a specialty of West Bengal, parallels the women's movement in India. It began as a privately constructed object for family use but became a commercial product supported by NGOs following India's independence movement in the 1940s. "Today the kantha allows women a role in the public sector," she said, adding that her time spent in India "was one of the most powerful academic experiences I've ever had."
The research scholarships range from about $3,000 to $6,500. Normally, students pursue research abroad during the summer following the junior year, but exceptional sophomores may apply.
Previously called the  Richter Traditional Scholarship, the summer Research Abroad scholarship has been available at Occidental since the 1960s, and hundreds of Oxy students have participated over the years, conducting research in more than 60 countries. Occidental is one of the few colleges that offer such a program for undergraduate students.
Research Abroad scholars have successfully presented their projects at research abroad conferences and have utilized their work for senior comprehensive projects. Many Research Abroad scholars successfully pursue graduate fellowships and graduate degrees overseas.
The Paul K. Richter Memorial Fund and the Evalyn E. Cook Richter Memorial Fund support the Research Abroad scholarship. The income generated from the trusts fund the Richter Scholars Program at a small group of private colleges in the U.S., including Occidental.