Submitted by kwall_admin on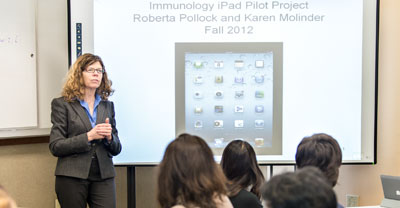 Evan Choate '13 pulled his lab manual, 70 journal articles, endless class notes and a 763-page textbook out of his bag for his final Immunology class.
What would normally fill the contents of a backpack instead weighed just over a pound and measured only three-quarters of an inch thick. That's because Choate, and his 26 classmates, used an iPad as the exclusive tool for the class.
Roberta Pollock, professor of biology and biochemistry, has taught Immunology at Oxy since 1989. A Faculty Learning Community, which brought faculty together to explore the use of iPads in teaching, inspired her to develop this year's course around the iPad and prompted her to explore the apps that would bring her class to life in a digital format.
Bob Kieft, the College librarian, purchased 30 iPads for instructional use thanks to generous donations to the library. Together with the help of others across campus, including informational technology services, Kieft introduced the Immunology class as an iPad Pilot Project. It's one of many ways in which Oxy is working toward integrating technology into the classroom.
"This is an example of Oxy at its best," says Pollock. "Everyone was really engaged and really participating. The type of learning that went on was really exciting. The first-row seats in class were the first to go."
Students were provided with an iPad at the beginning of the semester and purchased an electronic textbook designed specifically for the tablet. Pollock used the file-sharing site Dropbox and the open-source learning tool Moodle to share course materials, lectures and journal articles. Students could take notes, highlight and annotate their documents and share their work electronically with Pollock and other members of the class.
"Overall I liked using it," says Choate, a biochemistry major. "It's not just the ability to have everything in one place, but having everyone upload and share makes studying, research and class participation easier."
Many students discovered apps and tools that assisted them with their work. Skype allowed for virtual meetings, the calendar prompted students with reminders of assignment due dates, and the built-in camera captured lengthy notes on classroom white boards.
"As library collections and as publishers move from print to electronic text, I wanted to support an experiment that would contribute to the academic community's understanding of how people work with electronic materials," says Kieft. "I was very impressed with the students' willingness to work under these conditions and the thoughtfulness and energy they brought to the experience."
"It changed the way I appreciate my classes and academia in general," said Kenji Quides '13.
Kieft and Pollock say that the 30 new iPads will not sit idle. Marcella Raney, adjunct assistant professor of kinesiology, will use the iPads during a spring human anatomy course, with an emphasis on apps that help students study anatomy and do digital dissections.