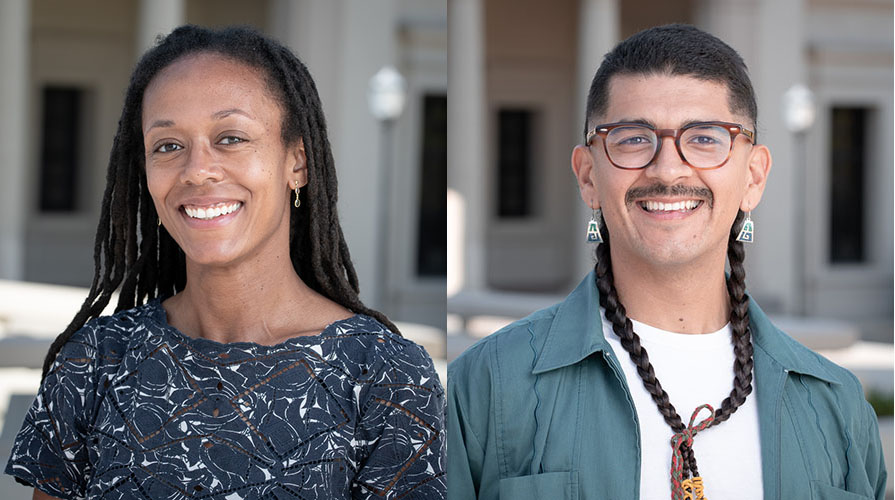 As the newest faculty members in Oxy's Art and Art History Department this fall, Janna Ireland and Jose Guadalupe Sanchez III will be teaching photography and painting, respectively. But the impact these two artists--Oxy's first Mellon Faculty Diversity Initiative Post-Doctoral Fellows--will have on the department extends far beyond their initial teaching assignments.
"Janna and Jose are transformative hires for the department," says Art and Art History Professor Mary Beth Heffernan. "The depth and range of their respective art practices promise to supercharge the curriculum and pedagogy in the studio arts, serve as a resource for art history students, and underscore the centrality of art to the liberal arts and Oxy's mission."
Their arrival at Oxy follows the departure of two of the department's longtime studio artists, printmaker Linda Lyke, who retired this spring after 46 years at Oxy, and painter Linda Besemer, who is scheduled to retire in 2023 after a 35-year career at Oxy. The timing was such that the department became the first to benefit from the four-year, $950,000 grant from The Andrew W. Mellon Foundation.
Ireland and Sanchez are the College's first Mellon postdocs, a group that will eventually include nine one-year fellows in the arts and humanities. Each will automatically transition to a tenure-track position at the end of their postdoctoral year, making it possible for the College to identify and recruit promising scholars whose work focuses on issues of race and/or social justice and whose expertise and experiences will contribute to diversifying Oxy's faculty.
Ireland is a well-established artist, best known for her photographic documentation of the work of pioneering Black architect Paul R. Williams of Los Angeles. Her Regarding Paul R. Williams: A Photographer's View, a folio of her distinctive black-and-white photos, was published in 2020. She was recently the subject of a profile in the Los Angeles Times; this summer the New York Times reported on her photographs of Revere's work in Nevada, now on view at the Nevada Museum of Art in Reno.
"As a studio artist, the process of finding a tenure track job is a really difficult one," she says. "It was a long process of waiting for the right thing to come along ... as I was reading the job description I did worry they might think I was too established, but I really felt that the job was a great fit."
Ireland's fascination with photography began as a child in Philadelphia, when her father taught her how to use a camera. "I think what really drew me into it — beyond the exciting thing of being able to make an image and then see it later — was working in the darkroom, which can be a sort of magical experience for people. It was for me," she told the Los Angeles Times. After earning her undergraduate degree at NYU, she earned her MFA at UCLA. For the past four years, in addition to her work as an artist, she has taught photography at Pasadena City College.
Her work has been exhibited across the country and internationally, and appears in the permanent collections of the Los Angeles County Museum of Art, the California African American Museum and the Museum of Contemporary Photography in Chicago, among others.  
"I don't really use the word photographer--I use the term artist, which is a better fit for the more sculptural work I do, for my writing and my work in film or video," Ireland says. "A photographer is only working with a camera making still images that go on a wall. The word photography doesn't have any negative connotations for me, but it's too limiting."
Although trained in painting and drawing, Sanchez, like Ireland, views himself more broadly as an interdisciplinary artist. After earning his degree in painting at Otis College of Art and Design in Los Angeles (with a double minor in teacher credential preparation and community arts engagement), "I started to explore other mediums, video and performing arts and socially engaged art projects."
As an artist, Sanchez says his work centers around the question: "How as artists can we make work that, on the one hand, validates the neglected experiences of the people we care about (i.e., through direct positive representation and intervention) and, on the other, be a critical reflection on those structures that created the conditions of making a people socially, politically, economically invisible?" 
Similar to Ireland, Sanchez--who grew up in West Los Angeles--knew that he would be an artist at an early age. "It's something that I very much enjoyed and was something that was consistently rewarded while I was growing up," he says. After earning his degree at Otis, Sanchez taught art at continuation high schools, juvenile detention centers, and local museums before earning his MFA and performance studies graduate certificate at USC last year. (He is one of the first to earn the new certificate at USC.) Upon graduation, he was awarded a Roski Post-MFA Visiting Scholar Fellowship, which allowed him to teach undergraduate art courses at USC for a year.
"When I was young, my high school art teacher used art as a way to validate me as a human being, and at Otis I was able to learn how different pedagogical strategies can help me do the same for others," he says. "I absolutely love teaching and that particular kind of exchange you have when someone is learning something and you're learning from them, where there's a mutual exchange going on." Coming to Oxy "is a very wonderful challenge, and I'm very much excited about it."