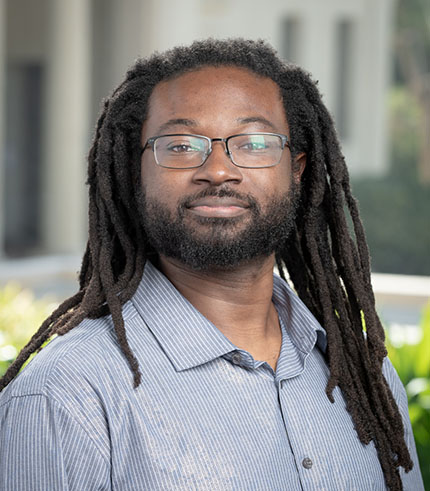 James Ford III, associate professor of English and Black Studies, has been presented with the Modern Language Association of America's 2020 William Sanders Scarborough Prize for his first book, Thinking through Crisis: Depression-Era Black Literature, Theory, and Politics.
The Scarborough Prize, named for the first African-American member of the MLA, is awarded each year for an outstanding scholarly study of African American literature or culture. Ford received the award virtually during the MLA's annual convention this week.
"I have always admired the winners of the Scarborough Prize. I never imagined I would receive the same honor!" said Ford. "Occidental College provided me with ample opportunities to teach and research the material that made it into Thinking through Crisis. I am grateful to my faculty colleagues, administrators, staff, and students for their support."
In Thinking Through Crisis (Fordham University Press, 2019), Ford examines the works of Richard Wright, Ida B. Wells, W. E. B. Du Bois, Zora Neale Hurston, and Langston Hughes during the 1930s in order to articulate a materialist theory of trauma. In these works, he argues, proletarian, modernist, and surrealist aesthetics transform fugitive slaves, sharecroppers, leased convicts, levee workers, and activist intellectuals into protagonists of anti-racist and anti-capitalist movements in the United States.
The MLA selection committee's citation reads:
"James Ford's Thinking through Crisis is structured as a series of notebooks, each of which provides the reader with possibilities (social, political, imaginative) of the collective. Ford presents the Black proletariat as a collective whose perseverance and ability to assess and innovate serves as models for activism in the coming years. The authors included in the study remix the refrain often used in the Black church (". . . the Lord will make a way out of no way . . .") by reading "God" as the whole of the Black underclass. The holy, then, are the masses residing in Richard Wright's water-logged Mississippi, Ida B. Wells's lynching victims, and attendees of Zora Neale Hurston's rural churches. This collective does not lean on the understanding of European philosophy but creates Black theory that guides and instructs." 
Ford teaches American literature and African American literature in the English Department, which he chairs, and the Black studies major, respectively. He teaches with what he refers to as a "B-sides approach" that incorporates literary classics and lesser-known literary works into all of his syllabi. In doing so, he introduces students to the vastness of Black writing in terms of content, genre, and historical context. A graduate of Morehouse College, he earned his master's and doctoral degrees at Notre Dame.