Submitted by kwall_admin on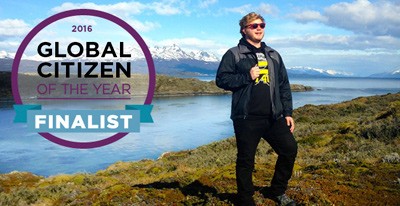 Reed Foster '18 has been named a 2016 Global Citizen of the Year finalist by the Institute for the International Education of Students (IES). Foster was one of three finalists in addition to a single winner selected from 6,400 study-abroad students.
The award recognizes an IES Abroad student who has made an impact through academic, philanthropic or personal efforts during their experience studying abroad. Foster received $250 for being a finalist.
Foster, a cognitive science major from Salem, Ore., was dubbed "The Anthropologist" by IES. "Reed's passion to learn firsthand about social issues in Buenos Aires was made evident through his work with the Pilares Center to teach English to children and establish a tutoring program for the Center," IES said on its website.
Foster studied advanced Spanish immersion in the Argentinian capital last fall.
"My decision to spend the semester in Buenos Aires was made with a clear goal, to go beyond the casual daily classes and city life of study abroad and expand my knowledge through as much cultural engagement as possible," Foster told IES. "My semester abroad allowed me to travel to places that I never could have experienced without the determination of a global citizen to experience and learn from another culture. Through these experiences, I gained a more in-depth and rewarding semester by leaving my comfort zone to pursue new projects and create a cross-cultural exchange of dialogue."
In particular, Foster worked with Fundación Pilares, which assists impoverished families through education and skill-building, helping children learn English (while he improved his Spanish).
With fellow study-abroad student Teresa Pangallozzi '18, Foster created a program that "could be continuously taught by new volunteers after we finished our semester abroad," he said. "We spent three months testing different methods of teaching English while working with small groups of kids. By the end of our semester, we successfully developed a basic English-tutoring program for the organization."
Foster earned the "Anthropologist" title by studying the indigenous cultures of Patagonia, choosing to challenge the accepted belief that the "region was mostly for tourism and historically the rights of indigenous people was rarely compromised" by seeing for himself. Foster traveled to several locations in the Patagonia region, visiting indigenous tribes. He discovered that, in fact, the indigenous people consider tourism the "second conquest of the desert" and found that it led to impoverishment in communities.
"Being a global citizen requires reaching out to explore multiple perspectives from different communities," Foster said.
"I really appreciate how Reed made such a strong personal effort to engage," Robin Craggs, executive director of Oxy's International Programs Office, told the Occidental Weekly. "He really didn't just cruise through his experience and hang out with other Americans; he made a big effort to get involved."